With massive reach and high frequency, the store has the potential to become a major advertising channel. Although in-store advertising is not new, you don't typically see it in the list of today's major media channels.
In-store media networks like Grocery TV are often bucketed into existing categories such as Out-of-Home (OOH) that don't fully capture its capabilities. Try picturing a billboard next to a TV in grocery stores—would you put the same creative on both?
With the digitization of the store, deprecation of 3rd party cookies, and decline of Linear TV, there seems to be a space emerging for in-store advertising. Yet, there is still work to do in defining where it fits in a brand's media strategy and budget.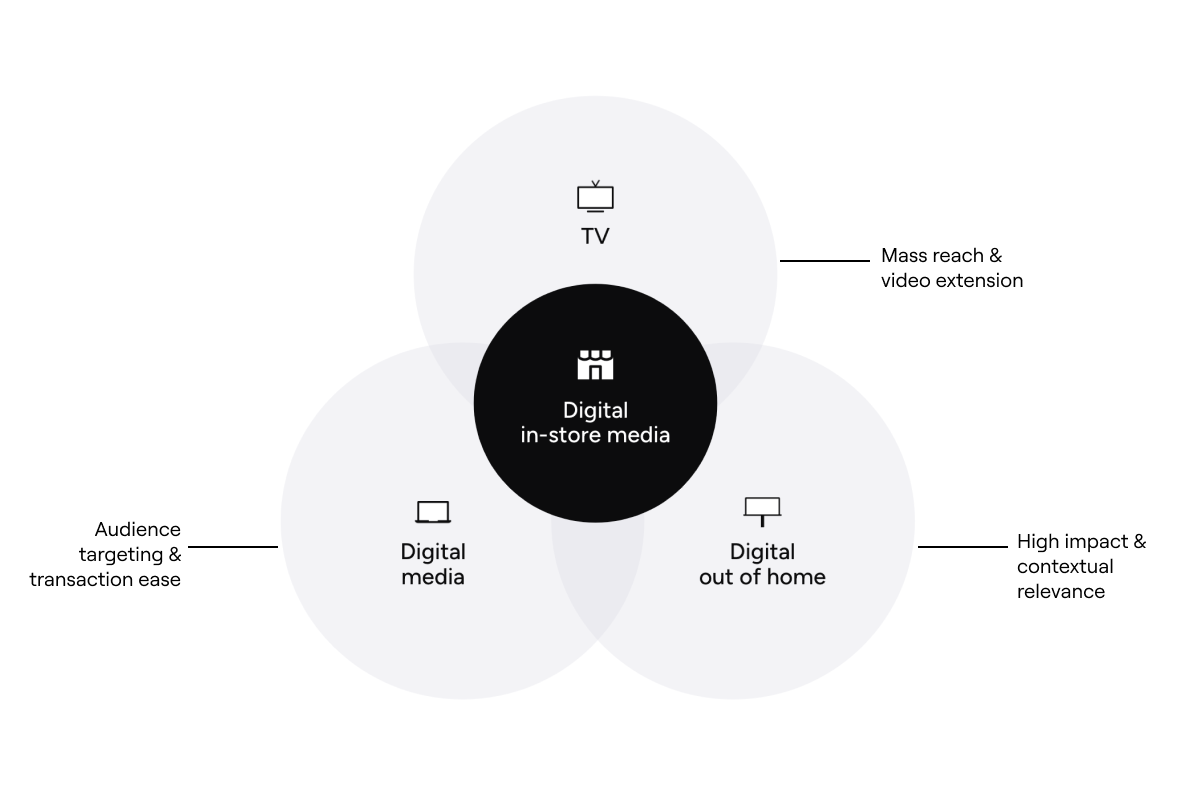 For in-store advertising to realize its potential, it needs to be put under the magnifying glass and compared to other media channels.
In our latest survey, we took a step back and asked 1,000+ consumers to judge advertising channels based on how they affect their experience and how likely they are to pay attention to them.
Sentiment: In-Store Media Ranked #1 in Terms of Positively Affecting Experience
Most marketers would agree—people are more receptive to advertising that doesn't disrupt their experience. For in-store media, it's particularly important that advertising doesn't disrupt the shopper's primary goal: to buy products.
The results showed that 87% of consumers were accepting or positive towards in-store advertising, ranking it at the top of other advertising channels in terms of its effect on experience.
This may not come as a surprise if you consider the jobs to be done in each of these channels. For the store, consumers are in a buying mindset and often intending to make a purchase. For other channels, they are hoping to be entertained, and advertising often disrupts that experience.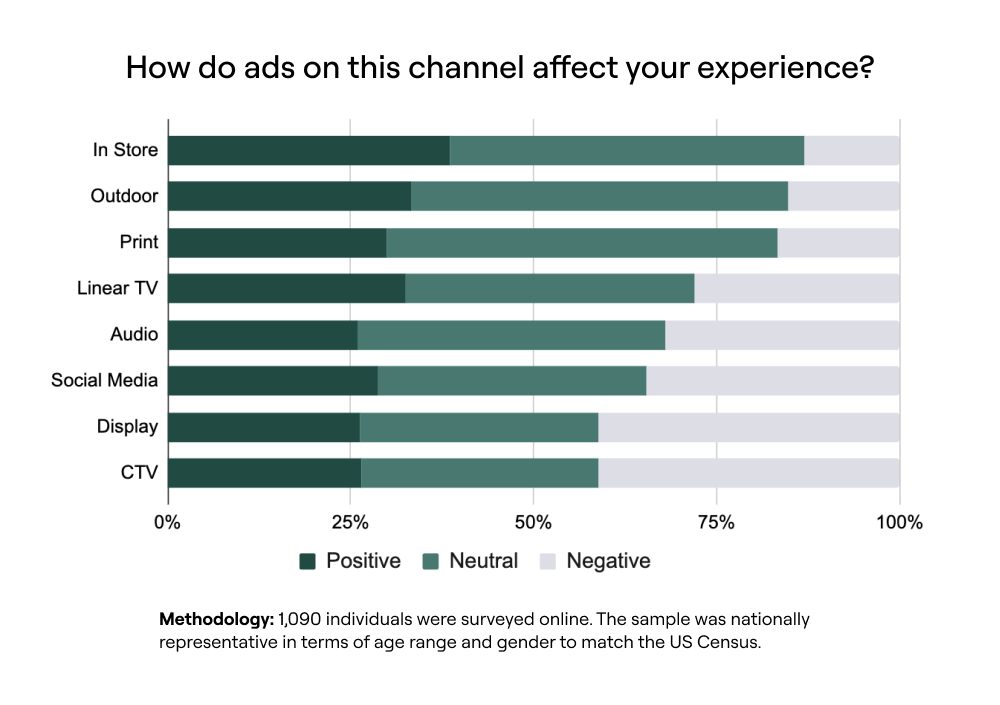 We included images of both static and digital in-store media formats in this survey because our goal was to understand how any type of ad in the store environment is perceived.
In a previous survey, we assessed different in-store digital media formats to understand their potential effect on the shopper experience. The top 5 formats in terms of acceptance and favorability were primarily focused on digitizing existing static signage in the store.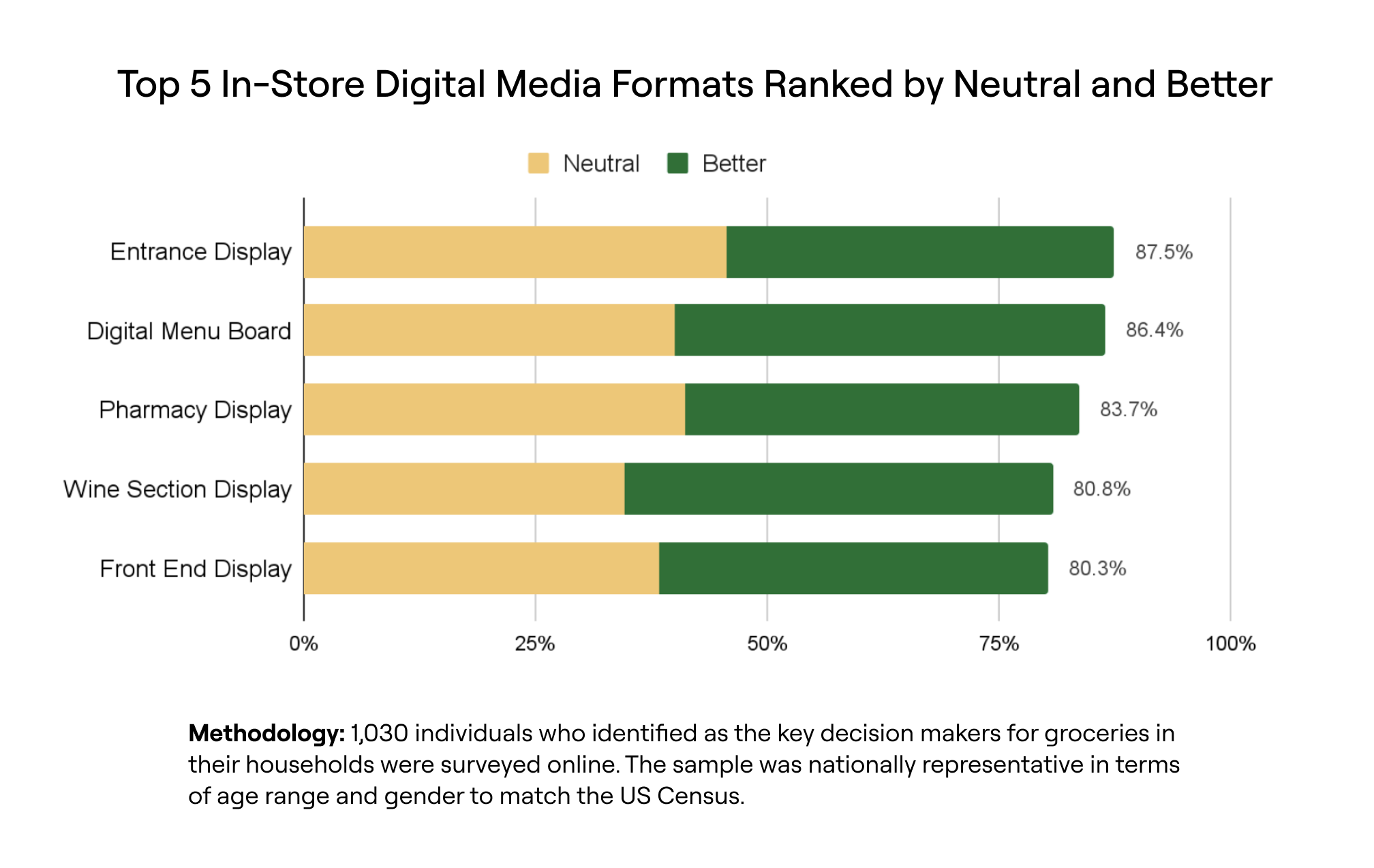 Attention: Consumers Were More Likely to Pay Attention to In-Store Media than Other Channels
Interestingly, the ranking for likelihood to pay attention to advertisements in these channels was the same as their effect on experience, or sentiment. This could simply reaffirm our previous statement--that receptivity is influenced by perception. If an advertisement contributes positively or even neutrally to an experience, someone might be more willing to engage with it.
Nearly 50% of respondents said they were very likely or likely to pay attention to in-store advertising, ranking it at the top of the advertising channels included in the survey.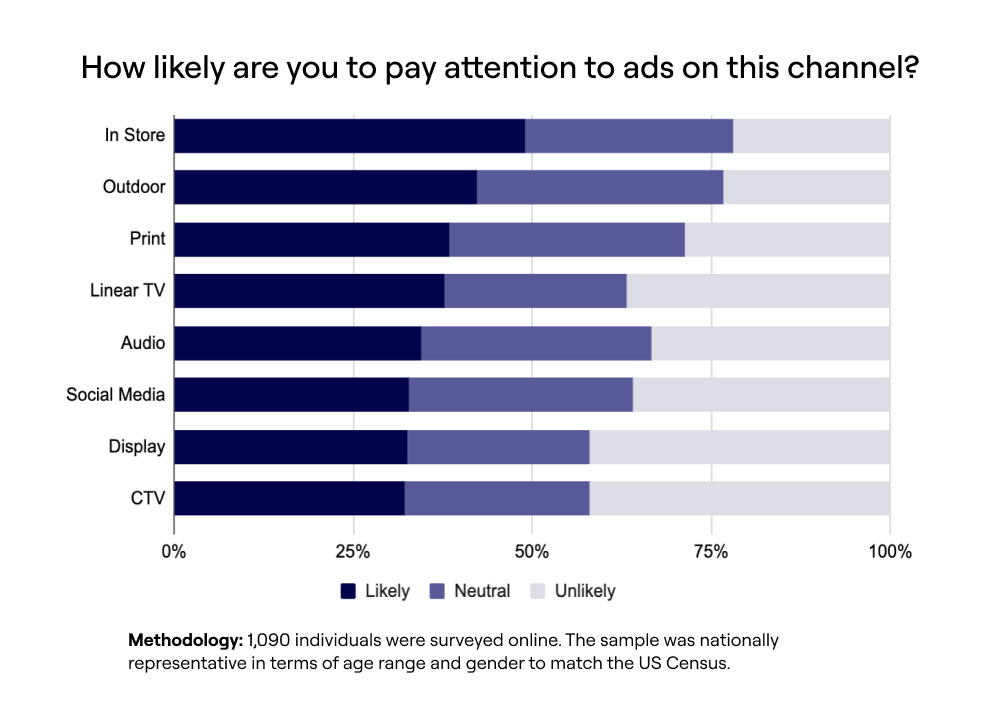 Budgets are allocated by measurement, not sentiment
The results of this survey are in opposition to how advertising budgets are allocated today. And this, undoubtedly, has to do with measurement and a lack of clarity around ownership over this channel.
Marketers are laser focused on getting a return on their investments. And while there are certainly methods today for measuring in-store media, there's a lack of standardization across major retailers that often stops buyers in their tracks.
Traditional in-store media is often owned by shopper marketing, while digital in-store media has landed in multiple buckets: digital out-of-home (DOOH), digital video, retail media, and even CTV.
Nevertheless, there are positive signals from consumers towards the impact in-store advertising can have and a number of ways to transact and measure performance for this format today. Marketers looking to increase the efficiency of their spend and enhance the experience their audience has with their brand might take a closer look at in-store advertising.