Compared to last year's optimism around the return of in-person learning, back-to-school 2022 will be accompanied by inflation, continued supply chain issues, safety concerns, and more. So, how are consumers feeling about the back-to-school season, and what will be the best strategy for marketers to reach them while they're out and about?
With 96% of shoppers going into physical stores for their groceries, in-store advertising provides a frequent touchpoint during their daily routines— especially during busy seasons like back-to-school and the fall holidays.
Our team recently surveyed 1,000+ U.S. grocery shoppers to learn about their plans and behaviors that can help inform your upcoming campaigns.
Here's a breakdown of our findings: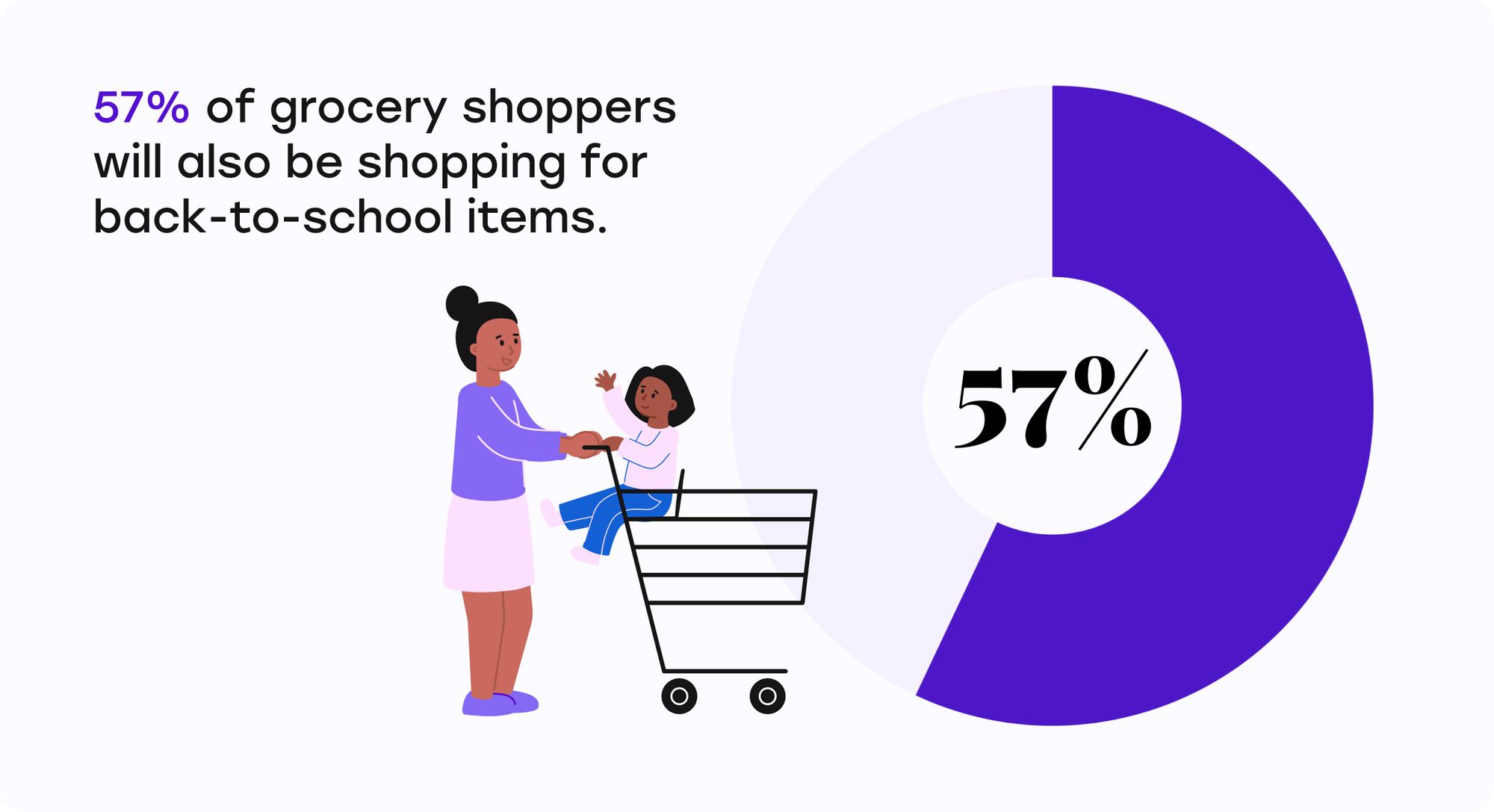 The majority of grocery shoppers are also participating in back-to-school shopping
Our survey revealed that nearly 3 out of 5 grocery shoppers will also be shopping for back-to-school items this year.
When you think of back-to-school shoppers, the main audiences that come to mind are parents of school-aged children (29%) and college students (21%). But we noticed that many respondents also included grandparents, older siblings, aunts and uncles, and even folks who donate to schools in their local community.
Back-to-school shopping will kick off in early July, but 37% of people will start in earnest around early August. Despite concerns around inflation, 35% said they plan to make more purchases than last year (with 43% saying they'll spend about the same amount).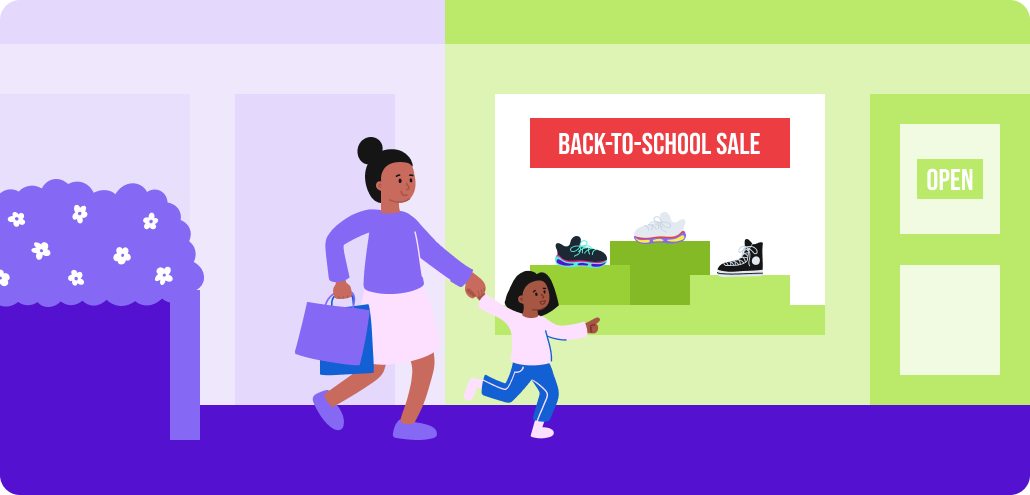 Most shoppers will make routine trips from the supermarket to department stores
There's a common misconception that it's not beneficial for non-endemic brands to advertise in retail locations like the supermarket if their products aren't available nearby. However, 84% of back-to-school shoppers said they expect to visit department stores or malls within a few days of buying groceries.
And when it comes to grocery stores, we learned that 82% visit once a week or more. In fact, throughout the year consumers visit grocery stores 4 times more than any other retail channel (6.4 trips/month)— which then ramps up during seasons like back-to-school.
By running in-store campaigns, your brand can stay top of mind as people shop for other back-to-school items during the week.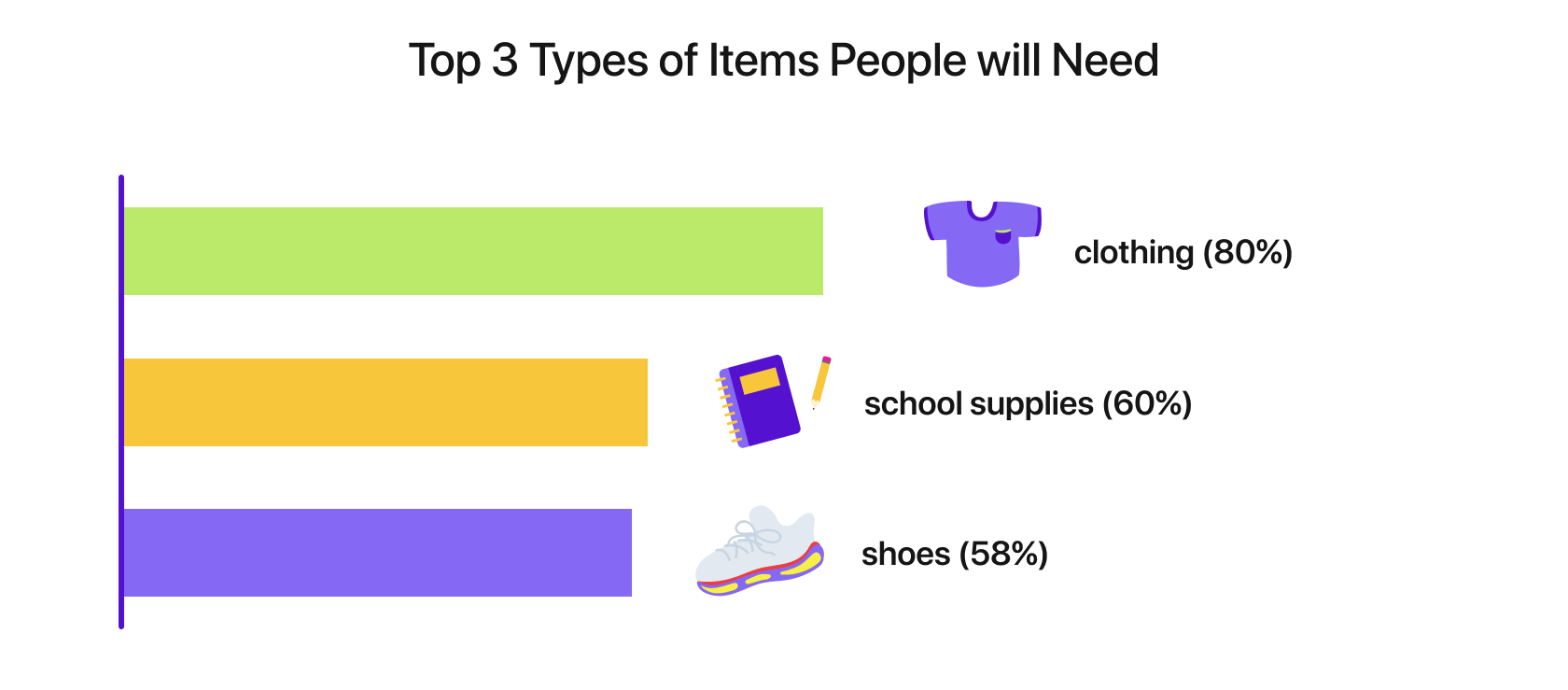 The grocery audience will be actively looking for items in multiple categories
Apparel will be the most sought-after category for shoppers this year— with shoes, wardrobe basics, and activewear being at the top of the list. We also checked in about the top electronics people will need, which they revealed to be headphones, laptops, and calculators.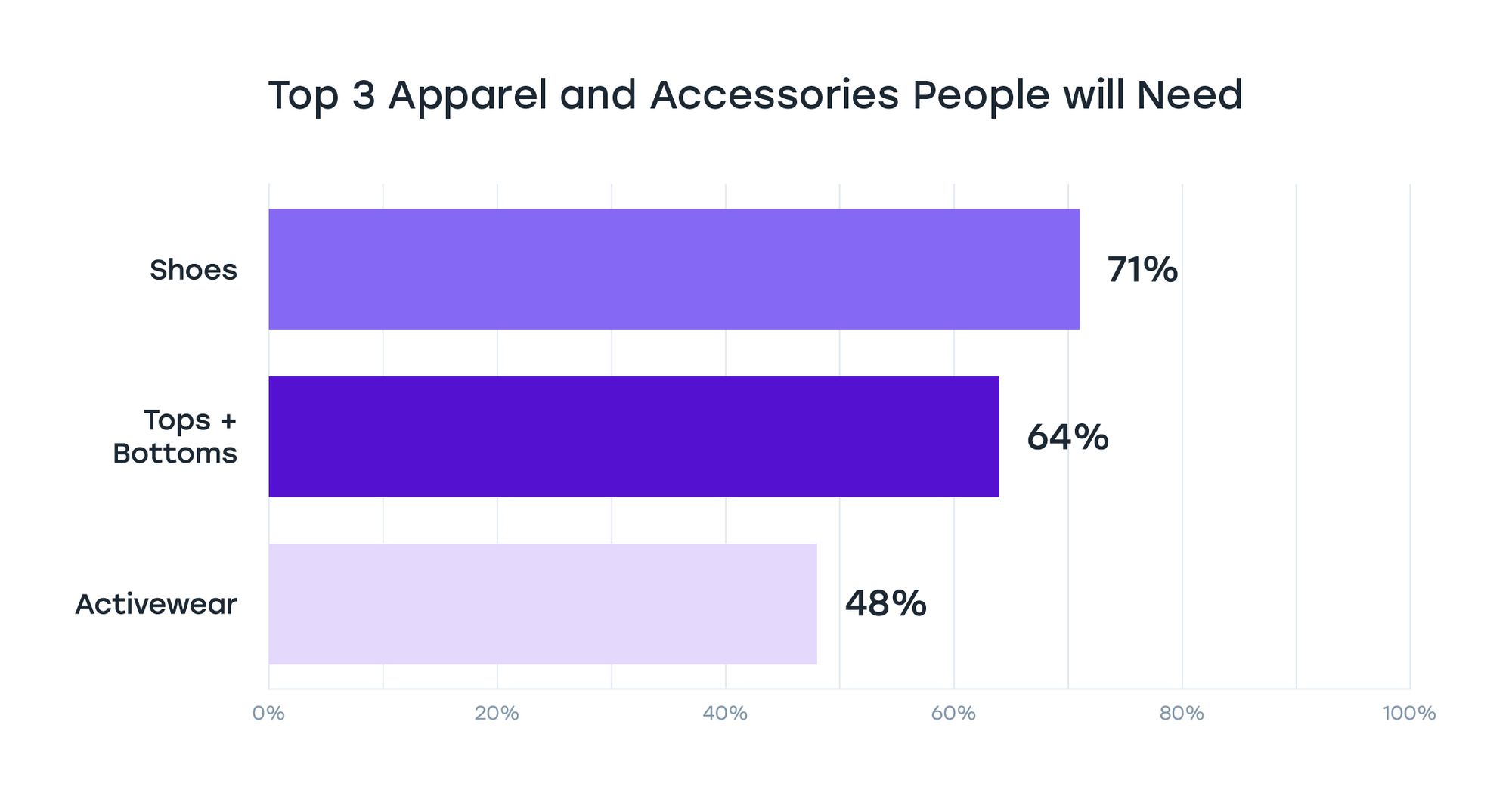 Not surprisingly, school supplies like notebooks and pencils are also in high demand.
It's worth noting that almost 50% said they would like to purchase school supplies at the grocery store, while 18% would like to purchase health, beauty, and personal care products. There's an opportunity for brands to make relevant content by incorporating supplies or self-care in their creative or messaging when advertising in stores.
A few more categories that shoppers will be looking for include backpacks (35%), pre-prepared food (13%), and cleaning products (12%).

Plus, most people will do in-person or hybrid shopping
Brands not only have a chance to influence shoppers' purchase decisions in key categories but also to establish a real-world touchpoint in their routine.
Although many back-to-school shoppers buy items on the internet, only 7% shop entirely online. That means brands will benefit from adding in-person campaigns to their media mix in addition to their other marketing channels.
Research shows that pairing digital out-of-home (DOOH) networks like Grocery TV with other platforms such as social media, mobile, and television can boost campaign performance.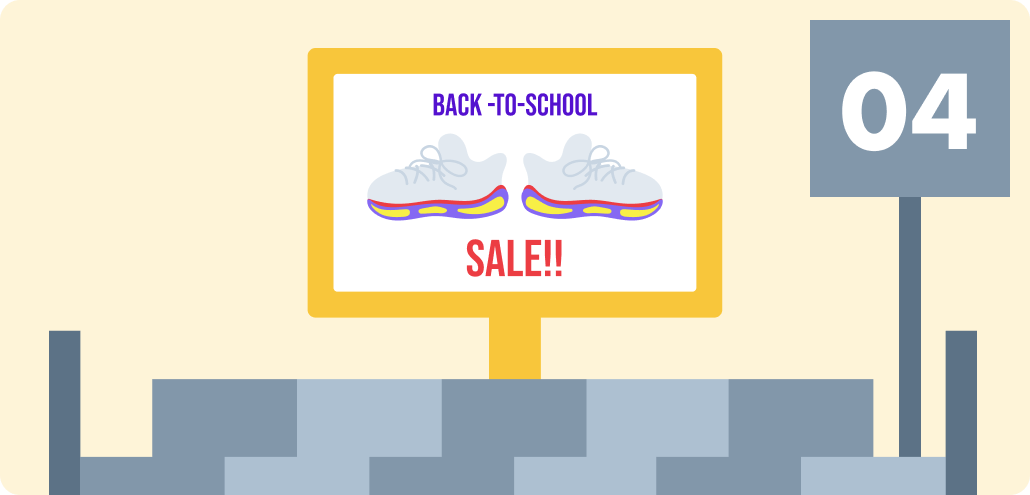 Shoppers will seek more back-to-school discounts
Although discounts are always appreciated, shoppers will be prioritizing value more than ever this year given the price jumps affecting the country. Almost 70% plan to seek back-to-school discounts "always" or "most of the time." If your brand is running discounts, make sure they're front and center in your creative.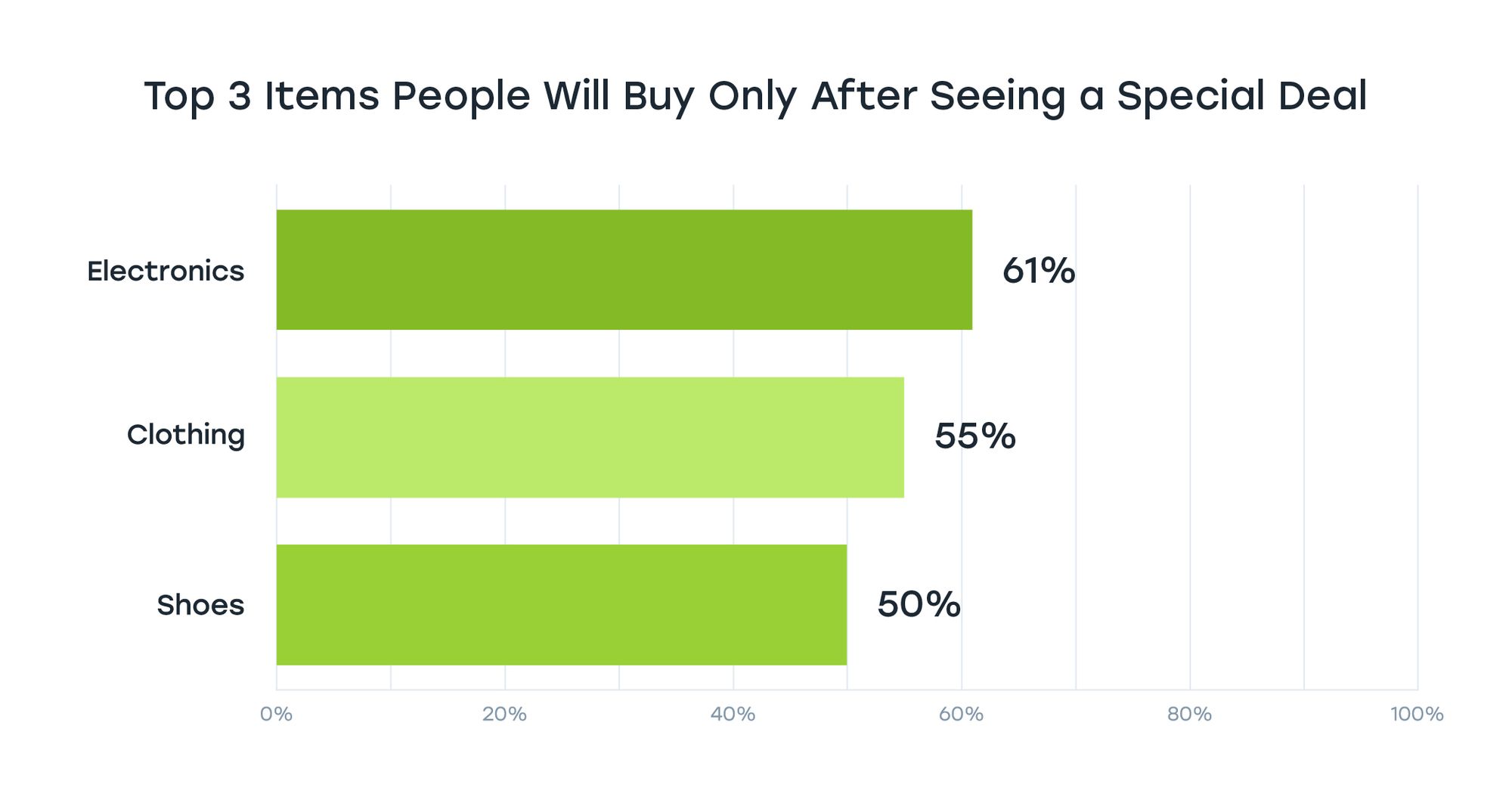 What's more, many people actually hold off on buying certain items until they encounter special deals or discounts— including 61% who wait to see sales on electronics and 55% who wait to see sales on clothing. There will be considerable competition in these categories, so it's important for brands to build recognition and use strategies that break through the noise.
How are your back-to-school campaigns coming along?
We hope these shopper insights will come in handy for your campaign planning.
If you have any questions about our survey data, or if there's any information we're missing here that would better guide your campaigns— let us know! We'd be glad to find the answers in our next survey.
In the meantime, be sure to join our GTV Gist newsletter below so you don't miss out on future research and industry insights.