The Grocery TV Network Grows to 1,000 Stores Nationally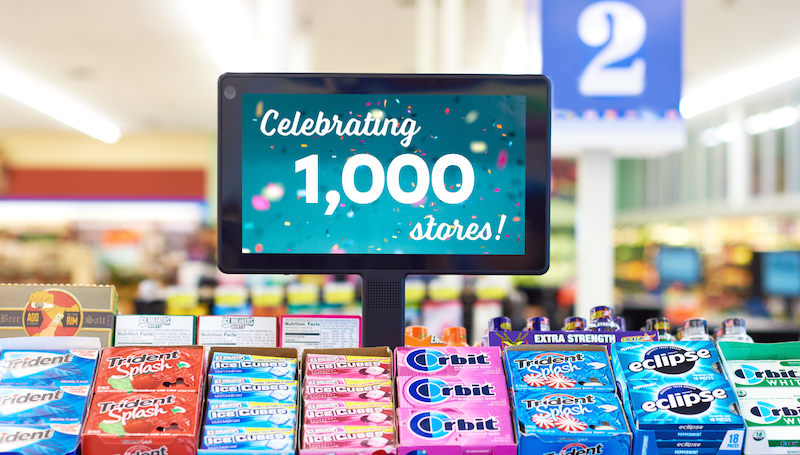 We're excited to announce that Grocery TV is now officially in over 1,000 grocery stores, which brings our display count to nearly 4,700.
Adding new retailers to our network requires collaboration between multiple functional teams in our company and a great deal of trust from partners. We're extremely grateful for the effort from all sides in helping us reach this new milestone.
Here are some quick facts about the network as of today:
High-Level Network Stats
Store Count = 1,012
Display Count = 4,698
Average # of displays per store = 5
Number of states represented = 40
Unique customers in our network (i.e. Reach) = 11.9 million
Impressions per day = 96.5 million
Top DMAs by Reach
Phoenix, AZ = 1,792K
Salt Lake City, UT = 1,128K
Grand Rapids, MI = 835K
Houston, TX = 656K
Los Angeles, CA = 591K
Des Moines, IA = 499K
Omaha, NE = 498K
Dallas Ft. Worth, TX = 428K
Spokane, WA = 378K
Lincoln, NE = 369K
Top States by Store Count
Michigan = 144
Iowa = 114
Texas = 101
Arizona = 100
Utah = 80
Nebraska = 45
Pennsylvania = 44
Alabama = 36
Idaho = 29
New York = 27
Top 5 Retailers by Reach
Bashas' = 2.2M
Associated Food Stores = 1.5M
SpartanNash = 1.5M
Fareway Stores = 1.2M
Affiliated Foods, Inc. = .8M
What's next?
We're expecting continued expansion both in terms of retailers and regions for the rest of 2020.
Interested in staying up to date on our network growth? Join our newsletter below!