Given that the majority of purchases (over 85%) still happen in physical stores, it's important to look at foot traffic data if you want to better understand shifts in consumer behavior.
So, with help from our partners at Motionworks, we analyzed granular shopper data from Grocery TV's national store network using mobile device ID technology and statistical modeling. We also gathered information from other recent research within the retail industry.
In this post, we'll cover key takeaways based on foot traffic over the past year that can guide brands and retailers as they make strategic decisions in 2023.
Grocery visits are rising: A year over year (YoY) comparison
Emerging from larger-scale pandemic restrictions and health concerns, 2022 proved to be a year when more consumers decided to return to in-person shopping. The number of shoppers who visited our store network increased by 14.25% from 2021 to 2022.
The summer months and fall holiday season saw particularly high jumps in traffic compared to the year before.

The U.S. has been dealing with inflation and recession concerns over the past year and into 2023, which is causing consumers to be more cost-conscious and adjust some of their shopping habits. But even in times of economic uncertainty, grocery trips remain essential to all of our routines.
According to Statista, primary grocery shoppers in U.S. households actually made slightly more trips per week in 2022 compared to 2021— rising from an average of 1.5 to 1.6.
High traffic periods: Super Bowl, Easter, and fall holidays
Which events and holidays spurred the most consumers to grocery shop throughout 2022? Here's a breakdown of spikes in foot traffic compared to the average:
• February: The Super Bowl (↑7.4%)
• April: Easter (↑3.41%)
• November: Thanksgiving (↑14.31%)
• December: Holidays (↑20.46%) and New Years (↑16.2%)
Our network saw a slight dip in visits between June-August, which could be due in part to Monkeypox concerns, reactions to rising food prices, or reduced activity as people took more international vacations.

Fall and winter were the most active times of year for grocery stores by far. There are many demographics with varying interests and backgrounds who shop more often during this time, such as:
• Families preparing for back-to-school
• College students stocking up for the fall semester
• Parents shopping for Halloween activities
• Couples cooking at home more often to avoid the cold weather
• Young professionals hosting end-of-year events
Fall months bring out the majority of U.S. consumers at some point as we get ready to celebrate the holiday season and spend more time at gatherings with friends and family.
Shoppers are turning to discount and value stores
As consumers continue to worry about rising inflation and food costs, discount retailers are seeing an increase in foot traffic.
Data from Retail Insight shows that over two-thirds (68%) of consumers have become more price-conscious when shopping for groceries. And although many grocery stores saw some slowdown during Summer 2022, data from Placer.ai reveals that value-oriented grocery chains successfully increased their foot traffic (such as Aldi, Lidl, and Save-A-Lot).
Consumers want to make the most of their budgets during times of economic uncertainty, so we expect them to continue prioritizing discount retailers as they shop for food and other essentials in 2023.
Weekend afternoons are the most popular time to shop
After a busy week of work and school, most consumers head to the grocery store on the weekends (specifically Saturday and Sunday). While our network did see a lot of shoppers visit the grocery store at the start of the week, there was usually a mid-week slump on Thursday.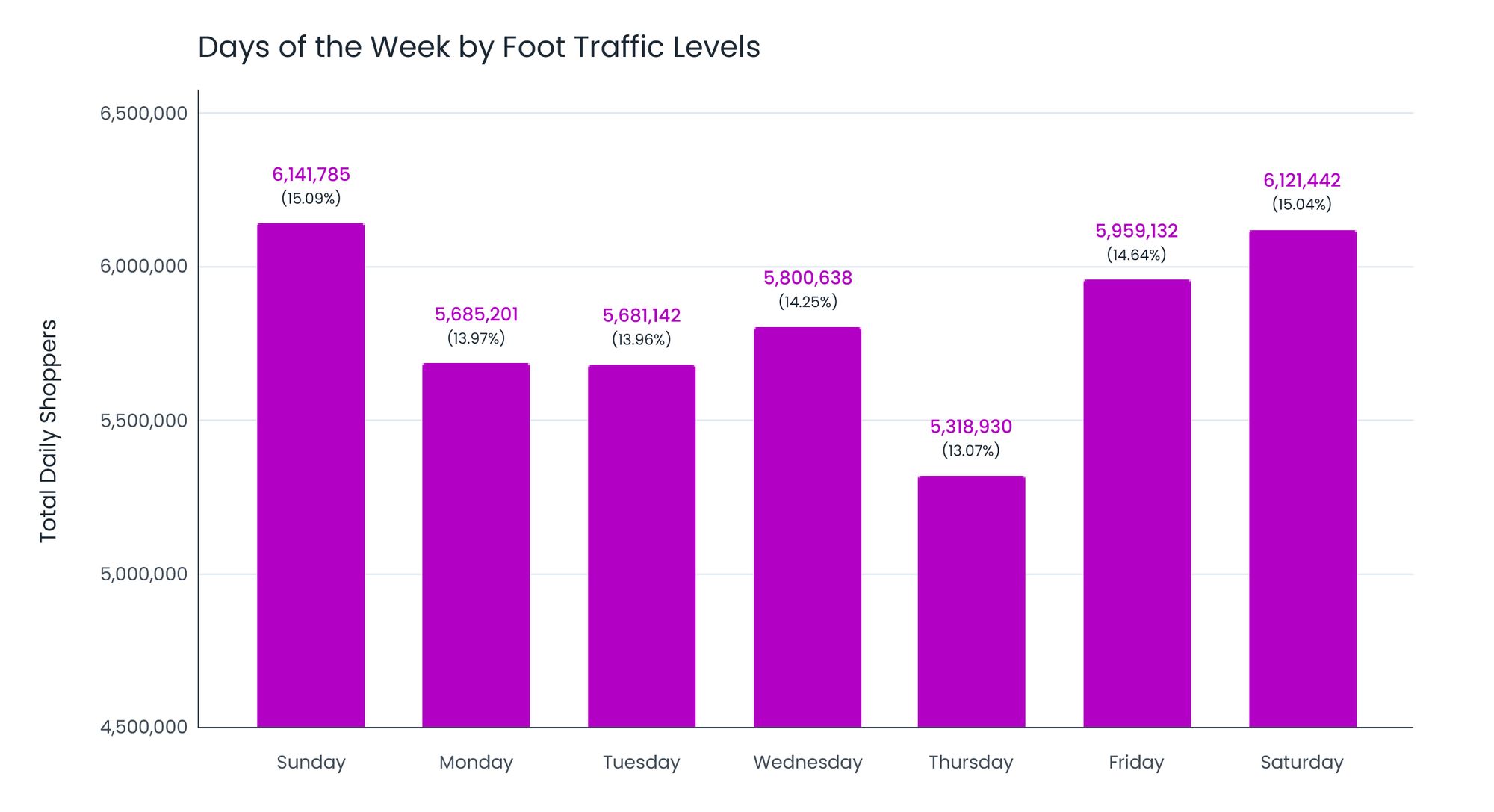 When it comes to activity throughout the day, our data shows that consumers prefer to shop for groceries in the afternoon (especially between 1pm-3pm).

Some shoppers might head to the store during their lunch break for a quick grocery run, parents might go after picking up their kids from school, and others might pick up groceries for dinner right after work.
How much time are grocery shoppers spending at the store?
Our data shows that about 85% of consumers in our network spend 30 minutes or less in stores, while 10% are there between 30 minutes to an hour— which is consistent with other research in our industry. One study reveals that 72% of people spend less than 44 minutes grocery shopping per trip.
For brands and retailers, this amount of time is significant considering how little time you have to reach consumers on other channels (and not to mention the shorter attention spans people have online, for example, compared to a grocery environment).
What are the takeaways?
Grocery foot traffic increased in 2022 compared to 2021, but it's important to remember that consumers are still making adjustments depending on health-related or economic concerns. Here's a breakdown:
• Consumers tend to shop a lot during major food events such as the Super Bowl, Easter, Thanksgiving, Christmas, and other fall holidays
• Discount and value stores are seeing a rise in foot traffic as consumers grapple with inflation
• Saturday and Sunday afternoons are the most popular times to shop
• Most shoppers typically spend under an hour during their grocery trips (85% spend 30 minutes or less, 10% spend between 30 minutes to an hour)
Our team likes to keep tabs on the latest consumer trends and behaviors, so if you want to continue seeing more insights (or learn more about our network) be sure to subscribe to the GTV Gist below: