What percentage of people are still shopping in person? What changes in consumer behavior might influence creative messaging and campaign planning? Marketers are considering these questions as they plan their upcoming campaigns, so we surveyed 1,000+ U.S. grocery shoppers to better understand their current habits and lifestyle.
Below you'll find an infographic with a recap of our findings and a few key takeaways for advertisers.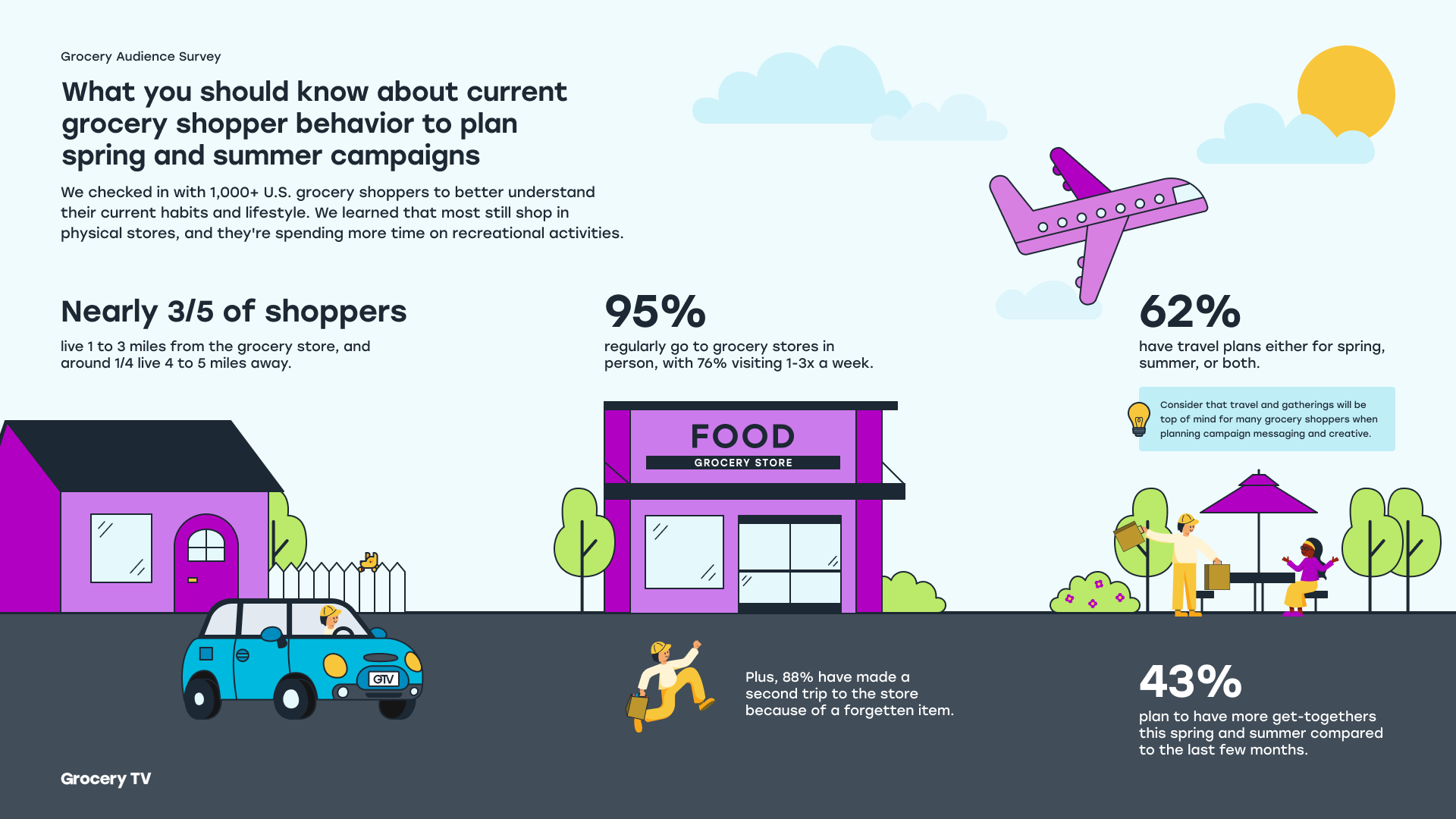 Here's a quick recap
We organized these survey results into 3 main takeaways:
1) Grocery stores are at the center of the community
59% of respondents live 1 to 3 miles from the grocery store, and 23% live 4 to 5 miles away. This highlights the unique position that supermarkets have within each community as a familiar and prominent space.
2) Most people still shop in brick-and-mortar stores
95% said they regularly go to grocery stores in person, and 76% of those people visit 1 to 3 times a week. Although online shopping and curbside delivery options became more popular in recent years, the in-person experience remains important to grocery shoppers.
Plus, 88% have made a second trip to the store because of a forgotten item— another indication of the frequency with which people visit the supermarket.
3) People are spending more time on recreational activities
62% say they have travel plans either for spring, summer, or both. 43% plan to have more get-togethers in the first half of 2022 compared to previous months. More gatherings and activities usually lead to more grocery trips, so brands can take this opportunity to stand out from the noise and reach their audience in stores.
Since we know that a majority of grocery shoppers will be traveling and a good number will be planning more social hangouts than usual, you could also tailor your campaign creative and messaging to reflect those insights.
What would you like to know about your target audience?
We hope this recap helps inform your marketing strategy this spring and summer.
Let us know if there's other information you'd like to learn about grocery shoppers this year, we'd be happy to include your questions in our next survey. In the meantime, subscribe to our GTV Gist newsletter for the latest insights: