Brands can now launch hyperlocal campaigns on Grocery TV using AccuWeather's anonymized first-party data, which is integrated with Microsoft Advertising's solutions. You can leverage dynamic triggers before, during, and after key weather moments— such as thunderstorms, heat waves, or cold fronts.
These targeted campaigns can be activated programmatically through Microsoft Advertising's end-to-end solution to reach consumers at the right time and place. AccuWeather uses Microsoft Curate to layer its weather data onto Grocery TV inventory in Microsoft Monetize. These deals are then made available to buyers via Microsoft Invest, or DSP partners that have access to Microsoft's Monetize SSP.
In this post we'll share more about the value of weather-triggered campaigns, how it works, and real-world examples.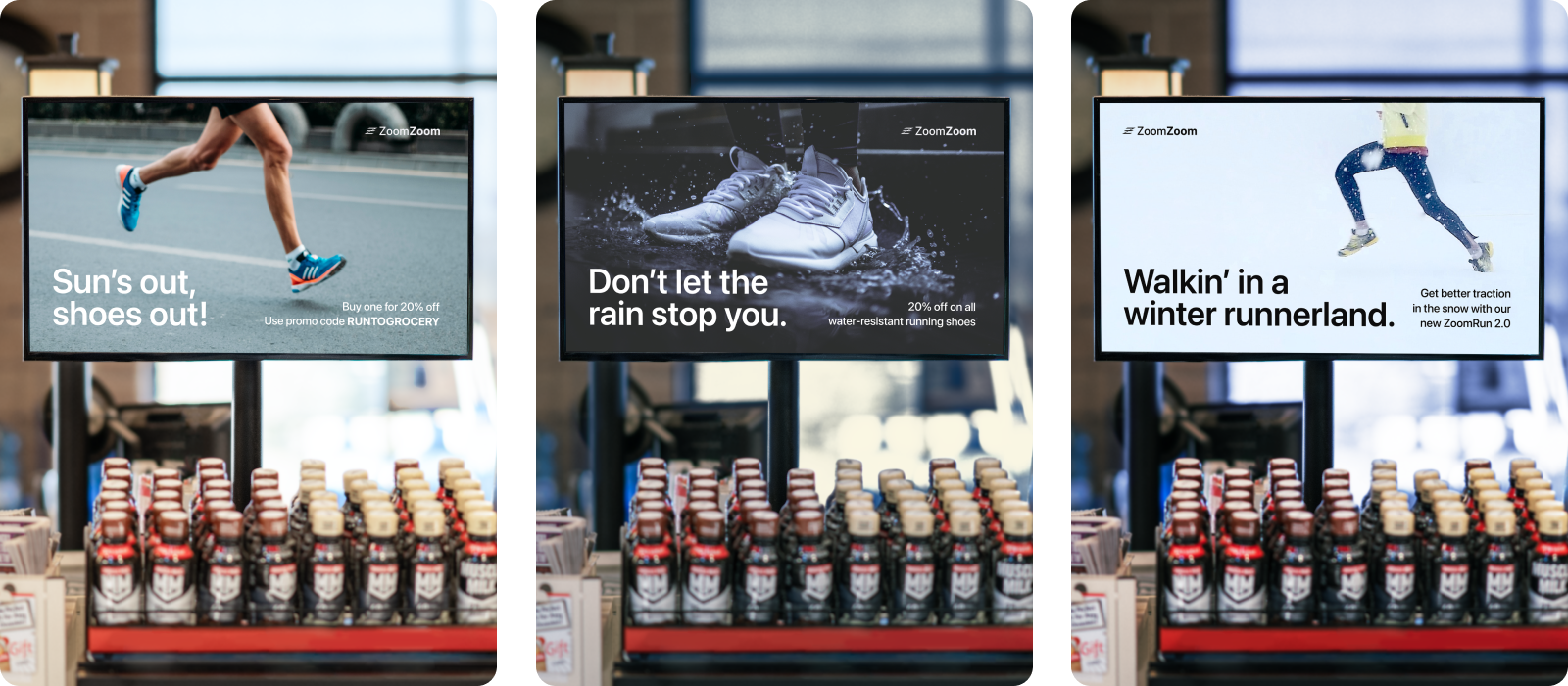 What makes weather-activated campaigns so impactful?
Consumers face endless distractions as they go about their day, so it's important for brands to use strategies that'll grab their audience's attention. Given that weather affects virtually everyone's daily routine, along with many of their purchase decisions, it's a valuable tool to engage consumers and share useful information.
The weather actually has a direct effect on sales for around 30% of all products and services, and it's the second biggest influence on consumer behavior behind the state of the economy.
Weather-triggered marketing is a strategy that can benefit both endemic and non-endemic brands who want to reach consumers in stores. What's more, this type of targeting doesn't require third-party cookies.
Keep in mind that about 84% of U.S. consumers pay attention to DOOH advertising, and using contextual creative can improve your campaign's effectiveness by 17% on average. By referencing the local weather in real-time during your audience's grocery trip, you can establish more meaningful connections and amplify performance metrics across the marketing funnel.
Here's how the campaign setup works
Microsoft Advertising offers a variety of integrated data suites on its programmatic platform that brands can use for advanced targeting, including AccuWeather's sophisticated data. Brands will set up their campaign conditions through Microsoft Invest, a demand-side platform (DSP), and layer in the specific data triggers that are relevant to their creative. Once that weather condition is met in the real world, the campaign will run on Grocery TV.
A few example triggers include:
Precipitation
Temperature
Humidity
Cloud conditions
Hail
Wind damage
Sun hours
For example, an insurance brand could set a campaign to run before a hailstorm is forecasted to hit key DMAs in Texas, Arizona, and California. The creative encourages shoppers to learn more about the brand's car insurance options in the event of weather-related damage. There would be even more contextual relevance in this case given that most shoppers use a vehicle for their grocery trips.
Weather-based marketing case study: Stella Artois
Stella Artois launched DOOH campaigns near stores that sold their alcoholic beverages specifically when temperatures became warmer than usual. Here are some of their campaign results:
Stella Cidre reported a 65.6% increase in YOY sales during the period they ran their weather-responsive campaign.
Because ads were only shown during optimum conditions, cost efficiencies of up to 50% were achieved compared to a standard DOOH buy.

"At Microsoft Advertising, we're proud to support Grocery TV as a data-enabled advertising platform, empowering brands to deliver personalized experiences that resonate with their target audience. Weather-activated campaigns present a powerful avenue for brands to connect with consumers, using the influence of weather on purchase decisions to drive meaningful results." - Jason McKay, General Manager, Partner Sales at Microsoft Advertising.
Interested in launching weather-activated campaigns on GTV?
We're excited to work with more brands on weather-driven programmatic campaigns to engage their audience more effectively in stores. Feel free to reach out if you want to learn more about running targeted campaigns on Grocery TV.
Subscribe to our newsletter below to keep up with industry insights and network updates!