The recent rise in COVID-19 cases, primarily due to variants like delta, is causing a lot of uncertainty within the retailer community. How are shoppers going to approach the fall holiday season? Will they make fewer purchases in-person? What kind of shopping habits and preferences do they have?
Our team decided to survey a representative sample of 800+ shoppers across the U.S. to get a clear idea of their current purchase behavior.
Below you'll find an infographic with a preview of our findings, and a few key points for retailers to keep in mind.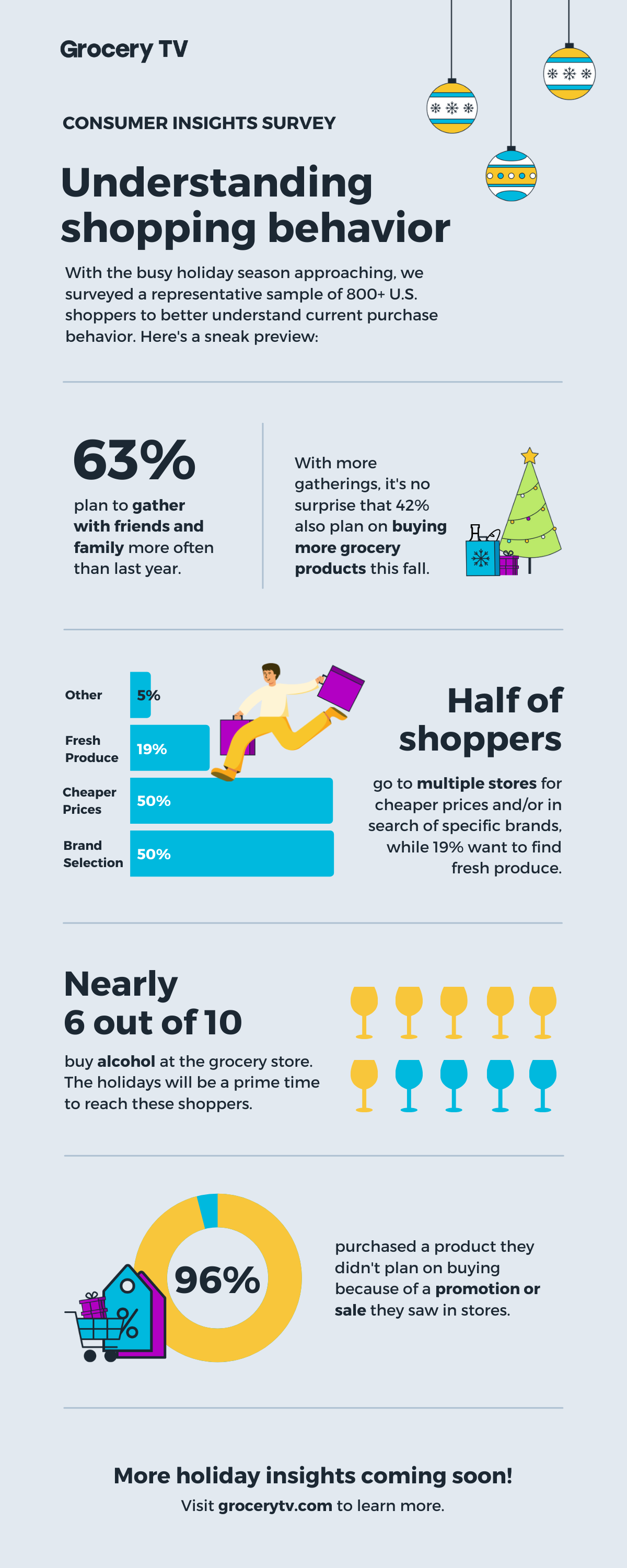 Here's a quick recap
We organized these survey results into four main takeaways:
1. More gatherings = more groceries
63% of respondents plan to gather more over the holidays with family and friends this year compared to 2020. And knowing this, it's not surprising that 42% plan on buying more grocery products this fall.
2. The right products at the right price
50% of grocery shoppers go to multiple stores for cheaper prices and/or in search of specific brands. 19% also cited fresh produce as a reason they visit more than one store.
3. Alcohol purchases are happening in stores
56% of shoppers said they buy alcohol at the grocery store. If you sell alcohol, we'd expect the holidays to be a prime time to reach these shoppers and market your latest alcohol products (maybe pairing them with a complementary food product?).
4. People are still making impulse purchases because of in-store promotions
96% said they purchased a product they didn't plan on buying because of a promotion or sale they saw in stores. By keeping your Grocery TV displays up to date with the latest promotions, you can reach shoppers with each visit.
More holiday insights coming soon!
This is only a portion of the survey data we collected. Keep an eye out for our new white paper which will dive into insights on people's shopping habits and holiday plans!