We'd like to preface this by saying - a pandemic is not a marketing opportunity. Brands should not be capitalizing on people's fears to sell them products. Nevertheless, we do believe brands need to continue communicating with consumers during tumultuous times and should adjust their messaging accordingly.
It is standard for modern brands to customize their marketing messaging and creative to specific channels and contexts. Yet they are now facing the greater challenge of adapting their messaging to address the needs of their consumers during a public health crisis.
Brands are responding in a number of ways including positive messaging, social media challenges to encourage healthy behavior, and giving back.
For brands interested in reaching consumers on our network (or any other media channel), we put together a quick guide on best practices for messaging given the current environment.
1. Share promotions or rewards programs that benefit consumers
Many brands are offering products or services for free or at a discount as a means to help out their consumers. These offers make a huge difference in times of need, especially for those impacted by job loss over the last couple weeks.
Brands are also giving consumers new ways to participate in their loyalty programs or adjusting their point expiration dates to ensure consumers don't lose the opportunity to redeem rewards. For example, Starbucks is now offering a new augmented reality game that allows consumers to gain Stars from the comfort of their home.
2. Focus on positive messaging
It's more important than ever for brands to be considerate of how current events are affecting their audience's emotional state. Common feelings right now include fear, anxiety, sadness, and uncertainty. Creative messaging should recognize these feelings by either sympathizing with, uplifting, or relaxing consumers instead of preying on their fears.
Chipotle is spreading positivity by offering online video hangouts for people to connect with each other and make friends. In one tweet, they recognized people's current emotional state (loneliness) and offer them respite through Zoom video hangouts: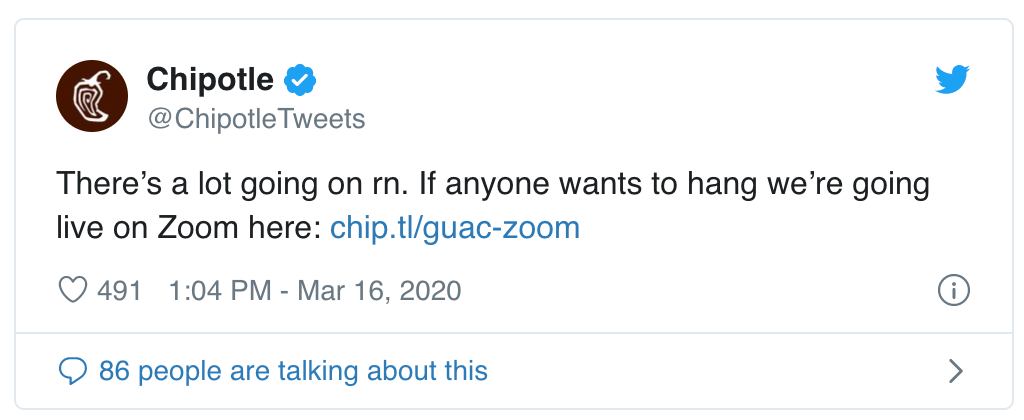 Some brands are also celebrating the smaller things in life (unrelated to COVID-19) - it could be a new tv series, shared playlist, or new flavor of ice cream. It's ok to talk about things other than the Coronavirus; positive things continue to occur, and people still want to celebrate them.
3. Provide actionable guidance that helps consumers adjust
People are adjusting to major lifestyle changes across the country. Some parents are having to balance kids at home and remote work. Many people are getting used to social distancing and being forced to give up activities that gave them joy.
Some brands are giving consumers tips and offers that allow them to more comfortably adjust to life in a pandemic. We recommend that you think about how your brand relates to the specific aspects of people's lifestyles. If you're an e-commerce clothing company, it probably makes sense for you to provide advice on what to wear on a conference call, but does not make sense for you to offer tips on hand washing.
One specific example is Peloton's 90-day free trial for its on-demand classes that help people stay active at home. As a fitness company, they are in a good position to give guidance on maintaining exercise routines.
4. Avoid creative that goes against current health recommendations
Finally, all brands should ensure their creative is respectful of current health recommendations. Hershey recently replaced an advertising campaign that features Bob Williams and Diggy Moreland passing out Hershey bars to strangers along with handshakes and hugs. Instead they are running product-centric advertising focused on their chocolate bars.
It's not an easy time for anyone, but we are hopeful that brands can continue to serve people in new ways and adapt to the current environment. We're continuing to try our best to support our advertising partners in making smart decisions. Here are a few other resources that may be worth reading when considering your brand messaging in the coming months: