Americans are Adjusting
Massive shifts have occurred in American lifestyles and businesses over the last couple weeks. Restaurants closed, companies moved to remote work, people lost jobs, and families started home schooling in response to school closures.
Grocery retailers are one of the many heroes in the current crisis as they remained open for business to meet the demands of shoppers. They swiftly implemented a number of policies in response to a surge in traffic over the last couple weeks including:
Allotting specific times for seniors and immunocompromised individuals to shop
Cleaning stores daily and using sanitizing solutions on high-touch surfaces
Partnering with suppliers to ensure high demand products are re-stocked regularly
Limiting the number of particular items consumers can purchase to dissuade panic buying
Free delivery for pharmacy orders to help ill patients avoid the crowds
They did all of this and more, while also dealing with the heightened emotions of shoppers and the needs of their own employees (remember retailers have companies too, and face similar challenges that all companies are dealing with at the moment).
The Impact on Grocery
We have been closely tracking activity across our network to understand the impact on grocery stores. This may be obvious to anyone who has visited the supermarket in the last couple weeks, but grocery saw a massive surge in traffic. While this surge has been stressful for shoppers, the traffic was particularly challenging for grocery employees who have worked tirelessly to clean and re-stock stores all while keeping smiles on their faces for fearful shoppers.
From our database, here is what we saw from January 1 through March 16th in terms of foot traffic: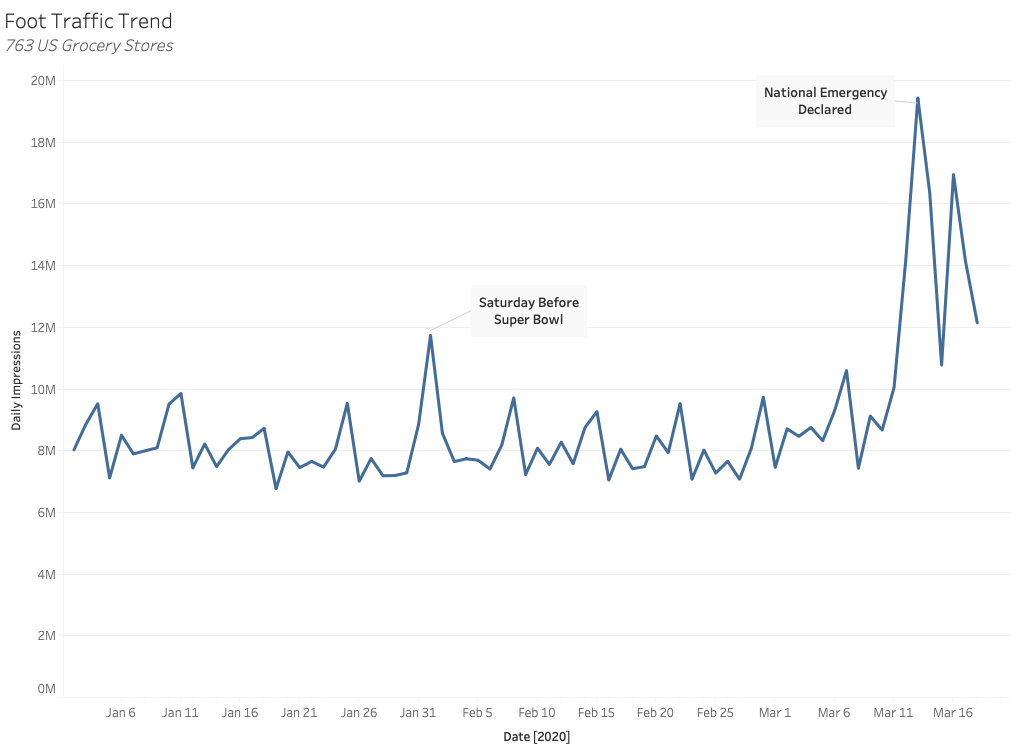 The day of the National Emergency declaration saw an all-time high in foot traffic (60% higher than the Super Bowl). For us, this graph truly put into perspective what our retailer partners are dealing with, and made us ever more grateful for their service during this time.
To be clear, these massive spikes are outliers. We expect foot traffic to adjust back to a more normal range in the coming months as people adjust to their new routines. Experts are predicting that social distancing may be required for months for it to be effective, and the outbreak may not be under control until July or August, so it's hard to say right now how consumer behavior for grocery will change (or not change). There has been some initial data collected that gives insights into how much and what consumers spent on in the last couple of weeks, but once again, we don't know whether these trends will stay.
We will continue monitoring the impact on grocery stores and our network over the coming months, and keep you updated on what we're seeing. Above all, we hope this data helps people understand the impact this crisis has had on grocery retailers. So next time you're making your weekly run to the store, consider exchanging smiles or sharing gratitude with grocery workers; a little bit of appreciation can go a long way.