Traditional online advertising offers marketers an impressive array of analytics to track the effectiveness of their campaigns. But when it comes to videos ads online, one of the most important metrics to consider — consumer engagement — isn't good. Half of videos ads online aren't viewable, which is part of the reason nearly 90% of them are watched for less than a second. Because of this reality, more and more marketers — even digital natives like Facebook, Google, and Amazon — are turning to an old channel with a new face: digital out-of-home (DOOH) advertising.
When campaigns run on DOOH networks, viewability is always 100%, and consumers are more receptive to the content — in a recent study, consumers reported that they were three times more likely to ignore online video ads. Unfortunately, DOOH doesn't offer marketers the analytics they've grown accustomed to online. So despite the intrinsic benefits of DOOH advertising, the lack of quantifiable metrics is often troubling to marketers looking for feedback on their advertising spend. At Grocery TV, we're trying to fix this problem.
Thanks to the computer vision technology built into every one of our displays, we can track metrics previously limited to online advertising. For example, impressions are the standard currency for online advertising, but they aren't yet the norm in the DOOH industry and when they are provided they're a rough estimate. Unlike most DOOH displays, Grocery TV displays only run content when consumers are physically present, which means there's a direct relation between plays and impressions. Grocery TV displays also count the number of consumers present and whether they're watching the advertisement on a second-by-second basis. Using this data, marketers can understand exactly how many consumers they've reached and assess the effectiveness of their creative.
So how do engagement rates on Grocery TV devices compare to digital ads? The results are encouraging. Watch through rates for online video ads are extremely poor: there is too much to divert user attention. Only 9% of these ads are looked at for more than a second, and an even more pitiful 4% are looked at for more than 2 seconds.
To understand how our network stacked up, we drew a random sample from over 500 million consumer interactions and 320 campaigns across the country. After analyzing the data, we found Grocery TV ads receive significantly higher engagement than online video ads. For the campaigns studied, videos were viewed for more than one second 23.2% of the time, and 12.9% for more than two seconds. That's nearly 3 times as many people watching than what a marketer could expect from a typical video ad online.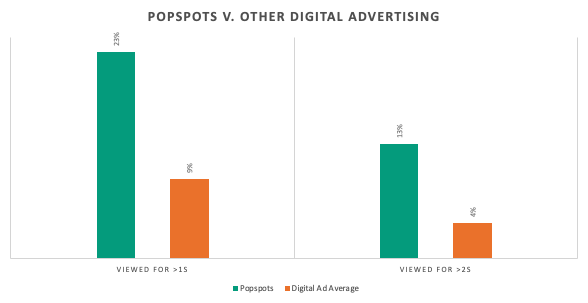 Another comparison makes the Grocery TV advantage even more evident: once customers glance at an ad (i.e excluding ads that were never looked at), the average dwell time for an ad run on Grocery TV is more than double the rate of online video ads.
What's most interesting is that we have no reason to believe these results are limited to our network. It's quite possible DOOH networks are generally more engaging than online video ads, which is why we believe it's so important for DOOH to offer marketers analytics comparable to what's available online. In a digital era marked by shifts to shorter advertising, higher engagement makes all the difference, but it doesn't matter if you can't measure it.