Programmatic advertising has been growing exponentially over the last few years, and the pandemic showed a lot of media buyers just how valuable it can be when it comes to budgeting and flexibility. Programmatic ad sales are expected to reach nearly $100 billion by 2022, with marketers allocating almost half of their budget towards this buying method.
In this article, we'll define programmatic buying, explain what makes it important, and break down each programmatic buying type that's available to advertisers.
First Off, What's Programmatic Advertising?
Programmatic advertising is the automated buying and selling of ad space. In this landscape, targeting tactics are used to segment audiences so that advertisers only pay for ads delivered to the right people at the right time.
This is typically used with digital advertising, including media like display, video, audio, mobile, and social. Recently, programmatic digital out-of-home (pDOOH) has also gained traction among advertisers— which is the automated buying and selling of digital displays.
Although there are a few differences, pDOOH allows advertisers to set their campaign parameters and budget as well as view performance similar to how they would with an online channel.
Let's dive into the 4 types of programmatic deals you'll come across, along with each of their pros and cons.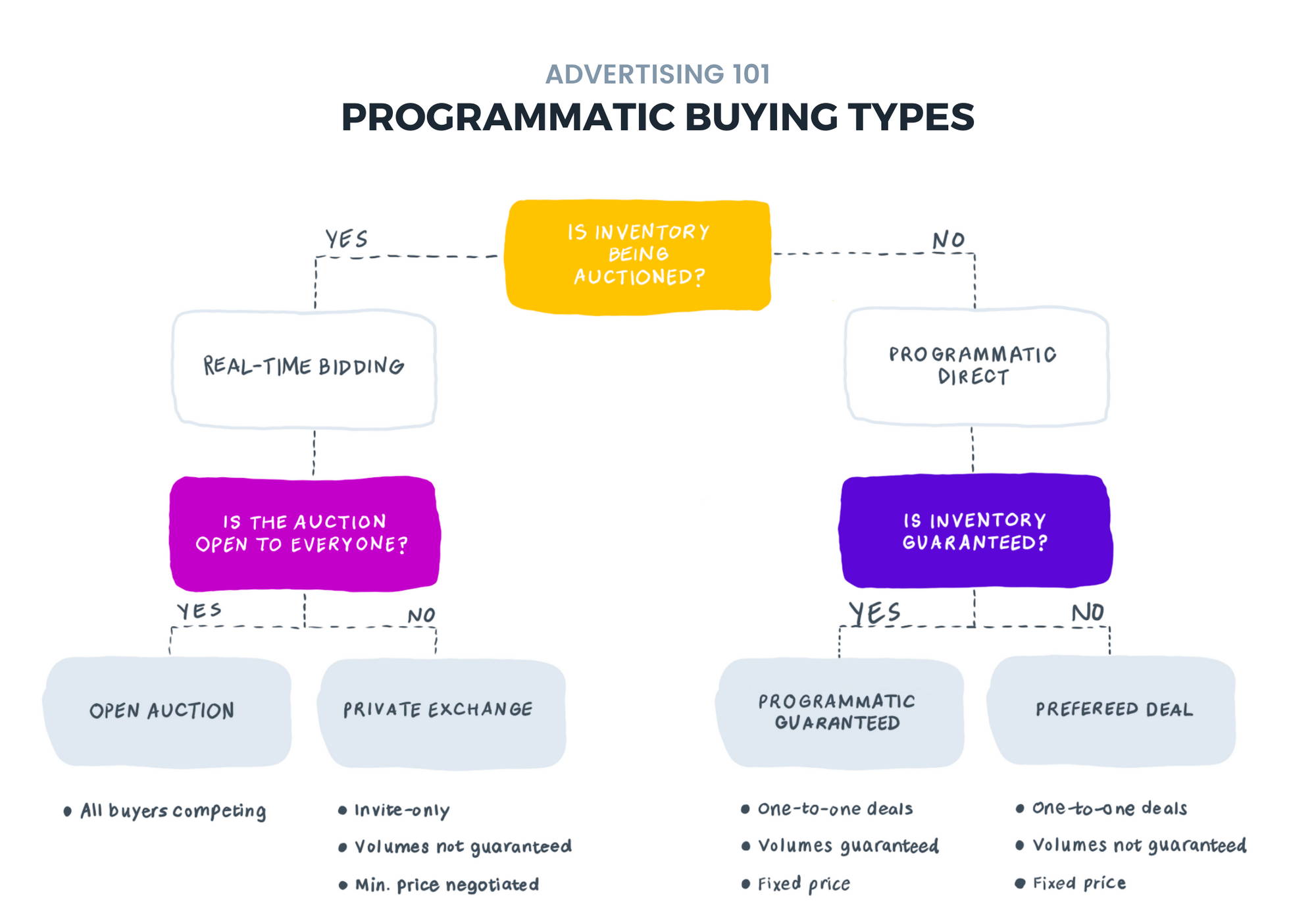 The 4 Types of Programmatic Deals in a Nut Shell
1) Open Auction
Open auction deals are often called real-time bidding (RTB). The open auction is basically what it sounds like: inventory is put up for auction and sold to the highest bidder. These deals are run by ad exchanges or DSP and SSPs and are open to the public— oftentimes taking place in a fraction of a second.
Pros:
RTB is a very cost-effective way for advertisers to buy media. It offers access to the largest audience and provides the highest reach for campaigns. And since you have access to many different types of inventory, there's plenty of growth opportunities for your brand.
Cons:
While you can set terms for what you're bidding on, RTB deals can sometimes lack transparency. It may not always be clear what type of inventory you're getting until after you've purchased it, and there's no guarantee that you'll get the placement you want.
2) Private Exchange
The private exchange, a variation of RTB often referred to as Private Marketplace (PMP), also uses an automated auction to sell ad inventory. However, publishers only invite a small group of advertisers to participate in private exchanges.
Pros:
PMP deals are typically more transparent since you're working closely with the publisher who invited you to the auction. These exchanges also have less brand competition and tend to offer more "premium" ad spaces.
Cons:
The cost per thousand impressions (CPM) is usually higher in private exchanges, and although there are fewer brands in the pool— inventory still isn't guaranteed.
3) Preferred Deal
Preferred deals, also known as programmatic non-guaranteed, are when advertisers basically get "first dibs" on premium ad space. In preferred deals, publishers offer advertisers their inventory at a pre-negotiated fixed CPM price before it goes to public auction.
Pros:
As an advertiser, you get full transparency on what you're buying, and publishers get to pick what type of brands are on their sites or digital displays. Plus, because there's a fixed price, you won't have to worry about sudden CPM fluctuations.
Cons:
Prices can be on the higher end since there's not as much risk as an open auction, and even though you get early access, inventory isn't completely guaranteed.
4) Programmatic Guaranteed
Programmatic guaranteed deals, also known as automated guaranteed, are when publishers offer specific, reserved inventory to advertisers at a fixed CPM. Buyers and sellers negotiate and agree on a set price and volume of impressions— which is similar to a typical direct buy, only this has a more automated programmatic process to make things easier.
Pros:
You get full control, transparency, and guaranteed inventory (pretty sweet deal).
Cons:
CPMs can be high because of the exclusive inventory, and although it's semi-automated, you have to dedicate a bit more resources to set up the deals.
Thanks for reading!
We hope this helped answer your questions about programmatic buying types. If you're curious about something specific, or if you'd like to learn more about how to advertise on the Grocery TV network programmatically— feel free to reach out to our team!
We'd be happy to help get your brand in front of consumers at high-traffic grocery stores.
Chat with us