Although COVID-19 cases seem to be stabilizing in the United States as we head further into 2022, retailers remain cautious about lingering concerns and uncertainties among shoppers. How are customers approaching the first half of the year? What's top of mind while they're shopping in person? Have their shopping habits and preferences shifted?
Our team surveyed 1000+ consumers across the U.S. to better understand what they're thinking when it comes to grocery shopping.
Below you'll find an infographic with a recap of our findings, and a few key points for retailers to keep in mind.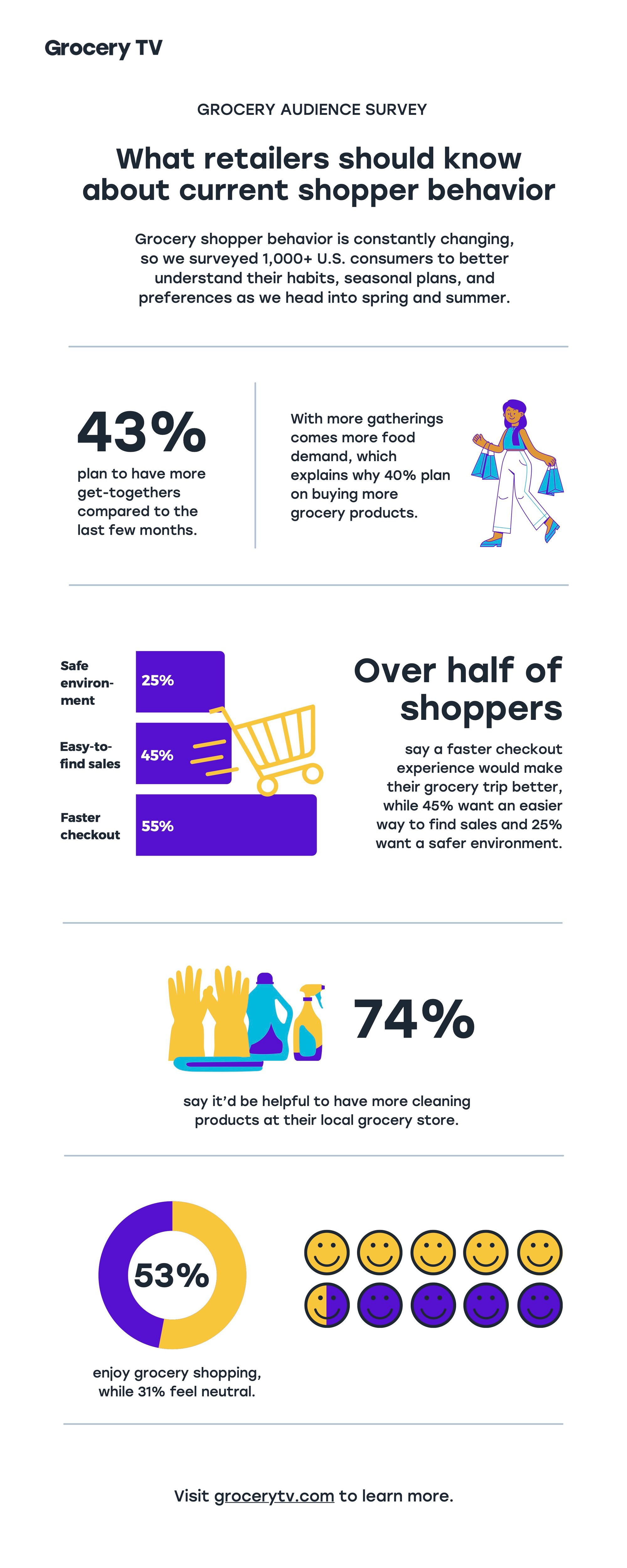 Here's a quick recap
We organized these survey results into three main takeaways:
1) More gatherings, more groceries, and more cleaning
43% of respondents plan to have more get-togethers this spring and summer compared to the last few months, so it makes sense that 40% also plan on buying more grocery products. 74% said it'd be helpful to have more cleaning products at their local grocery store.
2) Better checkout experience + in-store promotions = happy shoppers
55% said a faster checkout experience would make their grocery trip better, while 45% said they'd like an easier way to find sales or promotions. You can't always control your checkout lane's pace, but by adding promotions to your Grocery TV displays you can keep shoppers informed and lower their perceived wait time.
3) People enjoy shopping in person
53% of consumers say they enjoy grocery shopping in brick-and-mortar stores, while 31% feel more neutral about the act. Considering all that has happened in the past 2 to 3 years, it's encouraging to know that most people still value in-person shopping experience. As we learned from this survey, there's always room for improvement.
Let us know what you'd like to learn from shoppers
Our team runs multiple surveys throughout the year to check in on U.S. shopper behavior and preferences. If there's something you'd like for us to include in our next survey, feel free to reach out!
Connect with our team