As the economy goes through constant changes, and with a potential recession on the horizon, folks in the advertising industry are thinking about the best way to position themselves. What's the best move for marketers to make at this point? How should you approach your strategy as we head through the holidays and into 2023?
An important history lesson to keep in mind about economic downturns is that investing/maintaining ad spend pays off big time for brands.
One report shows that 60% of brands that increased media spend in previous recessions saw greater ROI, and those that spent more on paid advertising saw a 17% increase in incremental sales. By contrast, marketers who cut ad spend risk losing 15% of their revenue during a recession.
In this article we'll touch on historical recession takeaways, share effective marketing strategies, and update you on the latest consumer behavioral shifts to inform your media planning.
What does history tell us about advertising during a recession?
Brand marketing budgets are usually the first to get cut during times of economic uncertainty, but studies show that sustained investment in brand/share of voice leads to improved awareness, performance, and competitive advantage.
Thinking of the long term is key
This analysis of brands during the 1990-1991 recession shows us the negative effect of cutting ad budgets— meanwhile, the sales benefits kept growing for those that invested even in the years after the recession.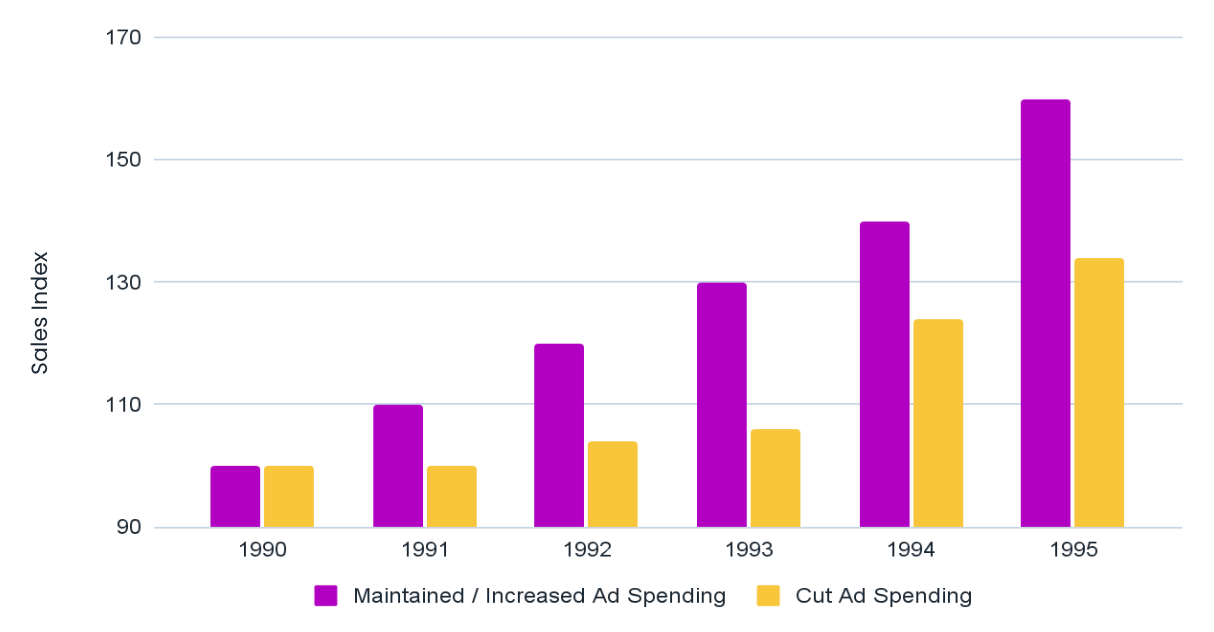 Despite the possibility of taking a short-term hit to profitability, it's clear that brands should think twice about "going dark" with their ad campaigns.
The study outlines how major brands including Amazon, Walmart, T-Mobile, General Mills, and Hershey's continued to allocate funds toward advertising and were able to deliver stronger business outcomes.
For example, T-Mobile increased its TV investment in 2008 and 2009, resulting in a compound annual growth rate of 21% between 2008 and 2011.
Consumers are more likely to remember your brand
A 2008 study asked people to complete the statement: "When you see a company advertise in a down economy…" And 86% said that brand is top of mind when it comes time to make purchase decisions.
Your message is more likely to be noticed in part because if others are pausing their marketing, that leaves fewer ads in the market for you to compete with.
5 marketing strategies to help maximize your ad spend
When it comes to preparing your marketing strategy for an unstable economy, looking at historical data is essential. But what other guidance have we been hearing from experienced people in our industry?
1) Stay nimble
You've probably been hearing this since the start of the pandemic, but flexibility is a must. Whether it be creating a flexible spending structure, keeping campaign creative dynamic and easily adjustable, or working with responsive/accommodating marketing channels and media networks.
2) Spend efficiently
When the going gets tough, consider what the best ways are to maximize the impact of your campaigns without breaking the bank. For example, where does your audience spend the most time on and offline (and has this changed due to the state of the economy)? What days or times are you most likely to reach them?
It's no secret that we're fans of digital out-of-home's (DOOH) potential, and our team recently wrote about 6 best practices for brands who want to make the most out of their ad spend when using this channel.
3) Prioritize value-based messaging
This helps build a genuine connection with your audience. Think about how your brand and its mission add value to consumers amid economic challenges. What impactful beliefs or messages does your brand want to highlight?
For example, in the 2008 recession General Mills promoted the value of in-home eating, which helped them grow a couple of percentage points faster than when the economy was doing well.
4) Consider your audience's position(s)
Remember that your customers may not all have a uniform experience during a recession or periods of inflation. Instead of offering a blanket solution for people, reflect on consumer data to create personalized messages or offers that will speak to each audience segment.
5) Innovation is your friend
Did you know that major brands like Trader Joe's, Microsoft, Adobe, and Electronic Arts (EA) all started in various recessions over the past century? Though you might not be in that exact position, the point is that pushing other innovations in areas such as pricing (e.g. new service tiers/packages) or product launches can really pay off.
Doing so will not only help you stand out but also maintain consumer enthusiasm. Take Netflix for example— during the 2008 recession, they continued to work on partnerships with organizations like Xbox so people could stream through those devices. It was these innovations that allowed them to keep growing and increase their subscriptions.
Keeping an eye on shifting consumer behavior
If you want to make sure your ad campaigns are as impactful and efficient as possible, it's important to stay up-to-date on how shoppers are feeling. What's top of mind for your audience?
This is especially relevant for the current holiday season. Here are a few insights we learned from a recent holiday survey with 1,000 grocery shoppers.
Most people prefer a mix of in-store and online shopping
Only 14% of consumers will shop entirely online over the holidays. This shows that most people prefer a mix of ecommerce and brick and mortar. So, adding in-person touchpoints to your media mix (alongside online and mobile campaigns) will be a valuable strategy.
Grocery stores will see a huge bump in traffic
Yes, grocery is definitely feeling the holiday cheer. 96% of consumers visit physical stores to buy groceries, and 73% plan to take more grocery trips over the holidays. This suggests that 1) People will be gathering frequently with their loved ones and 2) Grocery will remain a top category despite concerns about inflation. It's also worth noting that 60% said they purchase alcohol at the grocery store.
Shoppers are cost-conscious, but most aren't necessarily shopping less
Nearly 60% said they're going to have stricter budgets, but the majority either plan to spend the same amount (45%) or more (20%) on holiday shopping. As a brand, it'll be crucial to determine which products/categories your audience is prioritizing. Our survey showed that people plan to spend more on groceries (40%), clothing/accessories (37%), and electronics (32%).
How are you adjusting your campaign plans?
It's hard to predict exactly where the economy will be in the coming months, but we hope the strategies and data insights we covered here can inform your media planning.
We'll continue to share more resources and industry updates on our blog and in our monthly GTV Gist newsletter, which you can subscribe to below!