With global digital out-of-home (DOOH) ad spend projected to increase from 6.7 billion in 2019 to 15.9 billion in 2027, it's safe to say that DOOH is on the rise. But, with the channel still being relatively new territory for many marketers out there, there's some confusion around how to efficiently use it in campaign strategies.
This is especially relevant to think about today as the advertising industry faces the uncertainty of inflation and a potential recession. What are the best ways to maximize the impact of your campaigns?
In this post, I'll break down 6 best practices for brands who want to make the most out of their ad spend when using DOOH.
Why should you consider DOOH in your brand's media mix?
We know that it's important for brands to have a strong digital presence in order to be successful today, but consumers still value in-person experiences. More than 70% of retail purchases, and nearly 90% of grocery purchases, are still made inside a physical store. And as many people deal with digital fatigue, they're seeking more outdoor activities and noticing OOH ads 45% more than pre-pandemic levels.
I see DOOH as an essential piece of every brand's media mix because of the channel's flexibility, creative potential, and capacity to make a real-world impact with the digital perks you're used to getting from online platforms.
With DOOH, your brand can easily plan, launch, and track campaigns similar to how you would with other digital channels. There's a growing number of demand-side platforms (DSPs) that allow brands to activate DOOH programmatically alongside other channels to simplify the process and create a holistic view of their campaign performance.
What really stands out to me in terms of DOOH's impact is its ability to deliver mass reach and powerful brand building. As a one-to-many channel, DOOH can connect with a large audience in a cost-efficient way— all while providing brand safety and 100% viewability (no such thing as blocking or skipping ads with outdoor displays).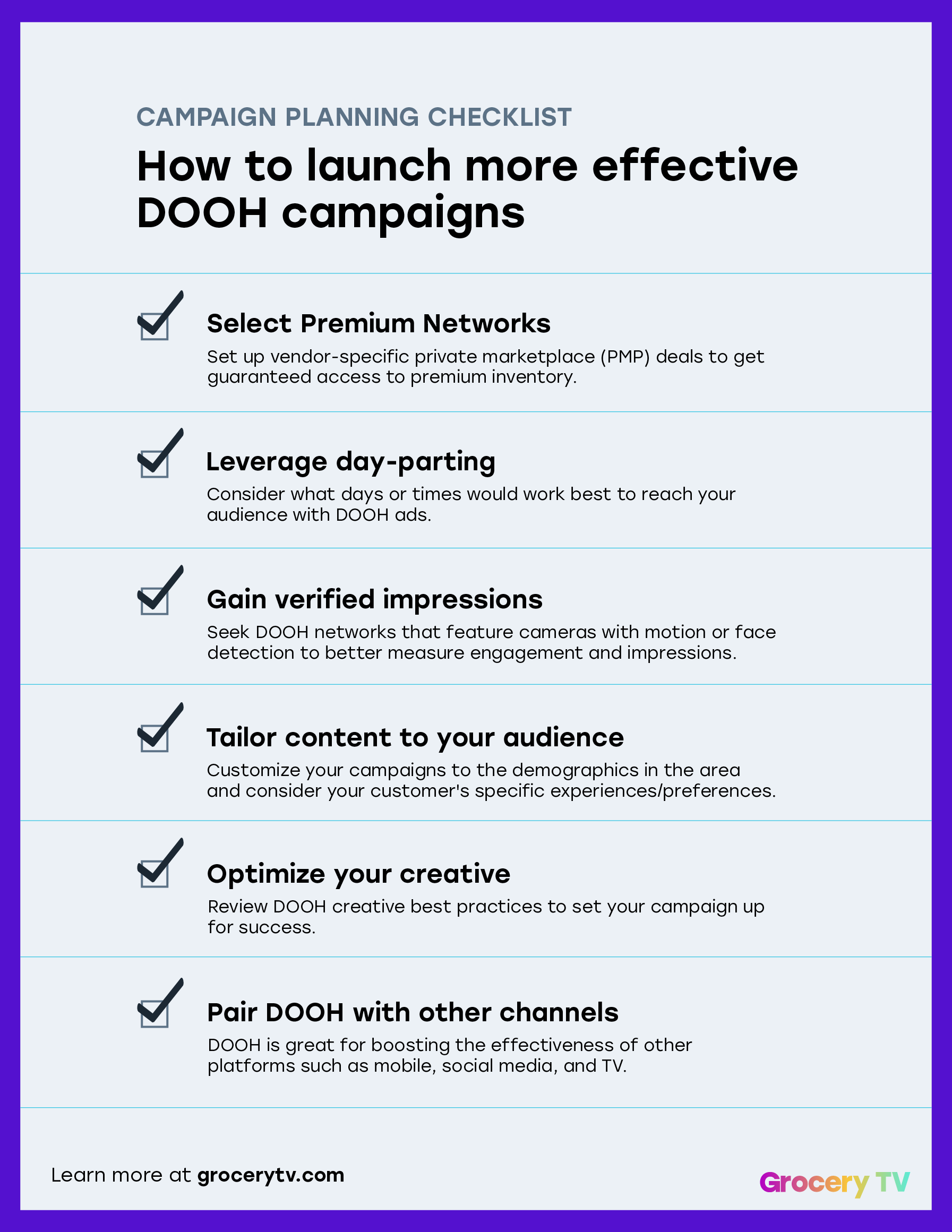 How to make the most out of your DOOH campaigns (aka more bang for your buck)
1) Select premium networks
Rather than simply choosing a specific DOOH venue type (such as public transit, malls, or roadside billboards) brand managers and media buyers should set up private marketplace (PMP) deals to leverage the premium networks in those venues. Venue types can hold a wide variety of displays but by setting up vendor-specific PMPs, buyers have guaranteed access to premium inventory.
These private exchanges use an automated auction to sell ad inventory, but publishers only invite a small group of advertisers to participate.
For example, Omnicom Media Group recently set up a programmatic PMP for retail DOOH screens which gave their clients preferred or exclusive access to place-based inventory close to the point-of-purchase.
2) Leverage day-parting
Similar to online campaigns, it's important to consider what days or times would be best to run your DOOH ads. At what moments will they be most relevant and appealing to your audience? What trends do you notice in the foot traffic data around the displays?
With Grocery TV, brands can choose to pace their campaigns according to traffic in stores. We know that major holidays throughout the year will cause high traffic across our network, and, according to a recent study, shoppers are actually visiting more often on weekdays.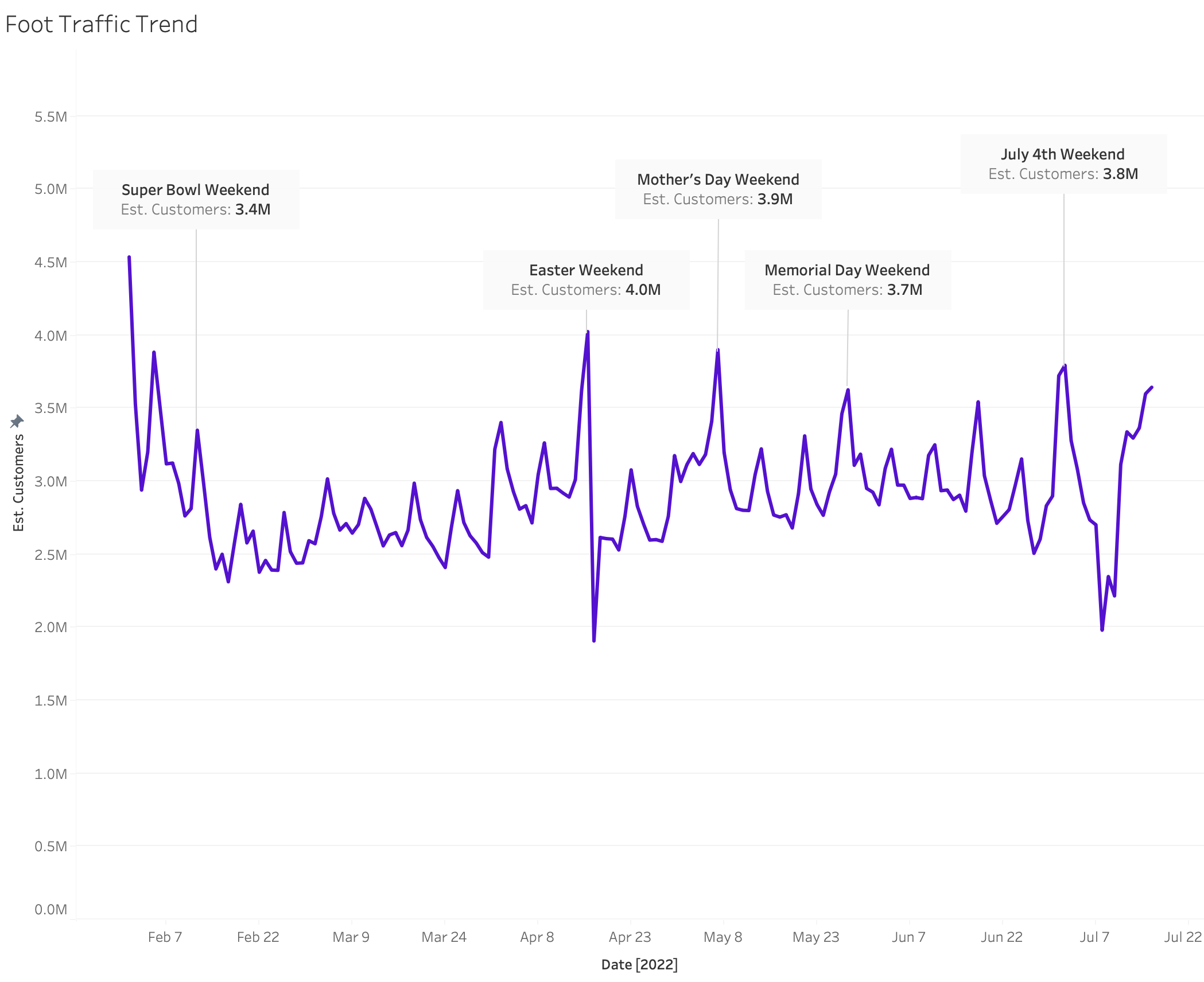 3) Gain verified impressions
Some DOOH displays feature cameras with motion or face detection to make sure each ad play is user-activated. All Grocery TV displays actually feature this technology.
Our system tracks every detected face (without storing images or other personally-identifying information) until they exit our display's field of view. It also captures the number of times a customer looked at our content and for how long. This means we can count verified impressions and also deliver novel engagement metrics back to our partners.
Having one-to-one impressions in the DOOH industry is one of the features that helps position the channel as an extension of other digital mediums like display, video, social, and connected TV.
4) Tailor content to your audience
When you're creating DOOH ads, it helps to tailor your creative to the demographics in the area and consider your customer's experiences/preferences. Those can vary widely, so be sure to spend time looking into the types of language and imagery that'll speak to your audience.
AT&T ran a series of campaigns on Grocery TV that focused on the cities they advertised in to establish a sense of familiarity with their customers in the area— such as this Spanish ad in Houston, Texas.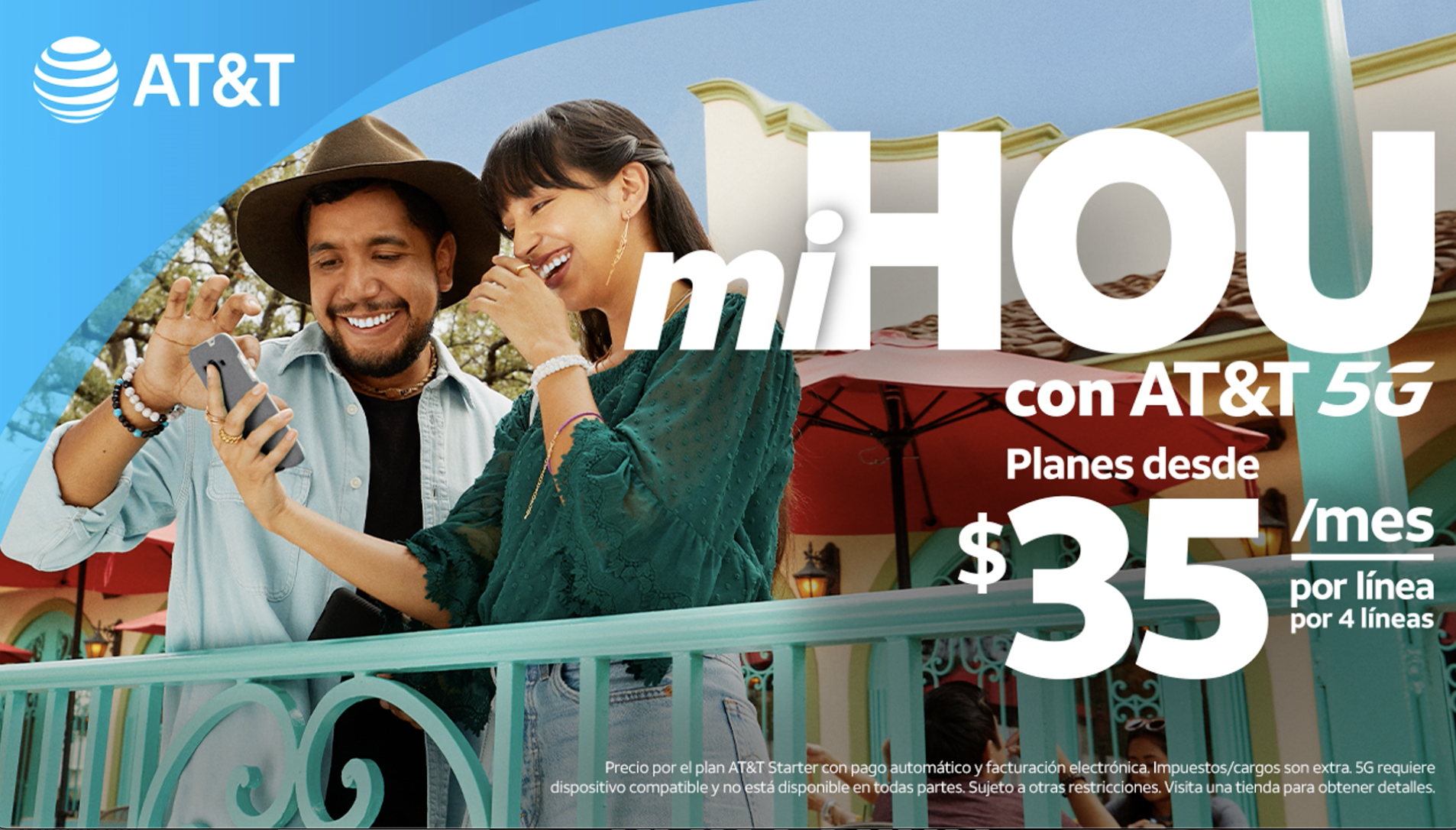 5) Optimize your creative
I suggest reviewing DOOH creative best practices to set your campaign up for success. Here are a couple of points from one of our creative guides:
Consider contextually relevant content
Create designs that can be used depending on variables such as special events, locations, traffic, weather, flight statuses, etc. When consumers come across contextually relevant creative, they're more likely to gain interest and engage with your brand.
Adjust creative for DOOH
What works in one channel might not always work for a DOOH display. By making tweaks to your messaging, font size, or image placement you can immediately improve an ad's relevancy and better capture audiences' attention.
Incorporate motion
Ads with moving elements are proven to be more enticing than a still image, but that doesn't mean you have to create an elaborate video. "Subtle motion" is a popular technique where minimal movement is added to elements of a DOOH ad.
6) Pair DOOH with other channels
Whether you're working on omnichannel or multi-channel campaigns, DOOH is great for boosting the effectiveness of other platforms. As a refresher:
• Omnichannel advertising focuses heavily on the customer journey. It establishes an integrated strategy between every channel with the goal of creating a consistent brand experience.
• Multi-channel advertising means your brand shows up in multiple channels, but each element isn't exactly connected (in my opinion, it's more focused on simply getting your brand in front of lots of customers).
When used together, marketing channels can complement each other and make up for what others may lack. Here are a few strategic pairings with DOOH:
• DOOH can increase reach by up to 316% for mobile advertising and 212% for social media campaigns.
• DOOH can drive 4 times more online search and social media activity per ad dollar spent than TV, radio, or print.
Stay in touch!
I hope this gives your brand some direction to test new strategies in your DOOH campaigns that'll generate a higher return on investment (ROI).
To keep up with future content about all things DOOH, marketing, and retail, feel free to subscribe to our team's GTV Gist newsletter below.