There has been a lot of attention on the state of data collection with the death of the cookie looming on the horizon and advertisers testing alternative ways to collect and analyze user behaviour data. However, browser tracking isn't as relevant in DOOH (Digital Out-of-Home) analytics. At the heart of many DOOH deals and campaign reports are: Impressions.
Impressions are the uniform core unit metric for all forms of advertising, including online, mobile, traditional out-of-home (OOH), and DOOH. They help measure performance by providing a representation of how many people are seeing ads within a particular channel, and they often determine how much an ad will cost.
Although impressions are utilized throughout the advertising industry, there are different ways to measure them. Our team is excited by the advent of camera-enabled DOOH ads, which make it possible to count every impression in real-time (you can even use eye contact to measure engagement). This technology makes it easier to assess the quality of impressions and removes the need for any guesswork.
In this article, we'll be explaining the basics of how ad impressions work in DOOH, including measurement methods and pricing details. We'll also be breaking down our own impression tracking at Grocery TV, and how our computer vision technology helps us validate over 200M impressions a month for our partners.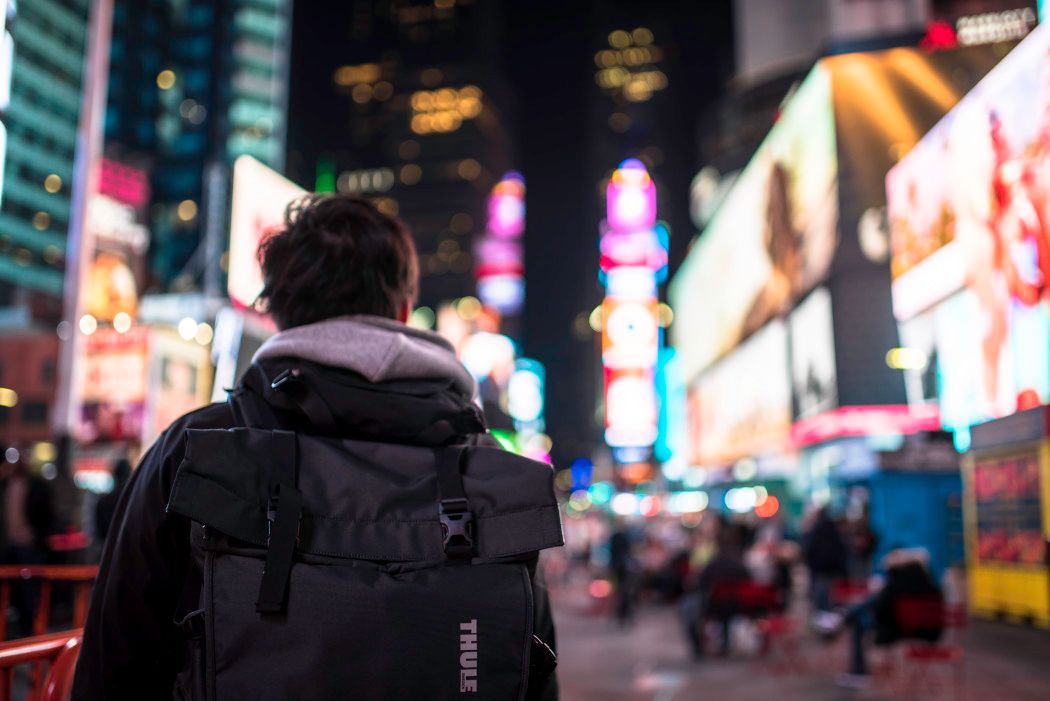 What are ad impressions?
Impressions are defined as the number of times your ads have been seen. However, the details of an impression can vary slightly when you're talking about online or mobile advertisements as opposed to DOOH. One major difference between them is the fact that DOOH is a one-to-many medium.
According to Google Ads, each time your ad is shown on a search result page or another site, it counts as an impression. In an online or mobile campaign, you can assume that each time an ad appears on a site or an app there will be one person on the other end.
With OOH screens, multiple people are likely to be viewing a display at the same time. This means that each "impression" needs to be multiplied by a certain variable in order to land on a more accurate number.
The impression multiplier
Determining the impression multiplier requires data collection that offers insight to the number of people that are around an area at a given moment. Networks use various methods to get this information, including:
-County level census data
-Proprietary survey data
-Independent third-party research
-Ticket sales in theaters or event stadiums
-Cameras or sensors integrated with a DOOH platform
At the end of the day, the goal is to land on an audience impression number that represents the total number of times people observed the ad while they were around the displays.
However, Grocery TV actually doesn't use an impression multiplier. As we'll explain further in the upcoming section about our own platform, we're able to count every ad impression rather than use a variable to help determine how many people were there.
The value of an impression
A common method of purchasing advertising is by the number of impressions, which is known as Cost per Mille (CPM), or cost per thousand impressions. Using this model, publishers will negotiate a rate with advertisers and charge them for every 1,000 impressions they want their campaign to obtain.
Measuring campaign effectiveness
When it comes to tracking the effectiveness of a DOOH campaign, the industry usually relies on analyzing conversions for a product or service before, during, and after a campaign runs its course. We've previously discussed how we measured the impact of in-store DOOH advertising on brand sales lift.
Other tactics include:
-Tracking promo code usage
-Conducting surveys
-Tracking campaign-specific URL links
-Using mobile location data to link ad impressions with sales
Tracking metrics that are commonplace in the online world such as reach, engagement, and audience data might work differently for DOOH networks, but it's completely possible. Ad impressions play such a huge role within DOOH campaign deals, so it's important to have an accurate collection of data.
In this next section, we'll dive into how our own impression tracking and verification work using computer vision.
How we verify data with computer vision at checkout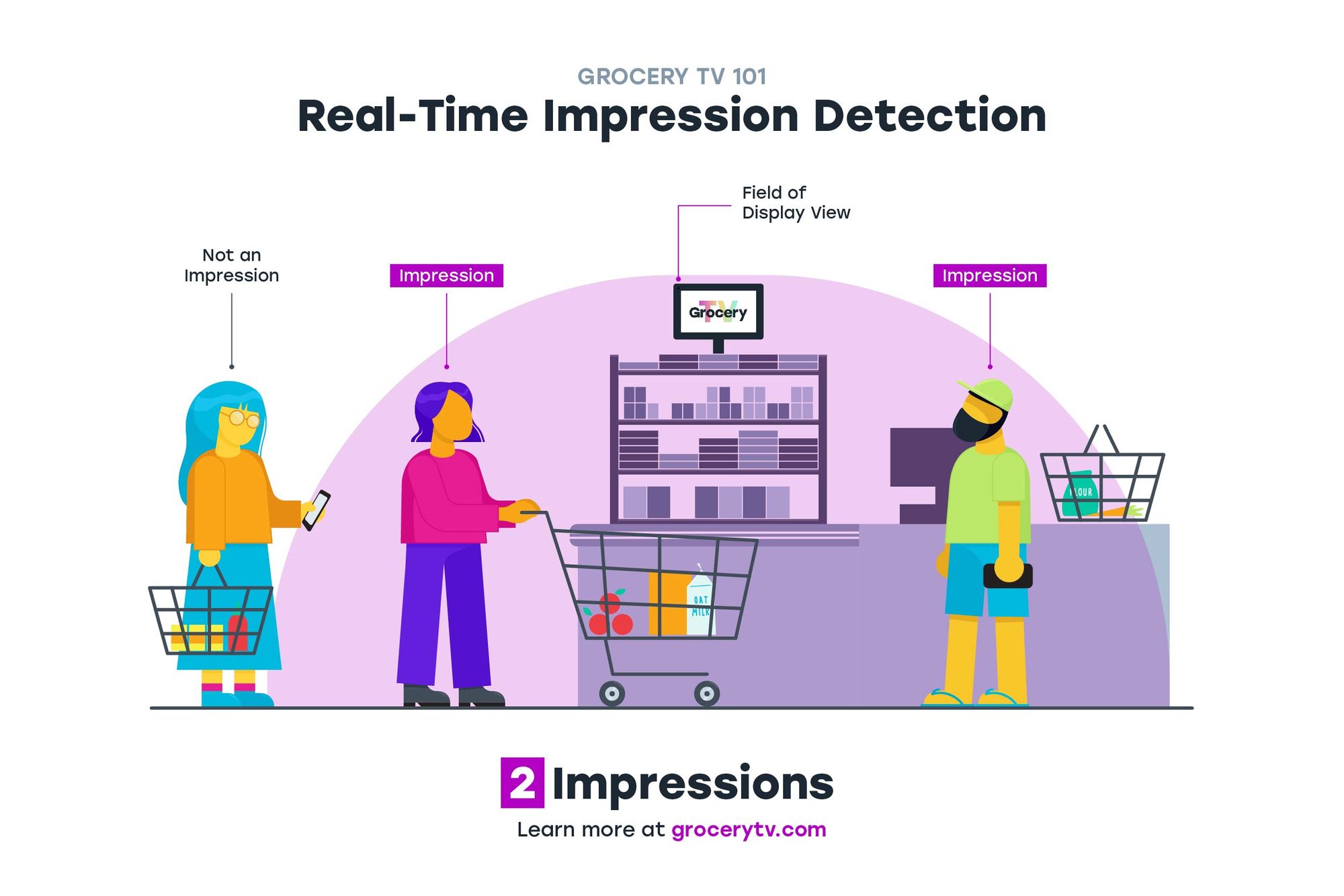 Impression detection
Each of our checkout displays is equipped with a wide-angle front camera that can be used to play advertisements when a face or motion is detected. We take special care to calibrate our facial detection algorithms to only trigger once a customer steps into the checkout lane.
This prevents the display from running ads due to movement in other lanes or the center store, and it ensures that ads are only shown when a customer is there to see them.
Our system tracks every detected face until they exit our display's field of view. It also captures the number of times a customer looked at our content and for how long. This allows us to deliver novel engagement metrics back to our partners, but, more importantly, it means that we're counting only unique impressions for each ad we show.
Although we track facial movement while shoppers are in our display's field of view, we want to clarify that we do not store any visuals of their faces or any other personally-identifying information. Our system only saves the number of "impressions" that were confirmed during that ad's play time.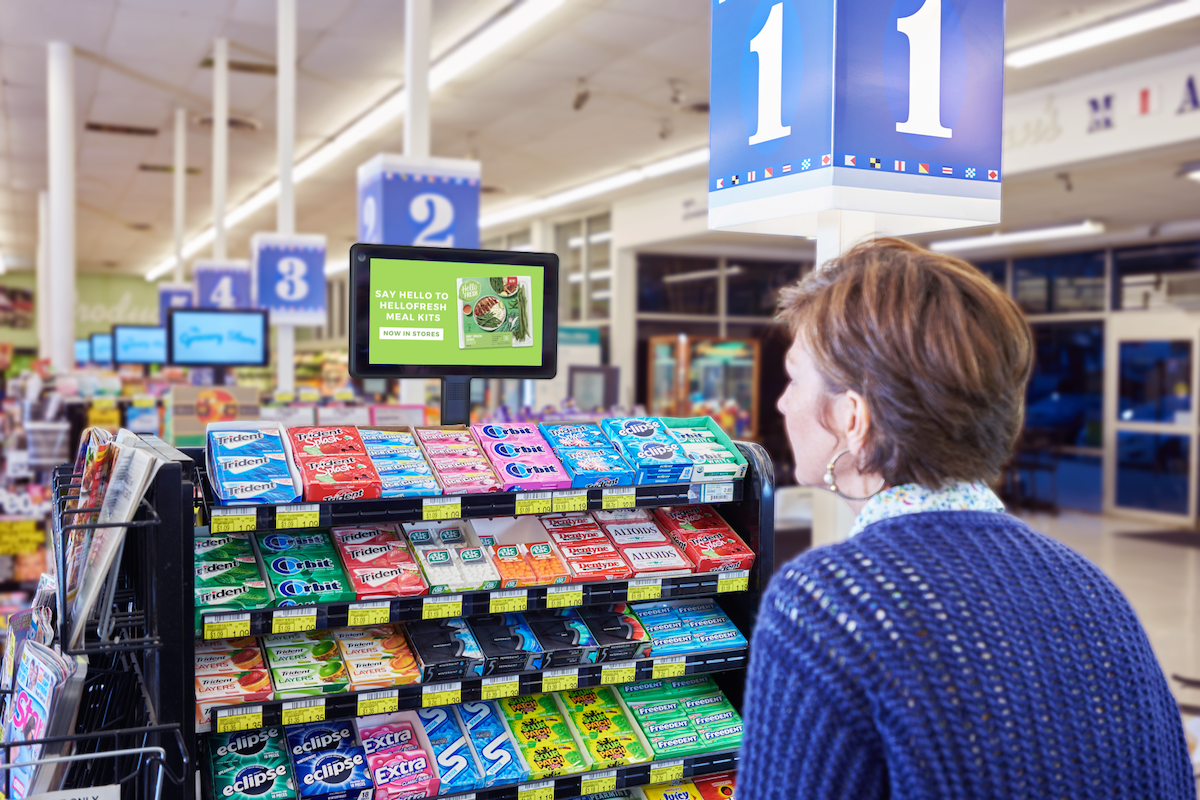 Stay tuned for more 101s
To sum things up: Impressions are the number of times your ads have been seen, and although they're used heavily across all advertising channels, the way they're measured can vary along with what an advertiser considers to be an effective campaign.
At Grocery TV, we give our partners the option to use computer vision and track whether or not a shopper watched an ad while waiting at the checkout aisle.
Did you find this 101 helpful? We'll be covering more key areas in advertising, so be sure to subscribe to our GTV Gist newsletter below: