Since the onset of the coronavirus pandemic, we've been keeping an eye on changes in our industry including consumer behavior trends and the impact on grocery retail. Digital out-of-home (DOOH) screens have gone dark in spaces like office buildings and indoor malls, and there's less business from heavily impacted verticals such as entertainment and travel. Although, Grocery TV has actually seen consistent traffic due to grocery being an essential business.
We're confident that screen activity and foot traffic will continue to recover as restrictions ease and cities reopen— with indoor audiences having already increased by 26% since April. However, it's clear that our day-to-day DOOH interactions and priorities are going to completely transform.
DOOH advertising is known to be highly adaptable, but COVID-19 has drastically pushed its capabilities and proven that it will be crucial for our community as we head into a post-pandemic world. In the past 4 months, we've observed how DOOH media has been delivering health-conscious content, encouraging people to stay connected, and incorporating cutting-edge technologies into their displays.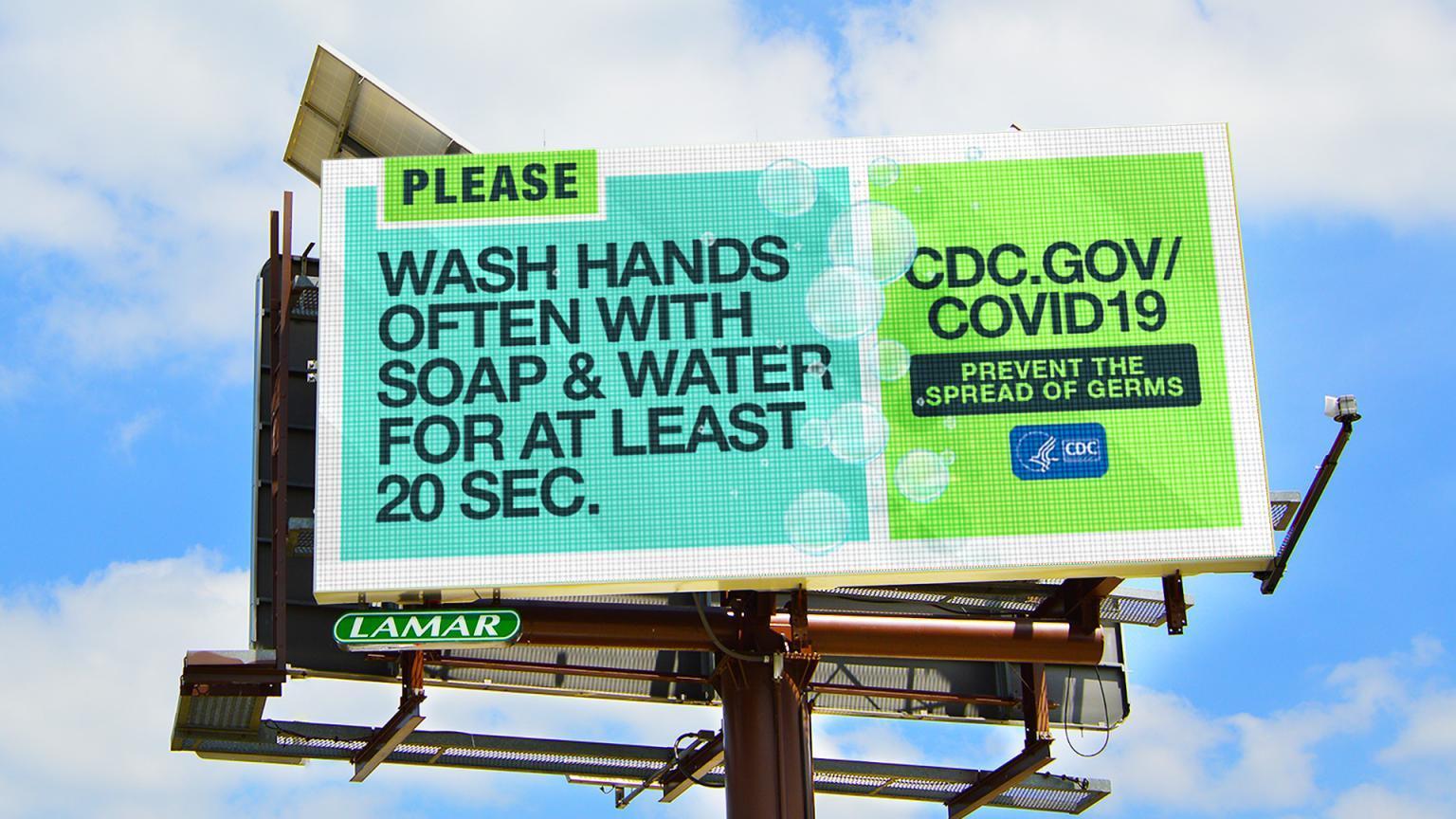 Guiding the Public on Health and Safety
The Grocery TV network felt the emphasis on health in particular. After all, trips for food and supplies became one of the few exceptions where large groups could gather despite the risks. We made it a priority to create COVID-19 templates for grocers to broadcast important messages to their customers. The campaign trends we noticed on our displays were guidelines from the Center for Disease Control and Prevention (CDC), reminders for shoppers to wear masks, and enforcing the use of social distancing markers to stay 6 feet away from others in the store.
These trends can be seen not just in grocery stores but on a massive global scale using both indoor and outdoor displays. Companies like the Ad Council, Digital Place-Based Advertising Association (DPAA), BroadSign, Lamar Advertising, Intersection, and Engine UK stepped up to deliver crucial updates, preventative hygiene procedures, and even content templates to assist competitors. It has been inspiring to see DOOH businesses recognizing their social responsibility and using their platforms to inform our wary society. Many of these efforts were accomplished collaboratively alongside local, state, and federal entities to publish the latest prevention tips and resources.
A notable partnership was between the Out-of-Home Advertising Association of America (OAAA) and the CDC, which distributed public service announcements to thousands of DOOH units. Digital billboards, kiosks, and other street furniture asked individuals to wash their hands often, stay home if they felt sick, and avoid touching their faces. All of their campaign visuals are accessible online in multiple dimensions for anyone who wants to download and share in their community.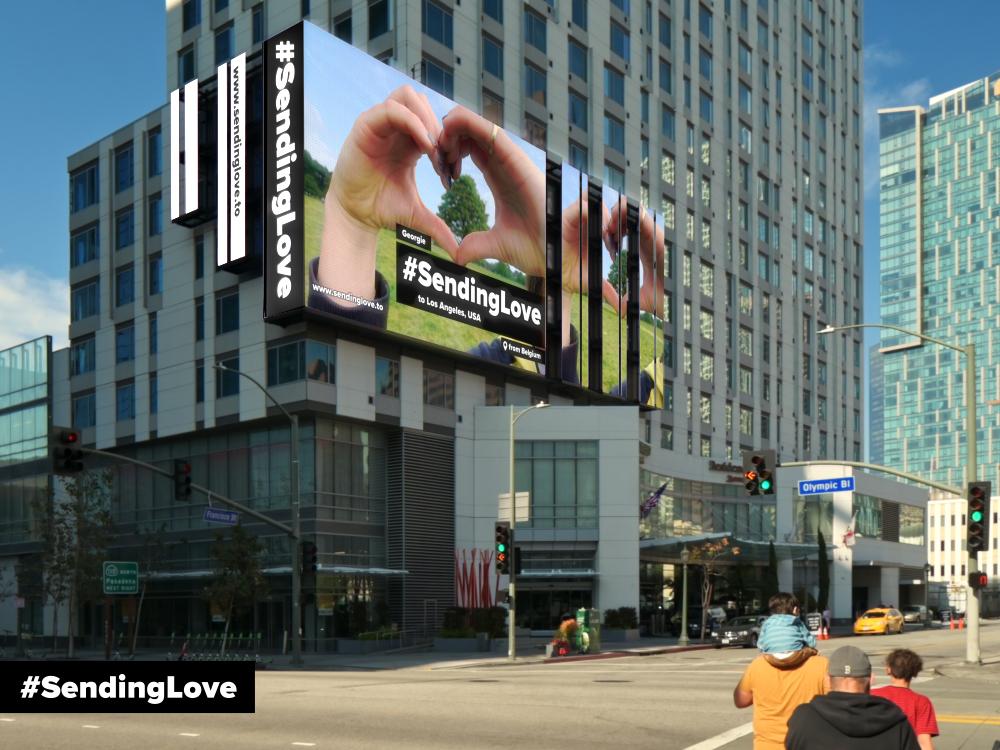 Keeping Communities Connected
Numerous out-of-home networks, mental health organizations, local businesses, and brands ran campaigns to help people stay connected during these times of fear, uncertainty, and isolation. Health-related communication is crucial, but it's also important to encourage kindness and remind each other that we're facing COVID-19 alone, together.
A myriad of "thank you" campaigns such as #OutThereForUs were created for front-line workers like nurses, doctors, delivery drivers, grocery store staff, public transit operators, and other essential employees to express their community's appreciation. There are about 55,217,845 workers in the U.S alone who can't work from home, so it goes a long way to show support and brighten their day during their commute.
Another example of bringing people together was the #SendingLove campaign, a global initiative that ran on advertising space donated by over 70 media owners across 153 cities (the largest User-Generated-Content campaign to ever run on DOOH). It allowed people to deliver uplifting notes from one location to another along with an image of their hands shaped like a heart.
Although DOOH views have fallen since the pandemic began, now is a significant time for brands to get their message out. People are still making trips outside, and when they do they're going to remember who was reaching out in sincere ways. Dunkin Donuts was one such brand that kept communicating with consumers; by giving consistent service updates, advertising their emergency fund for families in need, and spreading awareness of discounts for front-line workers, they established relationships that will last well beyond the pandemic.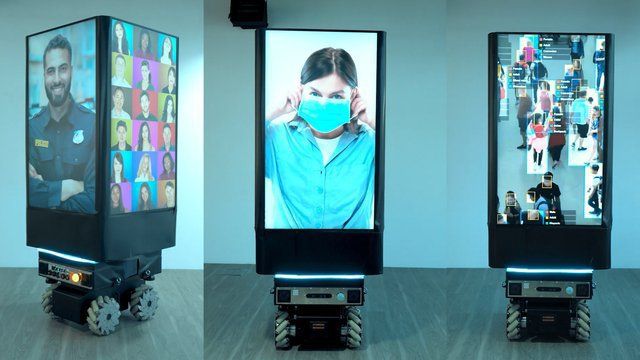 Advancing Display Technologies
The pandemic has spurred our industry to think outside the box and invest in technology that creates contactless interactive experiences and accurately analyzes crowd activity. We've discovered impressive DOOH solutions that make it easy to safely access information and engage with audiences in unique ways.
Smart cities product TOMI (active in Portugal, Brazil, and Chile) recently disabled their touch interactivity and enacted a smart alert function that detects how many people are out on the street, which then plays awareness messages depending on the number of bodies detected. For example, if one person is walking alone they'll get a display that reminds them to stay at home. If three people pass by, the message will advise them to follow social distancing. This technology also has the potential to inform local authorities if crowd levels get too high in public areas.
We're noticing more and more companies pushing the envelope of what DOOH can do. RoboAds presented a mobile kiosk equipped with speakers and microphones that can provide not only digital advertising but also a telepresence feature— which can help healthcare staff check-in patients remotely. They're made with edge computing servers that are compatible with IoT hardware updates, including an option for a thermal camera that detects fevers. Since they move autonomously, RoboAds can navigate through high traffic areas like metro stations, hospitals, airports, and shopping malls.
DOOH Beyond COVID-19
We predict that relaying public health information and unifying messages will continue to be a priority in the coming months. At the very least, it will take 12 to 18 months to develop a vaccine for COVID-19, and current conditions in the U.S. are raising more health concerns. As for developing technologies, we believe there are endless opportunities for DOOH solutions to assist those in retail, hospitality, healthcare, education, art, and many others with safely implementing their services and customer engagement.
We'll keep track of how the industry continues to change after being challenged by COVID-19, and we hope that audiences everywhere begin to feel more at ease and prepared for their daily interactions with the help of DOOH media.
If you'd like to start a campaign that will share an important message with customers, reach out to us! We're happy to get you on our Grocery TV network.
Get Started