Building trust has always been a major concern in the finance industry. Banks are responsible for handling some of their customer's most private data and information, so it's crucial to establish your brand as supportive, reliable, and trustworthy.
How do you accomplish this through your marketing strategy, especially during a time of economic uncertainty?

Here we'll explore how in-store media networks like Grocery TV can help you effectively market financial services— including engaging with customers in a familiar space, standing out from competitors, and optimizing your campaigns.
Reach customers in a brand-safe environment
When you purchase an ad online, there's often a risk that your content will be placed next to an inappropriate banner or on a vulgar website that could negatively impact your brand's reputation. That's the last thing you want as a finance company.

Grocery TV's digital displays are placed in trusted grocery stores at the center of each community. When shoppers visit their neighborhood grocer, they're more receptive to campaign messaging and will associate your brand with the store's familiarity. This is especially meaningful when you consider that Grocery TV's audience is made up of household decision makers.
Stand out among a competitive finance industry
In-store media presents a unique opportunity to create high-impact campaigns for your customers. When done with proper planning and engaging creative, your bank will leave a lasting impression that differentiates you from other finance companies.
For example, Chase ran a contextual campaign on Grocery TV that promoted how much cash shoppers received when they purchased vegetables with a Freedom Unlimited card. Contextual creative helps promote engagement and can boost campaign effectiveness by 17%.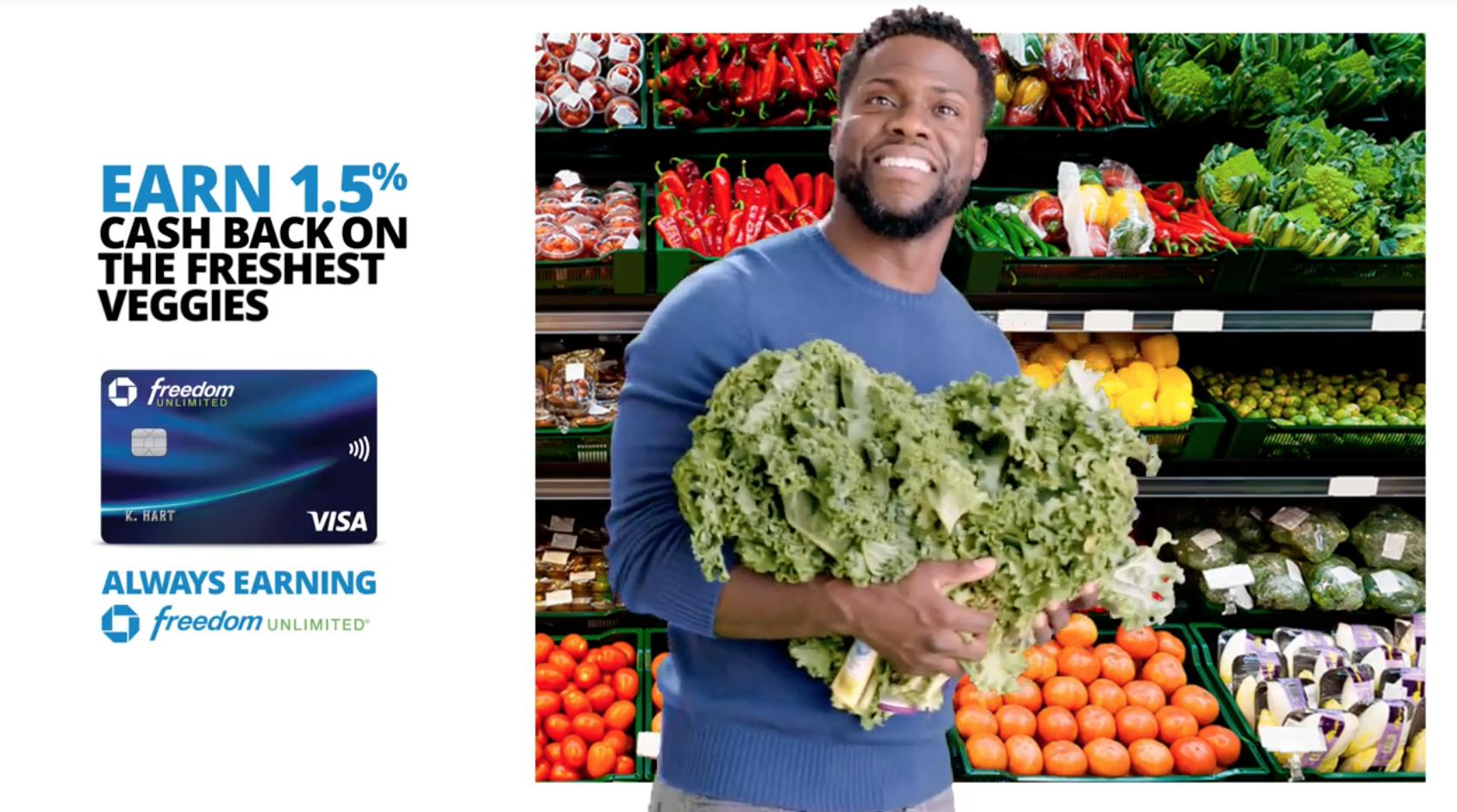 Plus, because of the digital nature of networks like Grocery TV, you're able to adjust your campaign content and update accordingly when there are new promotions or rewards to share.
Create targeted, community-specific messaging
With ongoing economic concerns and rising food prices, it's important to consider what consumers are experiencing across the country. Depending on which community you want to reach, you'll want to be strategic about what products or services to highlight as well as how you talk about them.

With Grocery TV, you can create targeted campaigns using insights on grocery shoppers' consumer behavior (what they shop for, what they're concerned about, etc.) as well as accurate foot traffic and demographic data. Addressing your audience's financial struggles, needs, and situations in your content will improve the way they perceive your brand.
Measure analytics throughout your campaign
We believe marketers should measure in-store media similar to other digital channels such as mobile or display. Regardless of how a brand is classifying a network (retail media, digital video, DOOH, etc.), they ultimately should have access to all of the data they need to set up, optimize, and measure their campaigns.

Our team works with leading data partners such as Place Exchange (and their PerView product) to accurately measure performance analytics for your finance campaigns. You can track your ads in near real-time, making it easy to optimize your campaign's performance and better understand your audience demographics.
Brand lift with a major bank
One example is a study we did for a major bank that launched a brand awareness campaign. We worked with MFour to design a survey that measured brand lift by comparing responses from exposed and control groups. There was a focus on 25-34 year olds since they're most likely to switch banks.
The results for this study (specifically among prospective customers in their target demographic) included:
• 15.6M favorable impressions toward the brand
• 5.2% lift in the brand's rating
• 8.5% lift in likelihood to open an account with the brand
Want to keep up with Grocery TV?
Subscribe to the GTV Gist! We create helpful resources about digital in-store advertising, recap important industry research, and let you know about our latest network expansions.