Today's in-store media is very different from its analog predecessors. It's dynamic, real-time, and most importantly, digital, which means the way media buyers measure it should be closer to other digital channels (think mobile or display).
There's currently a lot of debate over the standardization of measurement practices across individual retail media networks. Our network spans 670 retailers and offers simple programmatic transacting through all major DSPs.
So, our perspective is that regardless of how a brand is classifying our network (retail media, digital video, DOOH, etc.), they ultimately should have access to all of the data they need to set up, optimize, and measure their campaigns.
What progress has the industry made so far? Although coarse models and annual/monthly data estimates were once the norm for in-store media, mobile device data is becoming a more trusted method among brands and retailers.
More broadly, groups such as the Interactive Advertising Bureau (IAB) and the Path to Purchase Institute are addressing measurement challenges and sharing resources to help guide decision-making and strategies for retail media, specifically.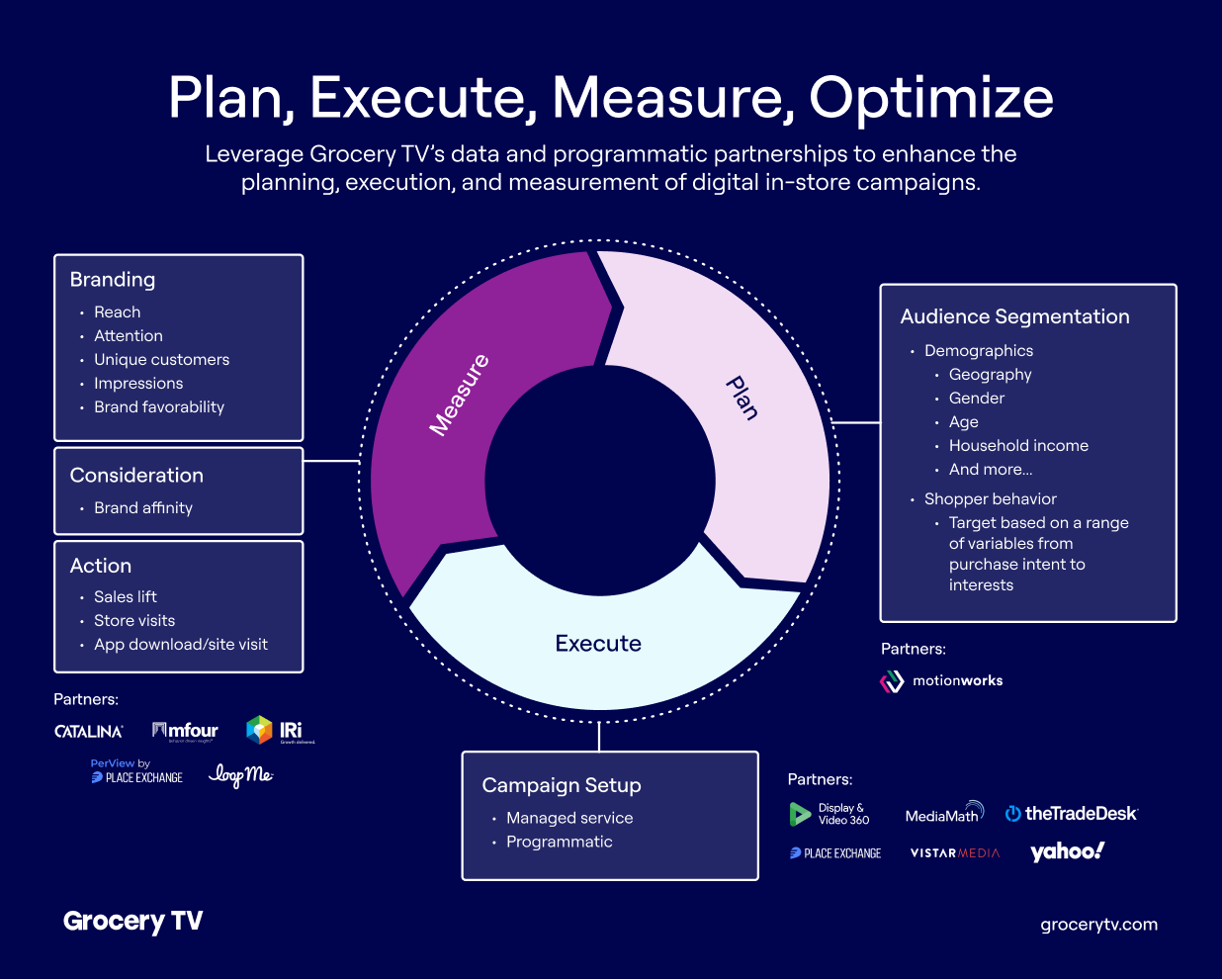 As a tech-first company, the Grocery TV team wants to bring our standards for measurement and transparency into the brick-and-mortar space. There's still a ways to go before the industry reaches standardization, but we're committed to providing the most reliable audience data and performance metrics to our partners.
Here's a closer look at how we're approaching measurement for our in-store digital advertising network.
In-depth audience and store data using Motionworks
Motionworks is a population intelligence company that gives our team valuable insights into grocery shoppers' consumer behavior (what they shop for, where they shop, etc.) as well as accurate foot traffic and demographic data. To gather this data, they use mobile device ID technology and statistical modeling.
"Now, more than ever, it's crucial to understand consumer visitation trends. The last few years have caused massive shifts in the way people travel, shop, and commute. Population intelligence helps companies like Grocery TV stay ahead of the trends and maximize the potential of their network and their advertisers."
—Kym Frank, Global CxO at Motionworks
We partnered with Motionworks because their data helps advertisers:
• Learn more about their target audience's behavior and purchase activity
• Target the right communities and store locations for their campaigns
• Inform their campaign strategy and creative approach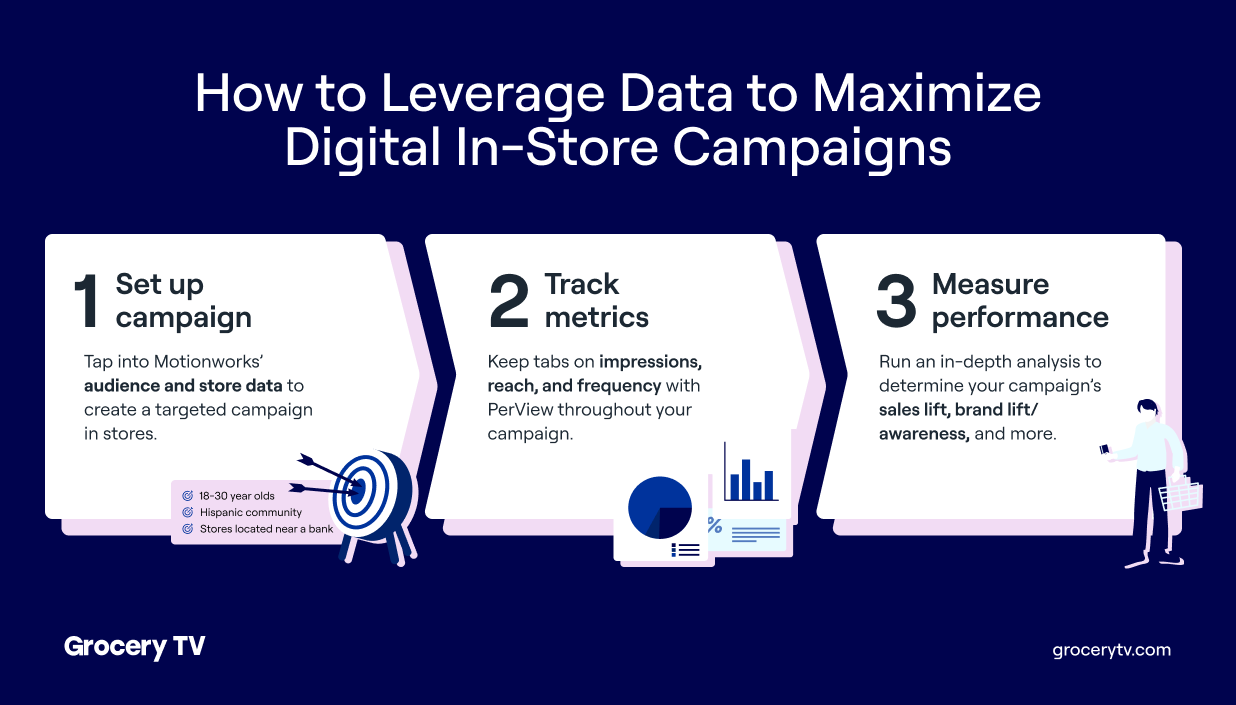 We have access to thousands of attributes about the shoppers in our network. What are a few examples of the data our partners can expect?
Let's say we're working with a finance brand on launching a campaign in stores. We'd be able to tell them how many shoppers:
• Are interested in opening a new credit card
• Are interested in investing opportunities
• Plan to switch home/renters insurance in the next 12 months
• Use a specific bank
• And much more
One added benefit of working with Motionworks is that we're able to make requests for additional attributes— if the data isn't already available, we'll work with their team to grab that information for our partners.
Measuring reach, frequency, and impressions using PerView by Place Exchange
PerView, developed in line with the OAAA OOH Impression Measurement Guidelines, measures up-to-date reach, frequency, and impressions across OOH venues and formats using deterministic mobile device data. We decided to transition to PerView based on feedback from our partners requesting third-party validation for our metrics, and because it provides best-in-class standardization for measuring advertising outside of the home.
"Place Exchange built PerView in response to buyers and sellers needing a solution for dynamic reach, frequency, and impression measurement applicable across the entire OOH category, with metrics that allow for planning, analytics, and measurement on par with those of other channels."
—Ari Buchalter, CEO at Place Exchange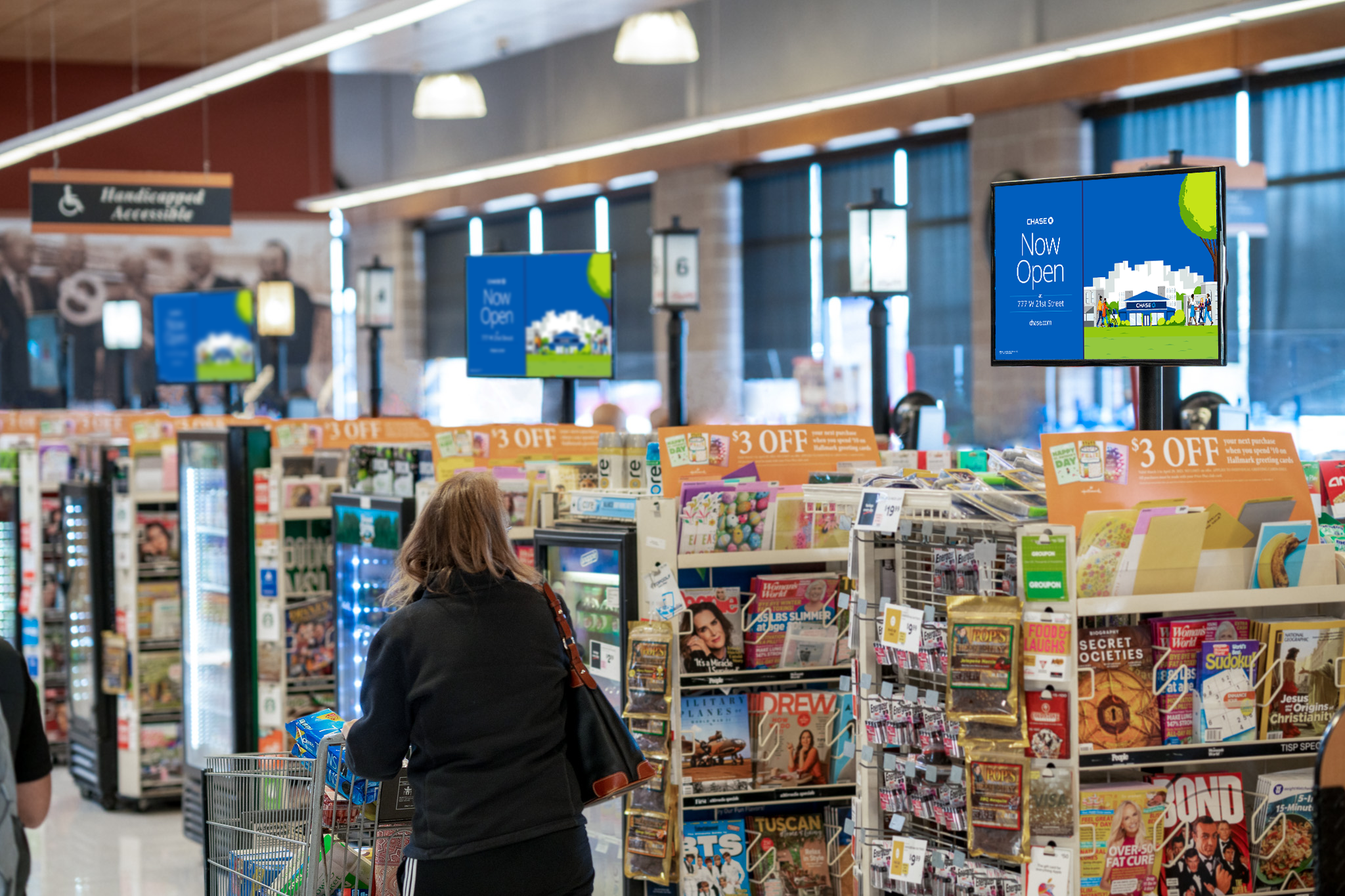 Grocery TV is launching new products throughout the store, and we want to maintain high-quality measurement data for each of our displays regardless of where they're located or their different specifications. Using PerView as our third-party measurement partner allows us to expand while maintaining our commitment to fully transparent impression reporting.
Running campaign performance studies for our partners
We've worked on many studies for our brand partners to measure their campaign's effectiveness based on their particular goals. That includes measuring sales lift, brand lift/awareness, purchase intent, recall, and more.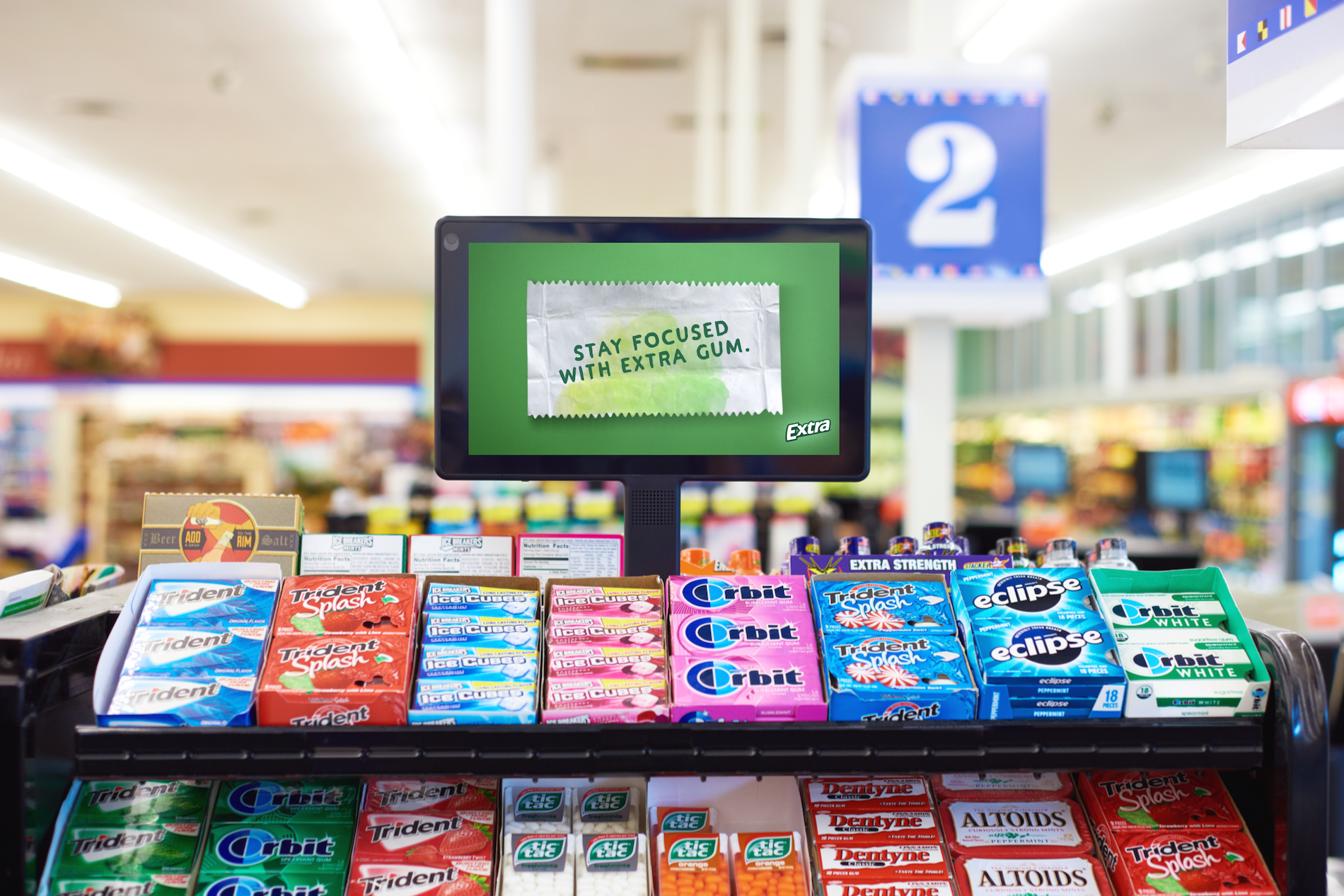 Sales lift with Mars Wrigley
One example is a study we did for Mars Wrigley where their team wanted to understand the effect different types of creative messaging had on sales lift. They ran four functional Extra Gum campaigns with different messages and one brand equity campaign.
A regression analysis was used to determine the sales lift overall, and lift for the five campaigns individually, in a set of test stores versus a set of control stores. This analysis also controlled for convoluting factors like price, seasonality, and store foot traffic.
The most effective creative resulted in an 11.1% sales lift for Extra Gum, and there was a 6.4% overall sales lift for the brand.
Brand lift with a major bank
Another example is a study we did for a major bank that launched a brand awareness campaign. We worked with MFour to design a survey that measured brand lift by comparing responses from exposed and control groups. There was a focus on 25-34 year olds since they're most likely to switch banks.
The results for this study included 15.6M unique favorable impressions toward the brand, a 5.24% lift in the brand's rating, and an 8.5% lift in likelihood to open an account with the brand (specifically among prospective customers in their target demographic).
We're currently establishing more in-depth studies for endemic and non-endemic brands so we can provide a clearer picture of each campaign's impact, even if certain products or services aren't found in the stores themselves.
More insights on in-store retail media measurement
While it will take time for the industry to establish universal standards for retail media measurement, it's crucial to maintain an ongoing dialogue and strive for continuous improvement.
We're going to keep working on our measurement stack to give our partners the best possible experience. Our team will soon be publishing content that further explores the state of in-store media measurement and answers some of the bigger questions we hear from brands and retailers.
Subscribe to the GTV Gist to keep up with our new content: