We recently added 370+ stores (which includes 2,300+ displays) to our network across the West Coast and Southwest by partnering with retailers Smart & Final, El Super, and Fiesta Mart.
"We're excited to partner with grocery leaders who consistently prioritize their customers' experience. We're looking forward to working with them and continuing to grow our reach in major cities like Los Angeles on the West Coast."
-Mike Pollack, Chief Revenue Officer at Grocery TV
We're growing our in-store retail media network in California DMAs - like Los Angeles, San Francisco, and San Diego - as well as Texas and Arizona DMAs including Dallas-Fort Worth (DFW), Houston, and Phoenix. Adding stores in these areas helps us expand our reach to more multicultural audiences, especially those in the Hispanic community.
Let's take a closer look at audience demographics and our network's coverage in these DMAs.
Here's what we know about our audience
The Hispanic community makes up 45% of the population in these West Coast and Southwest DMAs. About 35.5% of people also speak Spanish.
Many stores cater to the needs of the Hispanic community through their Latin American products and inclusive shopping experience, which makes it easy for brands to connect with this audience in a meaningful way.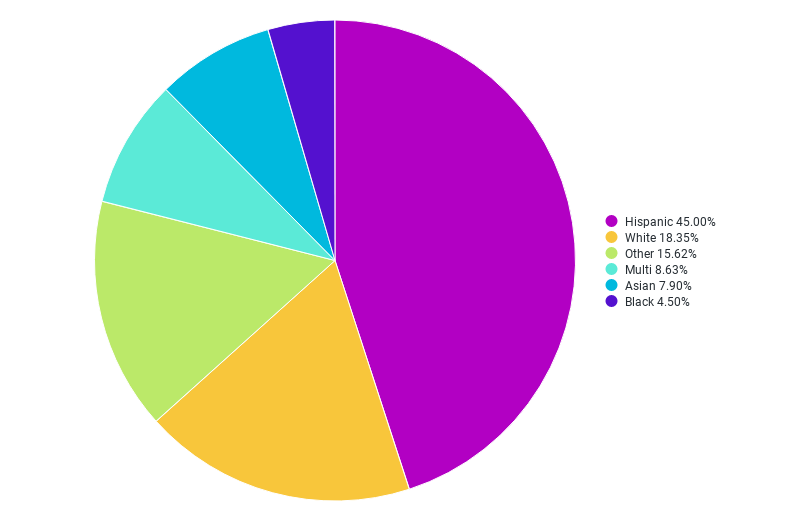 A few other multicultural consumers within this expansion include those who identify as:
• Multiracial (8.6%)
• Asian (8%)
• Black (4.5%)
The largest age groups in this network are folks between 20-29 and 30-39— which means lots of Gen Z and millennial consumers. These audiences are also known as "the unreachables" because of how difficult it is to reach them on linear TV these days, but brands are solving that with in-store retail media networks like Grocery TV.
Gen Zers and millennials who typically look at their phones when a TV commercial comes on tend to be more attentive when they browse physical stores.
GTV is making moves
One of our top priorities is giving brands more opportunities to connect with consumers at key moments during the shopping journey, and we're making huge strides toward that goal this year.
We recently acquired Mediaworks Advertising, which expanded our network to the store entrance and fueled our full-store expansion. We'll soon announce more digital in-store media products throughout the store, including service departments, pharmacy, and center store.
By the end of 2023 we expect to grow our network to 5,500 stores, reaching 60 million shoppers (that's nearly a quarter of U.S. adults).
Subscribe to our GTV Gist newsletter to stay in-the-know: