According to a Grocery TV survey, although everyone is keeping an eye on the economy and inflation rates, the majority of consumers either plan to spend the same amount (45%) or more (20%) on holiday shopping.
But what exactly are they spending on? How have their other shopping habits changed over the last few months? What's top of mind for them?
Using our own data and third-party research from folks in our industry, we compiled 5 key shopper insights your brand can use to inform your marketing strategy this month and into the new year.
Need a quick recap?
No problem, that's what infographics are for: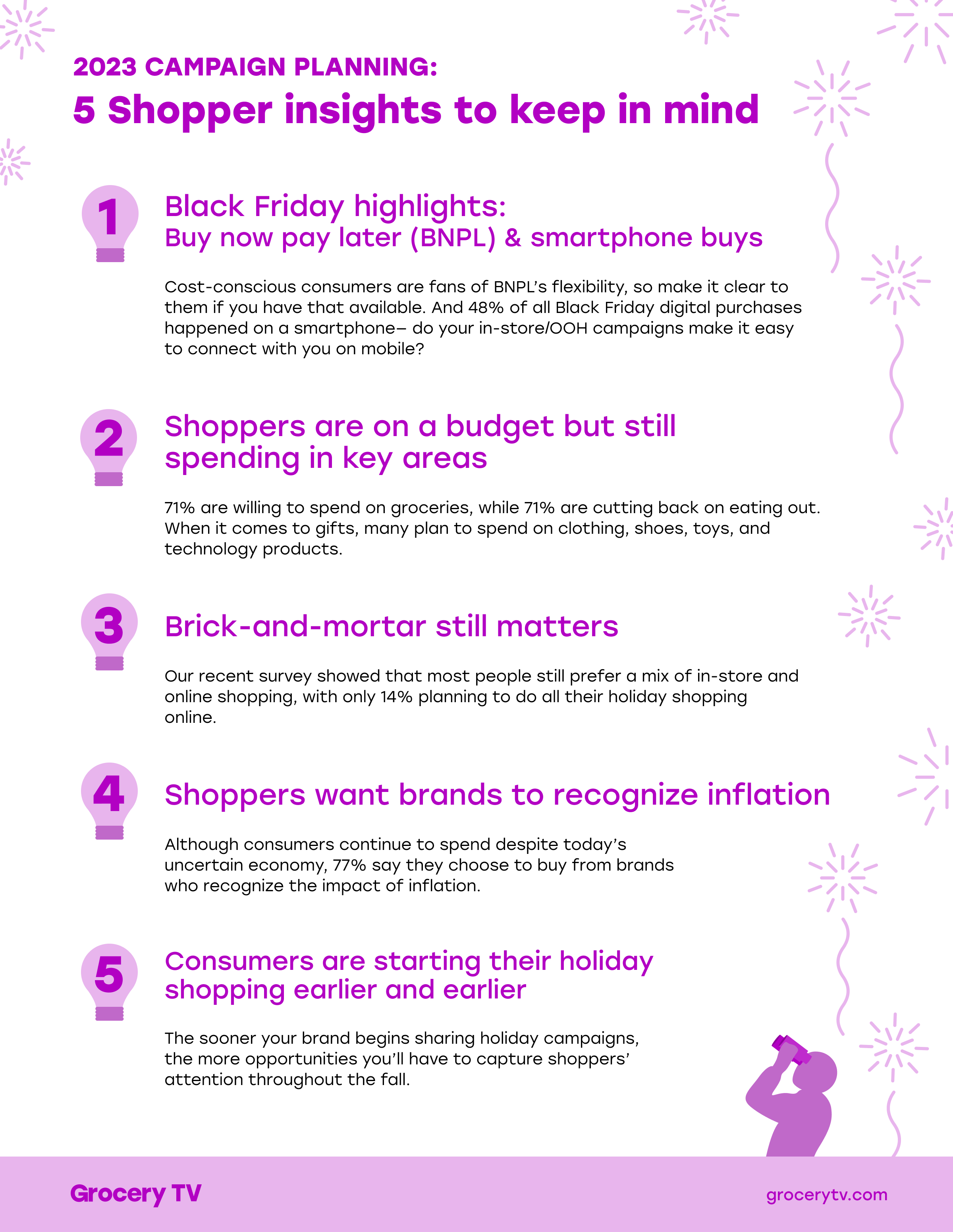 1. Black Friday highlights: Buy now pay later & smartphone buys
Black Friday saw so much activity this year that consumers actually broke sales records. Although many folks start their shopping early in the season, they still took advantage of Black Friday and Cyber Monday deals.
There are a few key takeaways you can apply to your campaigns as people continue their holiday shopping:
Buy now, pay later (BNPL): Cost-conscious consumers are fans of the flexibility and breathing room that BNPL gives them, so make it clear to your audience if you have that available as a payment option.
Smartphone buys: For the first time, 48% of all Black Friday digital purchases happened on a smartphone— do your in-store/OOH campaigns make it easy to connect with you on mobile?
If you run a campaign in stores on Grocery TV, for example, you can add a QR code (or an easy-to-remember URL) to your creative so shoppers can look up your brand while they wait in line at checkout. This allows them to see more product details as they go about their day, and it builds brand recall for when they're ready to make a purchase.
2. Shoppers are on a budget but still spending in key areas
Although 60% of shoppers have stricter budgets this holiday season, 45% expect to spend about the same as last year and 20% say they'll be spending more. What should we make of this contradiction?
People may still be spending, but they're becoming more strategic about how to make the most of their budget (which will most likely continue into 2023). Research shows that 44% plan to use coupons and promo codes more often this holiday season, and there are specific categories they're willing/not willing to spend on.
71% are willing to spend on groceries, while 71% are cutting back on eating out at restaurants and other locations.
When it comes to gift shopping, people plan to spend the most on:
• Clothing (48%)
• Toys (29%)
• Technology products (28%)
• Shoes (27%)
3. Brick-and-mortar still matters
There's no doubt that online spending is on the rise, but the value of brick-and-mortar stores shouldn't be ignored. According to our recent survey, most people still prefer a mix of in-store and online shopping, with only 14% planning to do all their holiday shopping online.
This makes sense considering how many shoppers enjoy being able to see and touch items before they buy. Launching brand campaigns online and in stores can create a more seamless shopping experience for consumers. Check out this blog if you'd like to learn more about how a digital out-of-home (DOOH) network like Grocery TV could help boost your brand in stores.
Grocery stores and big-box/superstores will see significant traffic
When it comes to where shoppers will be doing their holiday shopping, grocery stores and superstores are at the top of the list. These stores often offer a one-stop shop for all holiday needs, from food and drinks to gifts and decorations. About 73% of shoppers plan to take more grocery trips over the holidays, and 67% tend to visit superstores within a few days of grocery shopping.
4. Shoppers want brands to recognize inflation
Although consumers continue to spend despite today's uncertain economy, 77% say they choose to buy from brands who recognize the impact of inflation. Plus, 75% say that ad messages about value or savings are most relevant to them.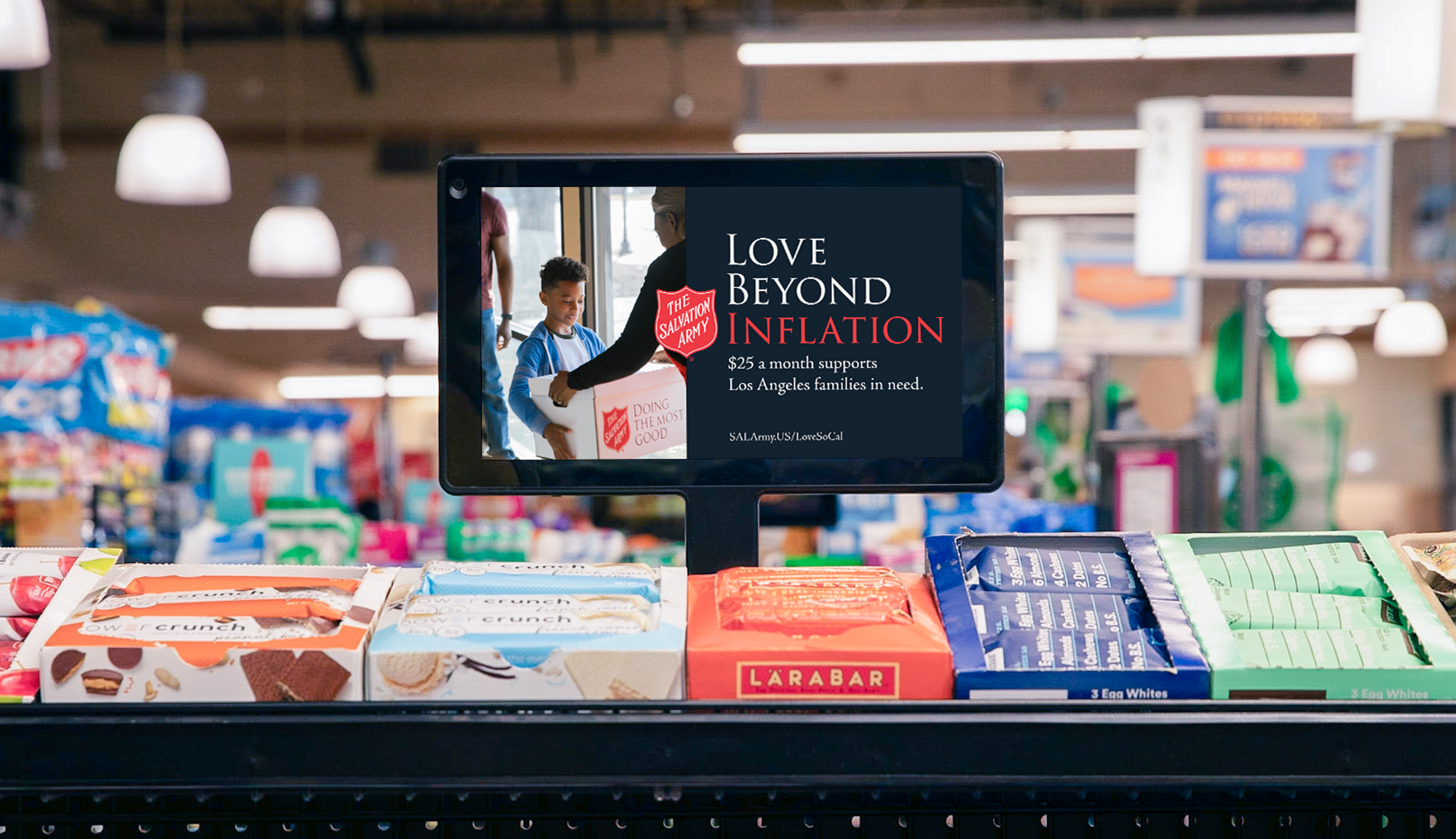 For example, Salvation Army ran a campaign on Grocery TV that focused on families in Los Angeles who have been affected by inflation.
Whether it be in your email outreach, social posts, or in-store campaigns, talking about the struggles your audience is facing could help establish trust and encourage engagement.
5. Consumers are starting their holiday shopping earlier and earlier
This year, about 46% of holiday shoppers started browsing and buying gifts before November. It reflects a trend over the last decade of consumers wanting to spread out their holiday budget, get the best deals before prices go up, and avoid the stress of last-minute holiday shopping (and expedited shipping prices).
Retailers are responding to consumer demand by starting holiday promotions well before the season truly begins. The sooner your brand begins sharing holiday campaigns in 2023, the more opportunities you'll have to capture shoppers' attention throughout the fall.
Wishing you many successful campaigns this holiday season (and beyond)
The holiday season is a stressful time for brands and retailers, and with shopper behavior shifting drastically every year it can take a lot of work to stay ahead of the curve. We hope these insights gave you a few ideas for how to finish the year strong.
Subscribe to the GTV Gist below for the latest news, trends, and insights to inform your future campaigns.