Super Bowl LVII will be the biggest advertising event of the year, even in the midst of ongoing economic uncertainty.
Football fans are excited about planning get-togethers or sports bar hangouts with their friends. Meanwhile, brands are doing their best to make campaign decisions that'll help them connect with consumers in an impactful (and cost-effective) way.
In this article, we'll give you an overview of how brands are approaching Super Bowl LVII when it comes to messaging and campaign strategy. Plus, we'll share a few specific ways you can reach your audience without paying Super Bowl prices.
The lead up to the Big Game
Although the advertising industry is being cautious about the economy, the demand for Super Bowl commercial slots doesn't seem to be slowing down. Fox announced in September that it had already sold 95% of its inventory for 2023, and it also sold 90% of spots for the regular NFL season (which hadn't even started yet).
With higher demand comes higher price tags. Fox is charging as much as $7 million for a 30-second spot (up from the $6.5 million NBC was charging in 2022). The barriers to entry get more extreme every year, which is why we expect to see many brands explore different campaign strategies.
That includes promoting campaigns online or launching entirely on social media platforms like TikTok and Twitter. And even if brands secured an official Super Bowl slot, they're still opting for a "two-pronged" approach by combining in-game commercials with other channels to improve their effectiveness.
Brands at the Super Bowl: Who's in or out?
This year, we're seeing a mix of returning brands (many who made their first Super Bowl commercial buy in 2022), newcomers, and few big names that decided to opt out.
One of the most talked-about updates for LVII is Anheuser-Busch announcing the end of its 34-year exclusivity run, but that doesn't mean they'll cut back on their campaigns. They secured four spots for leading portfolio brands Budweiser, Bud Light, Michelob Ultra, and Busch Light.
By giving up their exclusive rights, Anheuser-Busch opened the door for competitor brands such as Molson Coors, whisky brand Crown Royal, and french spirits company Rémy Cointreau to grab 30-second Super Bowl spots.
One notable newcomer at this year's Big Game is Frito-Lays— their brand PopCorners will revive two popular characters from the TV series Breaking Bad, Walter White and Jesse Pinkman, in its first-ever Super Bowl ad.
After opting out of last year's game, M&M's is returning with a new 30-second spot during the second quarter. The candy brand hinted that Emmy-winning actress Maya Rudolph may take the place of its legendary 'spokescandies,' which have been around since 1954 (yes, this is probably just a Super Bowl spoof).
A few of the brands sitting out this year include BMW, Coca-Cola, Meta, Taco Bell, Toyota, and Vroom.
So, what tone are brands using?
Whether you're booking an ad during the Super Bowl or pushing a relevant online campaign, you're probably thinking: "Should our brand lean into comedic relief messaging, or should we acknowledge the state of the world in a more serious tone?"
U.S. advertisers have had to make plenty of tough calls in past about the tone of their Super Bowl marketing campaigns. In 2001, after the September 11 attacks, companies were also struggling to figure out what to say leading up to the game. Most consumers expected brands to broadcast weighty patriotic ads, but ultimately most advertisers decided to be light-hearted.
Some might say there'll be a strong focus on human rights or the state of the economy this year, but others say that consumers prefer to see something more comedic.
Here's what Heineken, Bud Light, and BIC have planned
Heineken is partnering with Marvel Studios to promote one of their non-alcoholic beverages, which is a first for the Super Bowl. This celebration of sobriety comes at a time when more Americans are rethinking their drinking choices in an effort to improve their overall health and wellness.
Bud Light's Super Bowl spot will mark a shift from their usual branding by taking a slightly more serious approach compared to their historically outgoing campaigns. The ad, titled "Handful," features a woman navigating a crowded bar while holding five glasses of Bud Light in her hands. The video closes with the brand's new tagline: "Easy to drink. Easy to enjoy."
Meanwhile, BIC is bringing together an iconic group of celebrities — Martha Stewart, Willie Nelson, and Snoop Dogg — for a humorous ad that's meant to continue the brand's unsubtle dive into cannabis culture. In the video, Nelson is virtually chatting with Stewart and Snoop Dog while lighting an "herb-scented" candle with BIC's EZ Reach lighter.
We expect that the majority of Super Bowl ads will aim to make viewers laugh or simply feel happy, but there will most likely be brands that surprise us with more introspective messages.
Take advantage of the buzz in physical stores
A key part of every Super Bowl is that millions of people across the U.S. will be gathering together and purchasing way more food and beverages than usual. Grocery stores have consistently seen an increase in foot traffic leading up to Super Bowl Sunday, and the amount of consumer spending surrounding the game was $14.6 billion in 2022.
Both endemic and non-endemic brands who want to make the most out of foot traffic leading up to the big game should try adding in-store campaigns to their strategy. Here are a few ideas you can try out:
Pairing digital in-store media with other channels
Multi-channel and omnichannel strategies are becoming more common because of how much they can improve a campaign's performance. When used together, marketing channels can complement each other and make up for what others may lack.
By adding digital in-store campaigns to your mix, you can:
• Increase reach by up to 316% for mobile advertising and 212% for social media campaigns, according to the OAAA.
• Drive 4 times more online search and social media activity per ad dollar spent than TV, radio, or print.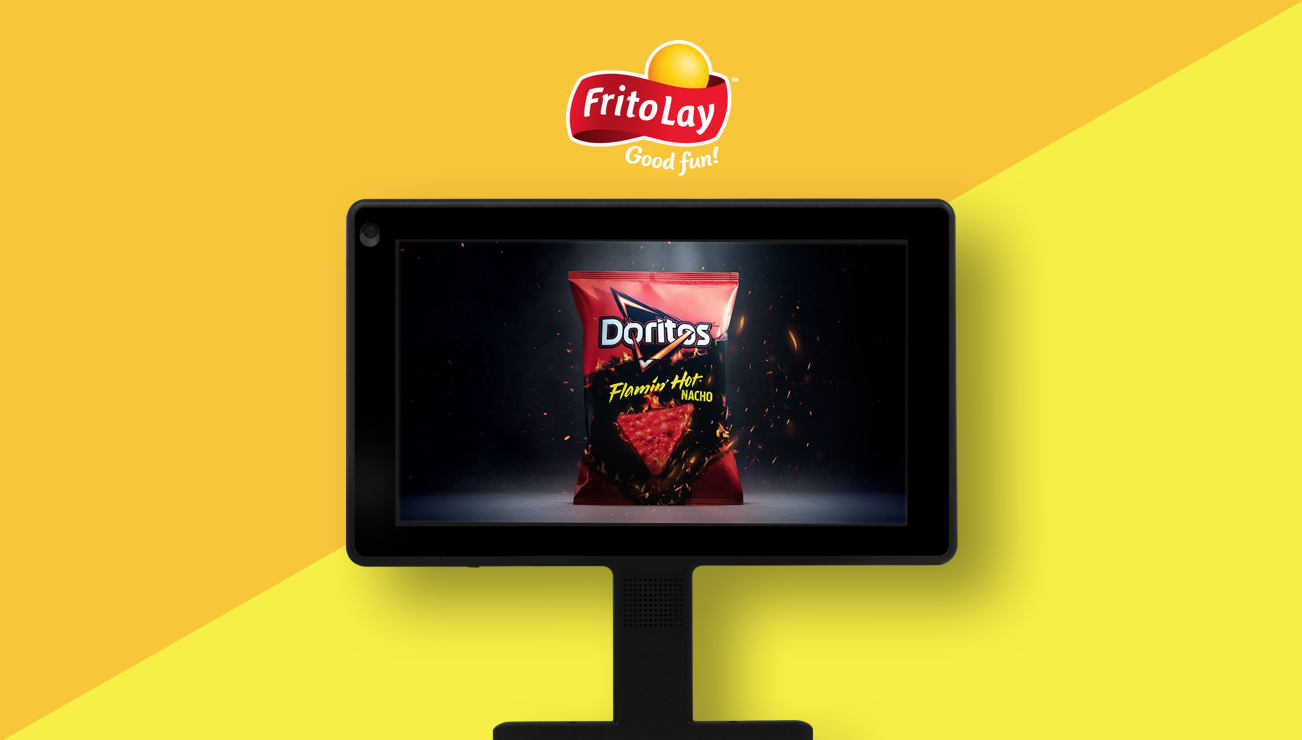 In 2019, Frito-Lay partnered with Grocery TV to launch their new product, Doritos Flamin' Hot Nacho, and increase brand awareness during the Super Bowl. Doritos leveraged our in-store network alongside their Super Bowl TV commercial and other channels. They were able to reach 1.1 million customers and see a 146.8% growth in our stores during the campaign.
Creating contextual content to engage in-store shoppers
Contextual advertising basically means preparing content that can be used depending on variables such as special events, locations, traffic, weather, flight statuses, etc. When consumers come across contextually relevant creative, they're more likely to gain interest and interact with your brand.
If you were to run an ad on Grocery TV, we'd recommend speaking to both the location (supermarket) and the upcoming event (could be the Super Bowl, a playoff game, etc.).
Let's say a clothing brand wants to promote a new collection— their creative could feature a family going out to pick up food for a playoff watch party at their house. The ad gets to show off the new clothing items while also relating to football fans as they shop for groceries.
How will you reach audiences at Super Bowl LVII?
We hope this was useful for you to get a sense of Super Bowl marketing in 2023.
With some uncertainty still looming in the industry, advertisers from all categories are constantly adjusting their strategies and rethinking the ways they can communicate with their audience during high-traffic/high viewership events like the Super Bowl.
If you want to learn more about how Grocery TV can help promote your brand in supermarkets, subscribe to our newsletter below: