Digital Out-of-Home (DOOH) advertising can reach consumers in many different places while they're out and about— on public transit, in shopping centers, at sports events, or even in an apartment building elevator, to name a few.
In this article, we're highlighting a strategy that harnesses the power of location for targeted advertising: contextual creative. Research shows that contextually relevant messaging in DOOH increases effectiveness by 17% on average.
We'll explore the basics of contextual advertising, how it's used within DOOH, and the benefits of using it in your marketing strategy. Plus, we'll review some real examples of contextual DOOH campaigns.
Contextual DOOH advertising, defined
In general, contextual advertising refers to placing ads on websites or other media based on a viewer's current actions or surroundings. If someone is reading an article about exercising, for example, they might see an ad for running shoes because of the site's topic or related keywords.
With contextual DOOH, the audience's physical environment is what informs an ad's targeted content. This is also a form of place-based advertising, which focuses on creating meaningful interactions with consumers in locations outside their homes.
Rather than looking at a web page's content, marketers will consider variables such as location (city, state, neighborhood, venues, etc.), local events, traffic, weather, flight statuses, and more to create contextually relevant campaigns. This adds an engaging touchpoint to your audience's daily routine, making it more likely that they'll gain interest and connect with your brand.
For example, you head to the grocery store on a cold day and see a coffee brand's ad about warming up with a freshly brewed cup. Or, an ad for an affordable car model shows up while you're at the subway station.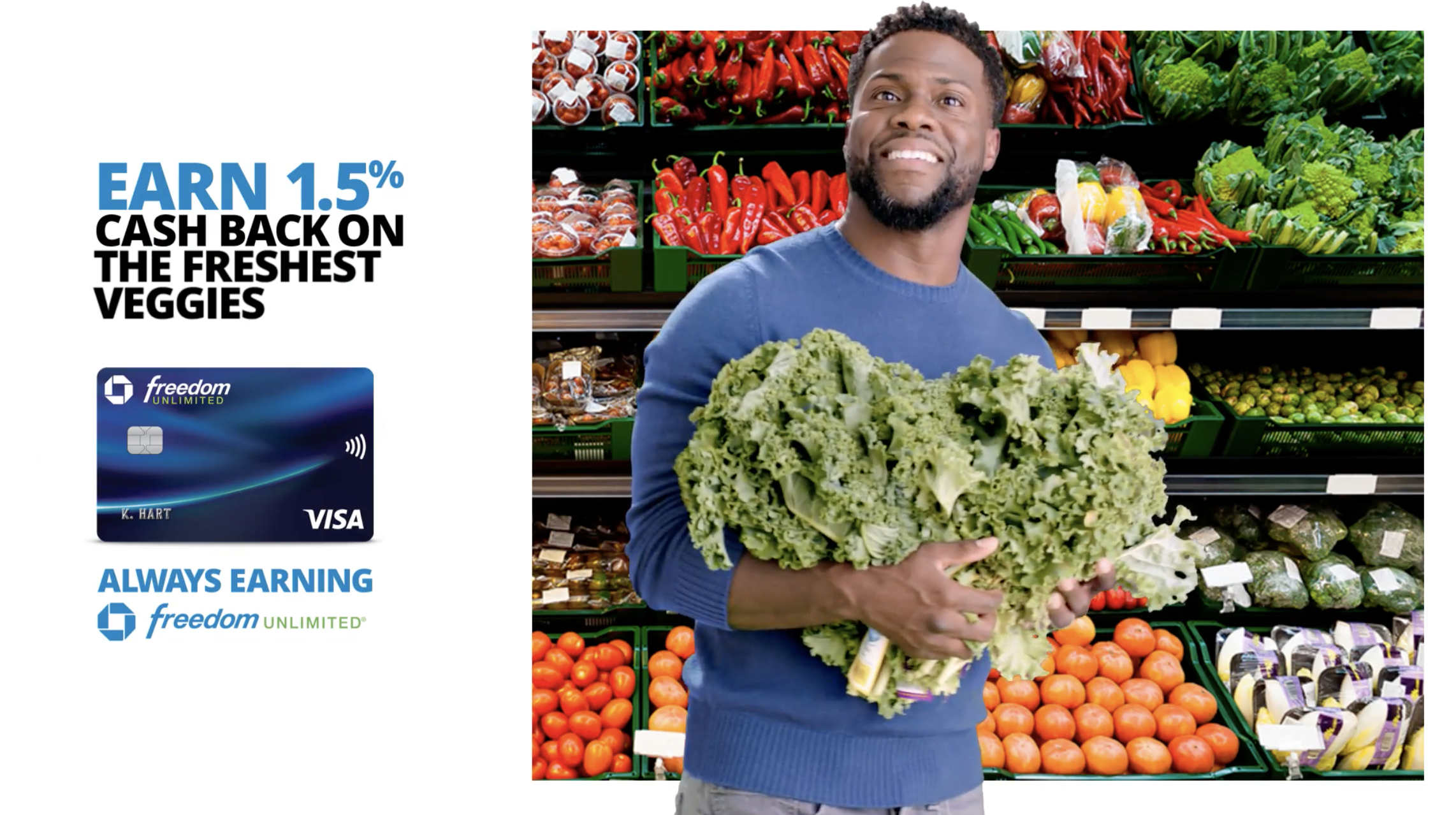 It's important to point out that a brand doesn't necessarily have to be sold where an ad is placed, or have a direct correlation, in order to have contextual relevance. At Grocery TV, we work with many non-endemic brands such as Chase Freedom— who promoted their credit card with a contextual campaign that featured Kevin Hart earning cash back on fresh produce.
Contextual advertising vs. behavioral advertising
The difference between contextual and behavioral advertising can be described in two points:
• Past (behavioral) vs. present (contextual)
• Actions (behavioral) vs. environment (contextual)
Instead of serving ads based on the current environment, as is the case with contextual advertising, behavioral advertising is based on past actions. A consumer might see a certain ad online as a result of a landing page they visited this morning, a social post they engaged with yesterday, or even an item they purchased last week.
When it comes to behavioral DOOH campaigns, this could involve gathering aggregate behavioral data to determine when a consumer is most likely to be in a specific location. The displays will then serve ads at relevant times based on that data.
Benefits of contextual DOOH in your marketing strategy
1. Contextual content doesn't rely on third-party data
Using third-party cookies isn't the primary way to keep DOOH ads contextual. Instead, many DOOH ad networks rely on first-party data, which includes:
• Location
• Live feeds
• Camera sensors
• IoT beacons
• And other sources
2. It's easy to implement
The digital nature of DOOH advertising means it's easy to set up different types of contextual content in the real world to see which works best. Plus, you're free to switch out the content or make adjustments at any time in response to your campaign performance.
3. Audiences are more likely to engage with contextual content
People are more responsive to ads that speak to their surrounding environment. In fact, nearly 8 in 10 consumers said they're more comfortable seeing contextual ads compared to behavioral ads.
Keep in mind that contextual relevance may also include considering what the consumer may be doing before, during, and after interacting with an ad.
4. It boosts campaign effectiveness
According to OOH Today, contextual DOOH advertising has a real impact on a consumer's brand response. Ads that were relevant to a person's location were found to increase:
• Customer reception to the ad (+18%)
• Spontaneous recall of the ad (+17%)
• Sales uplift (+16%)
5. Your brand has more creative opportunities
With DOOH, you can experiment with interactive elements such as AR/VR or other trigger-based campaigns that respond to changes in weather, time of day, or events.
Here's a pro-tip: buying programmatically can help make this process way easier. Check out our post about programmatic DOOH to learn more.
Examples of contextual DOOH campaigns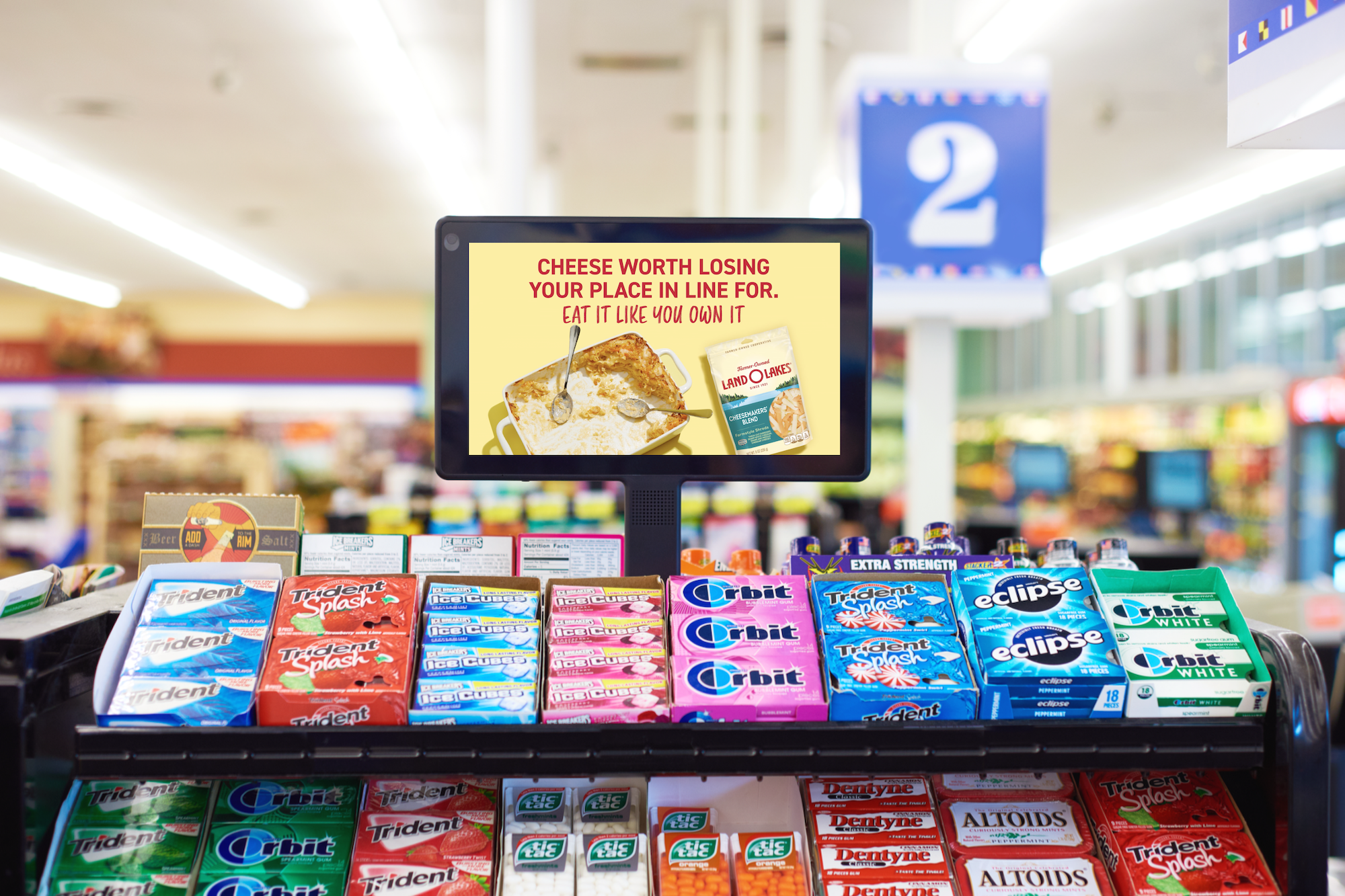 Speaking to customers in line at the grocery store
Land O' Lakes worked with Grocery TV to share a contextual campaign that enticed grocery shoppers waiting in the checkout area. The ad showed a tasty dish of baked macaroni and cheese made with Land O' Lakes shreds, tempting shoppers to leave the line and grab a bag for themselves.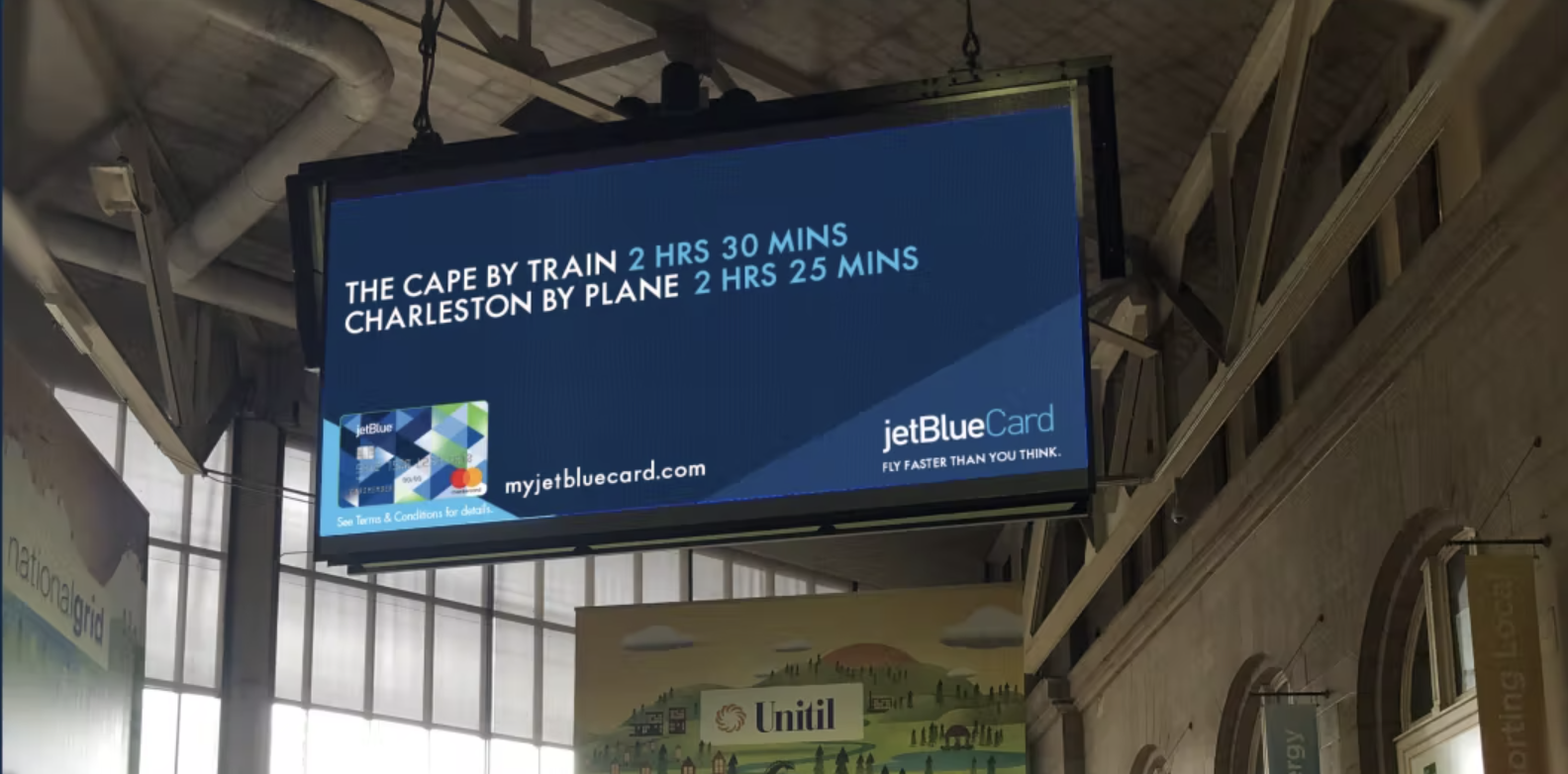 Inspiring local travelers to fly to new destinations
JetBlue's Escape the Cape campaign used digital billboards to appeal to Bostoners who were most likely traveling to Cape Cod for vacation. The ads pointed out that in the same amount of time it takes them to visit the Cape, they could fly somewhere completely different.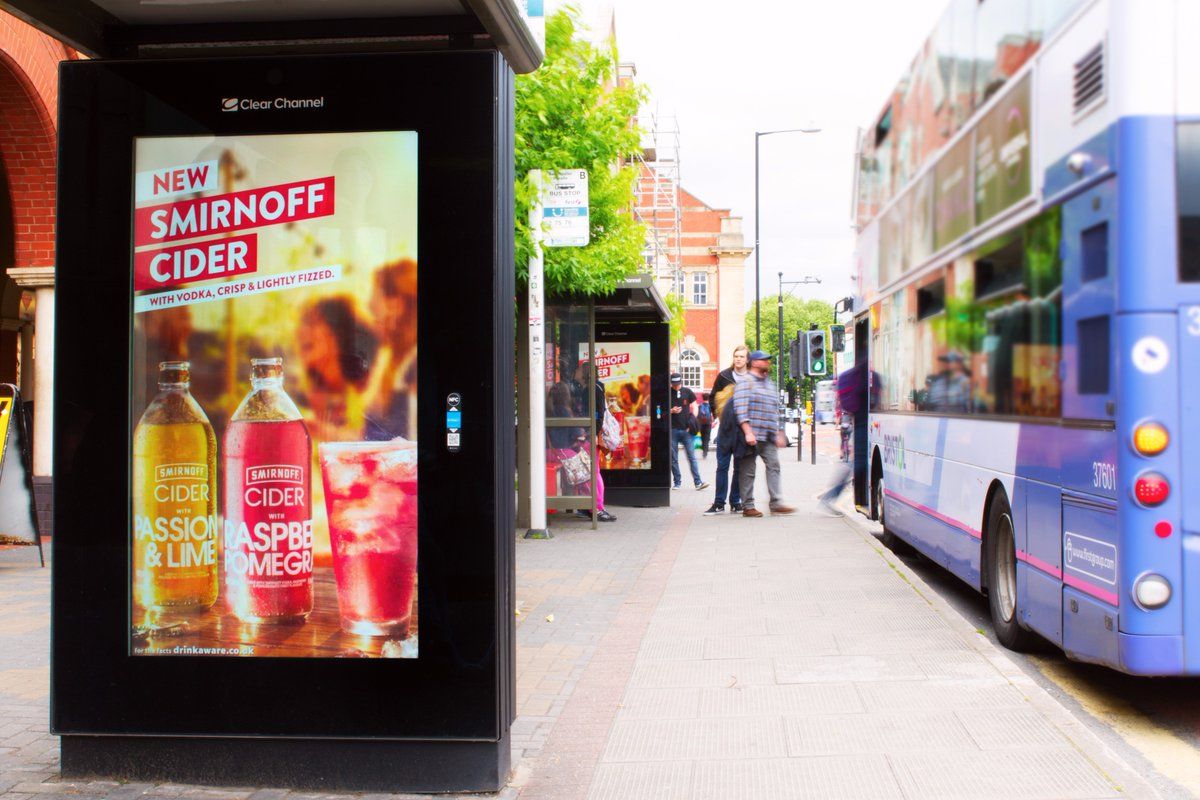 Offering cold beverages on hot summer days
In the United Kingdom, Smirnoff Cider launched a contextual DOOH campaign that used real-time weather data to advertise its products in various ways, depending on the conditions. The digital displays would run "normal" designs on cloudy or temperate days, but warmer days would trigger hot-weather variations of those ads to inspire more purchases.
Want to learn more about contextual DOOH?
Launching contextual campaigns in the real world is an effective marketing strategy for any brand, and DOOH's capabilities take that impact to another level.
If you want to learn more about what DOOH can do for your brand (and keep up with cool contextual campaigns on our network), sign up for the GTV Gist newsletter below.