Everyone loves a good cookie, but there's one type that's causing all sorts of not-so-sweet drama across the internet: third-party cookies. These digital cookies, which are used by brands to track user behavior, are on the verge of being phased out.
This is a pretty big deal considering that more than 80% of marketers rely heavily on third-party cookies for advertising.
In this article, we'll cover what you should know about third-party cookies and how your brand can prepare for a cookieless future.
What are third-party cookies?
Third-party cookies are data stored on a user's web browser by a website other than the one they're currently visiting. Advertisers commonly use these cookies to track people's online activity and target them with relevant ads.
However, after being used for over 20 years, third-party cookies are being phased out by major browsers due to privacy concerns. Without this data, advertisers will need to rely on different methods to target their audience, including first-party cookies.
First-party cookies vs. third-party cookies
First-party cookies are created by the website (or domain) that you're visiting. They're used to store information that's specific to the site itself - such as your product browsing history, language preferences, or login details - which helps provide a better user experience.
Meanwhile, third-party cookies are mostly used for tracking, retargeting, and ad-serving.
Another key difference between first-party and third-party cookies is their availability. First-party cookies can only be accessed by the website that created them, but third-party cookies can be accessed on any website that loads a third-party server's code/embedded content.
Basically, first-party cookies only work on a single domain, while third-party cookies track users across multiple domains.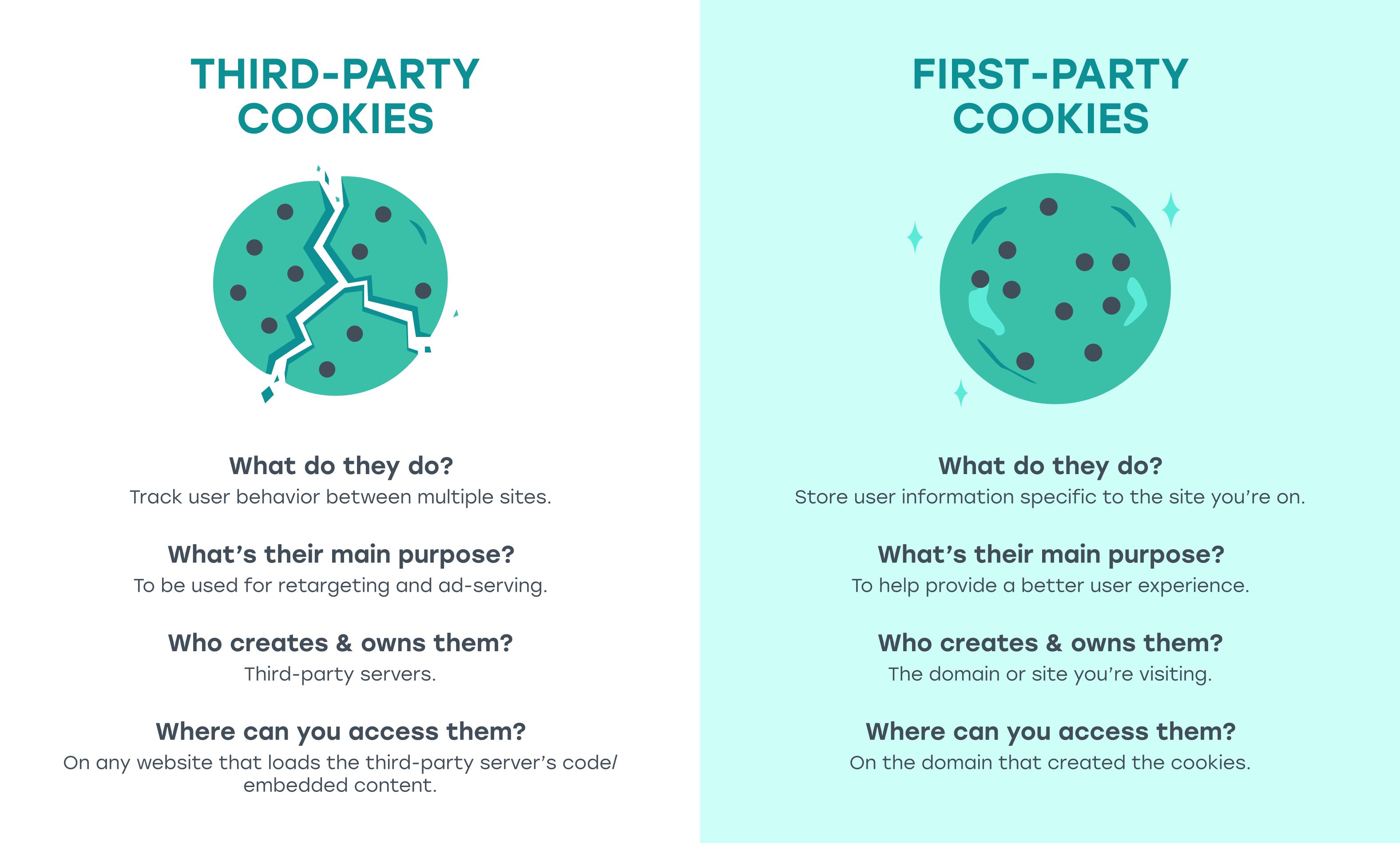 Here are some examples for each type:
First-party cookies: When you log into a site like Apple, you're choosing to share basic information with them, such as your email address. They can use this data to speed up your login process in the future, or even send you a follow-up email if you leave a few items in your cart.
Third-party cookies: Say you visit Apple's site to look at a new MacBook model. Then, you go to an unrelated site later that day and notice a banner ad from Apple for that same Mac product. This ad probably ended up there because of third-party cookie data.
What about second-party cookies?
They exist, but they're not technically cookies— simply calling them second-party data would be more accurate. Second-party "cookies" are shared from one website (which created first-party cookies) to another website through a type of data partnership or exchange.
For example, Airbnb could sell its first-party cookies (e.g. names, email addresses, the locations people are visiting) to restaurant chains so they can target audiences who are traveling to their area. This exchange would classify the information as second-party data.
The third-party cookie phase-out
The cookieless future has been on the horizon for a while, and it's finally starting to become a reality. With Safari and Firefox already blocking third-party cookies by default and Google set to do the same in 2024, the writing is on the wall for the death of the cookie.
You might be wondering, "How much will this actually impact my brand?"
If you're mostly focused on tracking visitors' behaviors and demographics only while they're on your website, a cookieless future probably wont affect you too much. But this phase-out presents a larger challenge for brands that rely on individual tracking data for online advertising, pop-up ads, or precise audience-targeting strategies across multiple platforms.
While the loss of third-party cookies will make it more difficult for advertisers to collect data on individual users, it also presents an opportunity to move towards more privacy-centric advertising models.
How to prepare for a cookieless future
The death of the cookie is inevitable, so it's important to start thinking about how you'll adjust your advertising strategy accordingly.
Here are a few steps that you can take to get started:
Build a first-party data strategy.
Collect as much data as possible about your customers and website visitors using first-party cookies, sign-up forms, and surveys. Applying advanced analytics to your first-party data can uncover key insights and help you design an optimized customer journey.
Leverage contextual advertising.
Target ads based on the context of the website, app, or physical location where they're being placed rather than individual user data. At Grocery TV, we work with many endemic and non-endemic brands who want to reach their audience with contextually relevant campaigns in supermarkets.
Keep tabs on third-party cookie/data privacy news.
The cookieless future has been a huge topic for years— articles about a new development or alternative solution pop up all the time. Google has their Privacy Sandbox, publishers and advertisers are storing user data in "data clean rooms," and the list goes on. Stay up-to-date so you can make the best decisions for your brand.
That's the way the cookie crumbles
Brands are starting to feel the effects of the third-party cookie phase-out, but by making small changes today you can stay ahead of the curve and continue reaching your audience effectively.
Want to learn more about the latest industry news and resources? Subscribe to our GTV Gist newsletter below!