To connect with audiences across the entire shopping journey, brands need a mix of channels that can meet people where they are and create engaging experiences at each touchpoint.
Connected TV (CTV) and digital out-of-home (DOOH) have seen exponential growth since the start of 2020 because they offer a new take on traditional advertising channels, allowing brands to use more accurate audience targeting and engaging formats.
In this article, we'll explore how the two can work together in your media mix and boost campaign performance.
Why digital out-of-home (DOOH) and connected TV (CTV)?
Before we dive into how these channels fit in your media mix, let's review what they are and why they're relevant for marketers today.
A CTV is a device that connects (or gets embedded) to a television to support video content streaming. Different types of CTVs include Amazon Fire TV, Apple TV, Roku, and gaming consoles like Xbox or PlayStation— which allow viewers to access online content over-the-top (OTT) of their traditional screens.
A recent survey showed that 82% of U.S. TV households have at least one CTV device. Though CTVs started emerging around 2007, there was a major surge when people were confined indoors during the pandemic. And with "cord-cutting" becoming more prominent, where customers cancel their traditional cable subscriptions in favor of CTVs, marketers are considering this channel more than ever.
Similarly, the out-of-home (OOH) industry is experiencing growth that's expected to continue well into the future because of consumers' renewed appreciation for in-person experiences and increased digital fatigue. With no pop-ups or interruptions to worry about, people are very receptive to OOH campaigns. DOOH, in particular, is receiving a lot of attention because it combines the perks of digital marketing with a real-world impact.
Compare and contrast: CTV and DOOH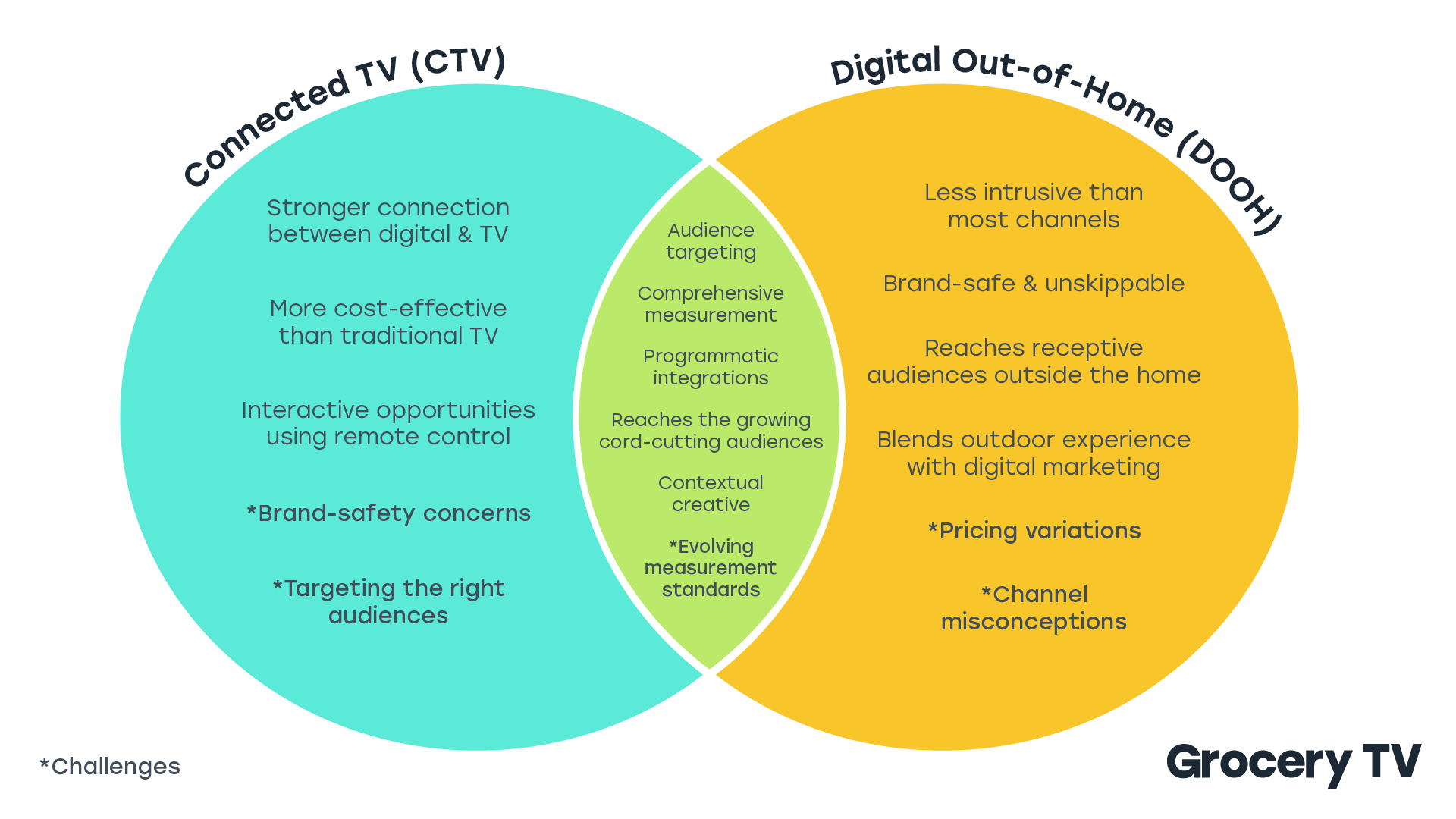 When it comes to marketing goals, both CTV and DOOH are known to help build brand awareness and engagement. Sales lift/conversions can be achieved by both channels as well, but marketers tend to prioritize revenue as a KPI with CTV more often than with DOOH. Impressions, brand lift, and traffic (both in-person and online) are some of the most common KPIs for DOOH.
What type of formats do these channels have?
CTV uses in-stream ad formats right on people's televisions that can play before, during, or after the main video content. Brands have the option to use interactive ad formats such as a carousel, an overlay with clickable CTAs, or a gallery of ads that allow users to select their preferences.
DOOH includes digital, dynamic screens of all sizes that are found in public spaces. These displays fit into two categories: large format (example: billboards in Times Square) or place-based (example: eye-level kiosks in a shopping mall).
Like CTV, DOOH displays are video-enabled and can accommodate CTV-length creative (some can support audio as well).
How do DOOH and CTV work together along the shopper journey?
We think of DOOH and CTV as complementary touchpoints along the shopper journey. When used together, they can help bridge the gap between building brand awareness and driving action among your target audience.
Let's say a shoe brand is planning a new campaign and, based on their audience's behaviors and daily routine, they decide to use a media mix of DOOH, CTV, and mobile. Their team sets up DOOH touchpoints in highly frequented locations such as street-side billboards and grocery store checkout displays to build brand awareness. Then, using anonymized IDs, they re-engage those viewers with a related CTV campaign when they're at home.
Some CTV devices allow you to add shoppable ads or other interactive prompts that give consumers a chance to browse products on their TV screens or easily switch over to their mobile phones. Now they're more familiar with the brand (and even have their eye on a specific pair of running shoes), but they get distracted and don't make a purchase at that moment. A few days later, they see another ad while scrolling on social media and decide to buy the shoes.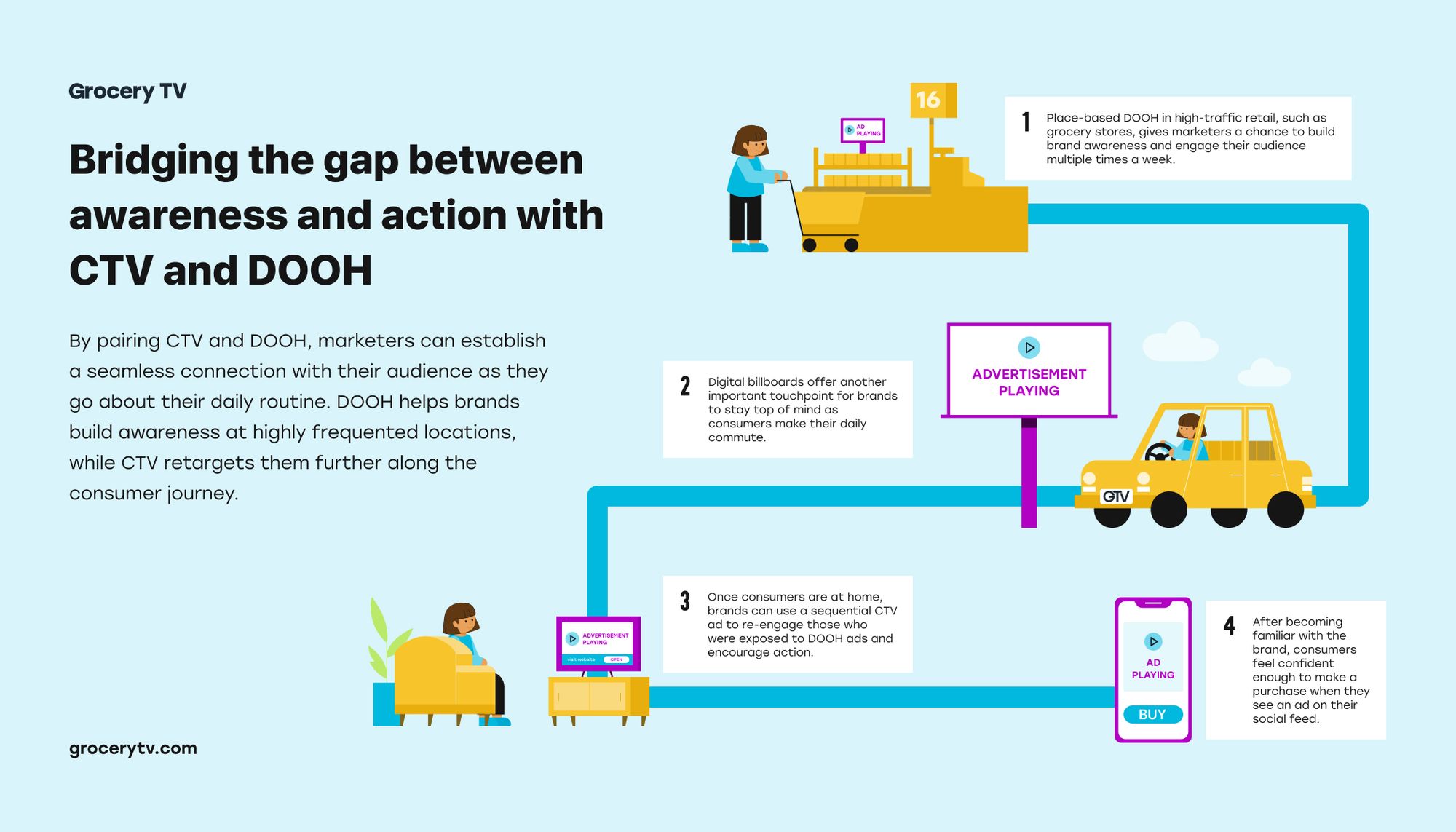 The main takeaway here is that DOOH displays play important role in building brand awareness and reminding shoppers of the brand throughout the shopper journey, making it more likely that they'll interact with your ads when they appear on CTV devices or elsewhere.
What will help establish a more omnichannel campaign?
Try to keep your branding consistent across every platform while also making your creative relevant to its particular marketing channel. Plus, think about how your messaging can tie together along each touchpoint to create the best experience for your audience.
3 tips to keep in mind when launching a campaign with CTV and DOOH
Whether you're in the middle of organizing a new media mix for your brand or adding CTV and DOOH to an existing campaign, here are a few ideas that can help boost your performance:
1) Activate programmatically
Rather than making individual ad buys, consider setting up your campaign programmatically using automated exchanges. With programmatic, you can easily activate across multiple channels like DOOH and CTV (while meeting your campaign's targeting conditions) to help create seamless omnichannel experiences. Plus, you'll only pay for ads delivered to the right people at the right time.
2) Incorporate video or subtle motion
As digital channels, both DOOH and CTV can support video advertising— which is proven to be very effective at gaining consumer attention and promoting engagement. You can use various types of content for your campaign, including repurposed footage from another channel or related graphics with subtle movements.
3) Make your campaigns contextual
Contextual content makes a connection to your audience's surrounding environment, and it can also take into account what they might be doing before or after being in that location. This type of campaign makes it more likely that consumers will respond positively to your brand and remember your message. What does this look like in practice?
For DOOH: picture a coffee brand reminding morning commuters at the subway to grab a cup at their nearest storefront before work.
For CTV: picture the same brand reminding consumers to restock on some ground coffee to brew at home.
Interested in learning more?
We hope this gives you a better understanding of how to use DOOH and CTV to amplify your brand's media mix.
As a marketer, you have to constantly think about where to best reach your customers and how to improve the way they experience your brand. In our monthly newsletter, we share new resources, guides, and industry insights that can help make your job a little easier.
Subscribe below: