Most of us are familiar with traditional Out-of-Home (OOH) advertising, which includes static billboards, posters, street signs, or displays found in spaces outside of our homes. However, with the growth of digital online advertising, the measurability and flexibility of digital out-of-home (DOOH) has become increasingly appealing.
In this article, we'll define DOOH, discuss its importance in the advertising industry, and break down 6 key elements about the channel that'll help you utilize it in your media mix moving forward.
Digital Out-of-Home (DOOH): Defined
DOOH is the tech-enhanced version of traditional OOH advertising. Instead of printed displays, it includes digital, dynamic screens that are found in public spaces such as shopping malls, airports, and grocery stores. These displays fit into two types of categories:
1. Large format
Public areas with visibility from a combination of street-level traffic and passing pedestrians (example: Times Square).
2. Place-based
Specific locations such as grocery stores, airports, shopping malls, retail stores, taxis, and gyms. Consumers head to these places with a specific intention, which opens opportunities for contextually relevant ad creative.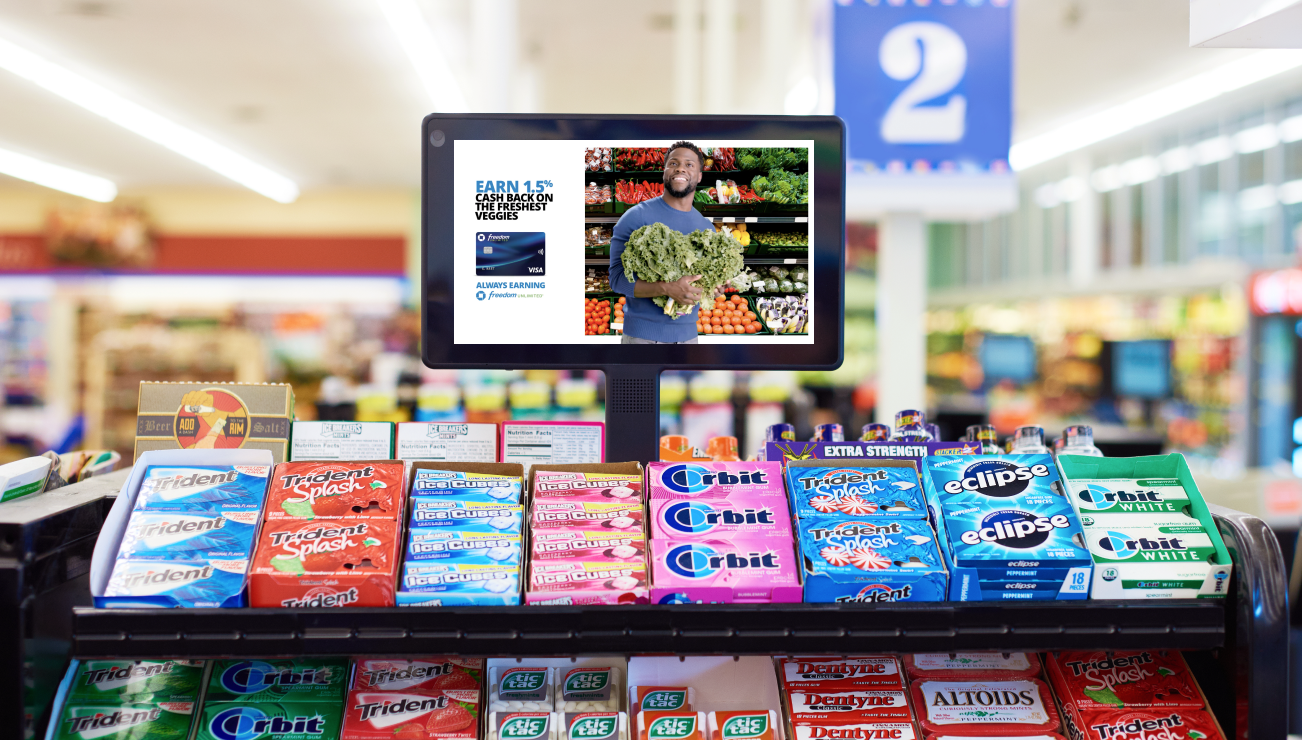 The Grocery TV network is an example of place-based DOOH since you can find our screens in supermarkets at the checkout aisle. Place-based media not only gives marketers a chance to run unique campaign creative but also helps establish multiple touch points along the customer journey.
What makes DOOH so important?
Marketers are tasked with building effective omnichannel strategies that break through the barrage of media today's consumers face. In order to compete, a brand must have a deep understanding of their customer's purchase journey and the flexibility to adapt if this changes.
DOOH is drawing attention among the extensive list of marketing channels because it combines both the power of digital marketing technology (targeting, analytics, and creative flexibility) with the impact of reaching consumers in a unique environment through an unusual format when, arguably, they may be less distracted by other screens.
On top of that, because of the channel's digital nature, you can easily update creative at any point much like an online campaign.
Research from Nielsen and OAAA has emerged that points to DOOH's ability to engage viewers and encourage action. The study reported that 70% of DOOH viewers subsequently visited the advertised business. We suspect studies like this and the reasons noted above have contributed to the growth of DOOH ad spend globally, which is expected to be $15.9 billion in 2027.
6 key elements to remember about DOOH
Here's a brief breakdown of what makes DOOH so impactful. You should know that DOOH is:
1. Programmatic
Buying ad space on digital displays is getting more efficient as automated exchanges simplify campaign planning. Through demand-side platforms (DSPs), targeting tactics are used to segment audiences so that advertisers only pay for ads delivered to the right people at the right time.
2. Brand-safe
There's no such thing as ad blocker in out-of-home advertising, and you don't have to worry about your ad being placed on an unfriendly website (potentially deterring customers).
3. One-to-many
Unlike online advertising, which is a one-to-one medium, DOOH is capable of reaching tens of thousands of consumers in just one moment.
4. Place-based
By tailoring creative to the audience's unique environment, advertisers have the opportunity to capture their attention and establish another brand touch point in their everyday routine.
5. Data-driven
You don't have to dread inaccurate and outdated reach estimates anymore. Today, DOOH is able to target audiences and segments with both first and third-party data. Measuring campaign performance and attribution is most commonly done using geolocation, foot traffic, and purchase data.
6. Tech-enhanced
With digital displays comes the ability to integrate numerous engaging technologies such as artificial intelligence, computer vision, audio broadcasts, voice activation, augmented reality, motion sensors, and the ever-growing presence of 5G.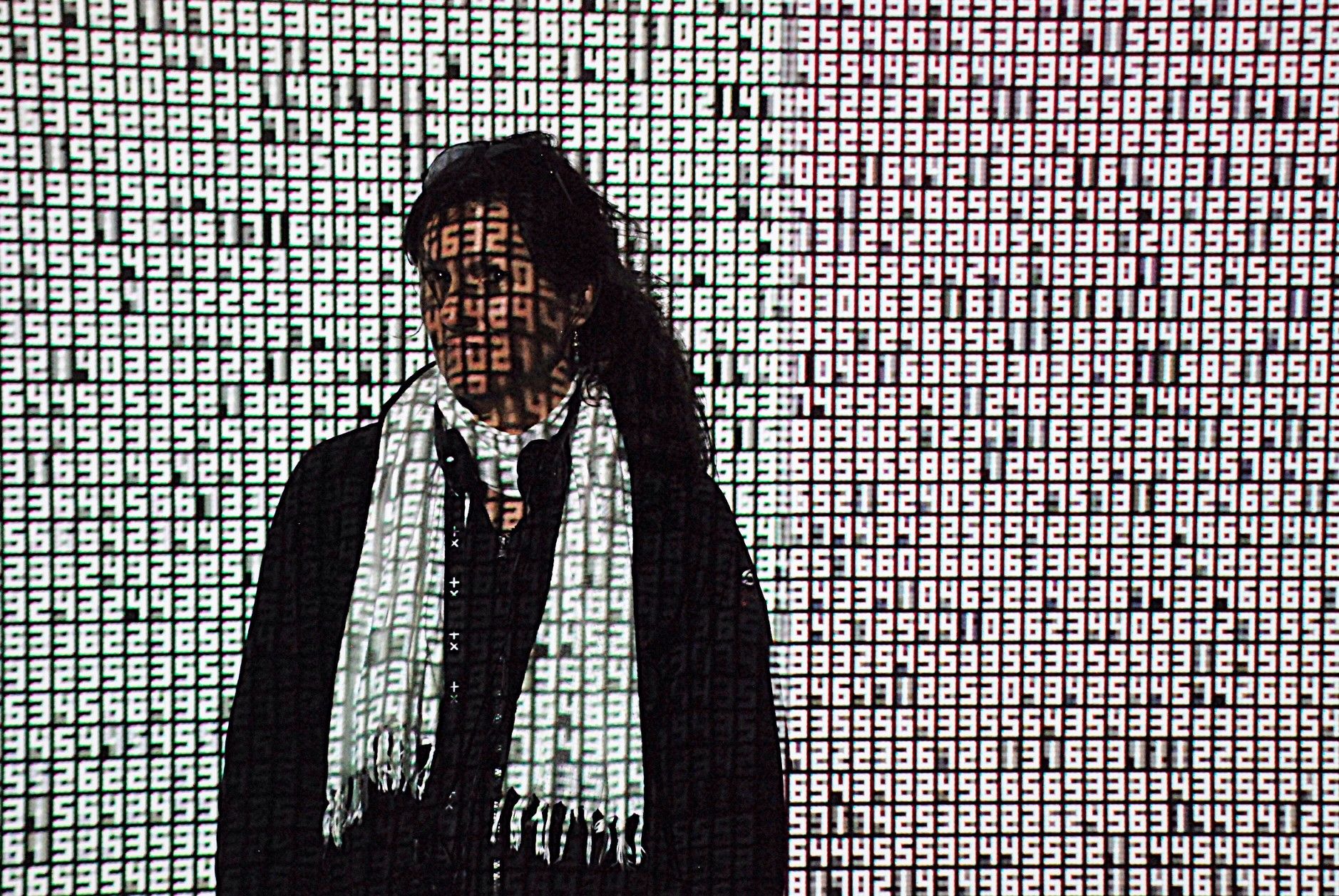 DOOH measurement capabilities
When advertisers learn about DOOH, one of the first things they do is compare it to online advertising— it's a well-established digital medium, after all. With the continued implementation of programmatic buying, DOOH undoubtedly meets similar levels of efficiency and targeting as online through the use of automated ad exchange platforms, geolocation and device IDs, as well as behavioral and demographic data.
Some DSP's are starting to unify digital attribution of DOOH with other programmatic channels via device data at the impression level, enabling measurement of lower-funnel metrics such as response rate, CPA, and ROI for OOH. Marketers can use log-level data for planning, audience analytics, campaign optimization, even retargeting— just like in online advertising.
So, what about the cookies situation?
Third-party cookies have played a huge role in the online advertising landscape, specifically with ad serving and cross-site tracking. However, due to concerns about transparency and data protection, they're slowly being phased out of the internet. Fortunately, using third party cookies isn't the primary way to keep DOOH ads contextual— many rely on first party data which includes location, live feeds, camera sensors, IoT beacons, and other sources.
Looking ahead: what DOOH we expect?
Advertising as a whole is evolving, especially when it comes to measurement. So, where will DOOH be in the near future?
Location intelligence technology has done well in accurately measuring the success of campaigns, but we predict that the channel will become increasingly connected, programmatic, and an essential part of the marketing media mix. By the end of 2023, 42% of all US outdoor ad spending is estimated to come from DOOH.
Want to learn more about DOOH and keep up with the latest industry updates? Subscribe to our GTV Gist newsletter: