Place-based advertising is all about creating meaningful interactions with consumers in specific places outside their homes. This type of media can help build brand awareness, drive action, and reach your target audience during their everyday routine.
In this article, we'll explore what place-based media is, why it's important for advertisers, and show some real campaign examples.
What is Place-Based Advertising?
Place-Based Advertising is a type of out-of-home (OOH) media that's found in set locations such as malls, gas stations, grocery stores, restaurants, college campuses, and more. Advertisers use place-based media to engage with their audience in spaces where they like to spend their time.
To put things into perspective, most Digital Out-of-Home (DOOH) displays are actually considered place-based media. Other types of DOOH include point of purchase (like checkout lanes) and large format displays (like digital billboards in Times Square).
Why is Place-Based Advertising Important?
Like other out-of-home displays, place-based media meets consumers in the real world. Though, what makes it stand out is its ability to integrate ads into particular locations, which gives brands prime access to a range of receptive audiences and boosts the impact of their campaigns.
A study by Nielsen and The OAAA actually found that 64% of viewers engaged in actions after seeing a digital place-based ad— such as searching for an advertiser or visiting their website, visiting their store or restaurant, and visiting their social media account.
Another key point about place-based media is that advertisers can create contextually relevant ads. This content forms a connection between an ad's message and the audience's surroundings. This can look like: vacation homes advertising at a travel agent's office, a nutritionist advertising at a wellness spa, or a gum promotion at a supermarket's checkout lane.
But brands don't necessarily need to be within a directly related industry. Grocery TV, for example, has displays in grocery stores, but we partnered with Chase Bank to promote their Freedom Card which promises 1.5% cash back on items like fresh produce.
4 Examples of Place-Based Advertising Campaigns
You can find place-based media almost anywhere you go. Here are a few campaigns to give you a clear idea of what they look like.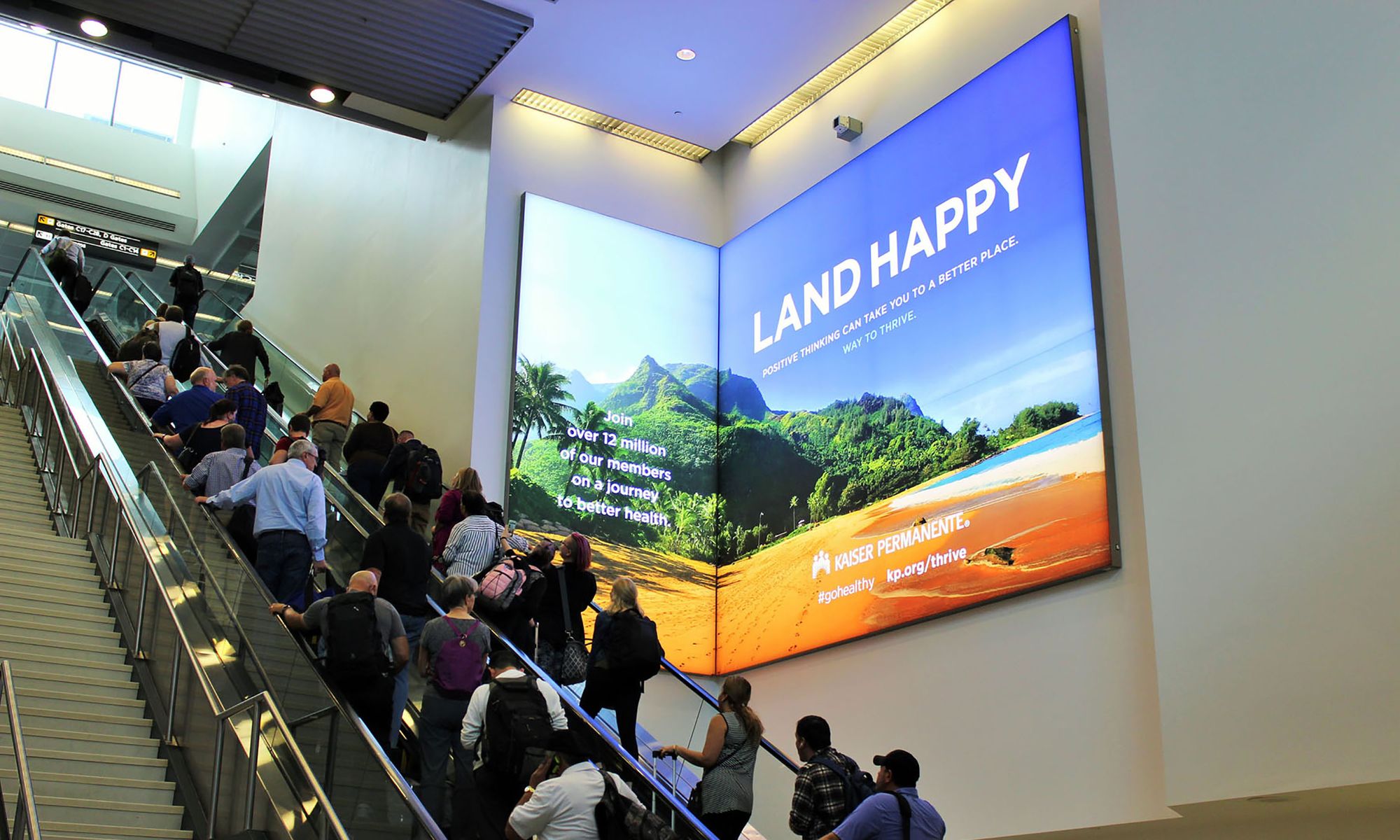 Building Brand Equity at the Airport
People can end up spending many hours waiting for their flights at the airport, which is why brands and advertisers see it as a great spot for their campaigns.
For example, healthcare company Kaiser reached their audience in Dulles International Airport with contextual messaging about their services. By connecting to people with this targeted ad design and copy, they can increase brand awareness and even influence future medical decisions.
You should also consider what consumers are doing before or after their flight— hotels, restaurants, and entertainment spots can really benefit from building recognition at local airports.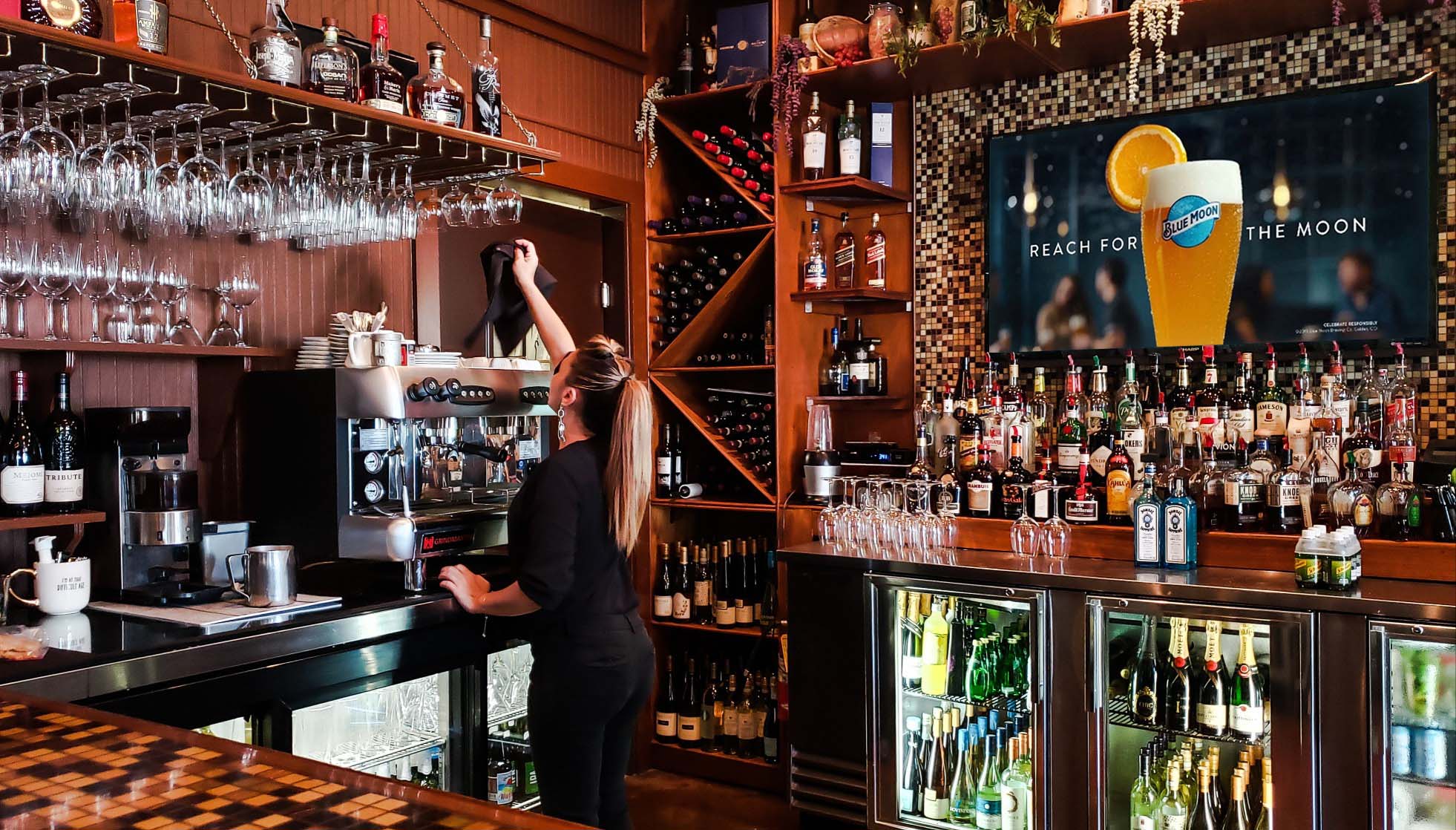 Staying Top of Mind at Bars and Nightclubs
On any given day, bars and nightclubs could see hundreds of customers pass through their doors. With so many options for drinks and snacks on the menu, brands have a great opportunity to stand out from the competition right near the point of purchase.
These displays have the potential to sway someone's order in the moment, or that person could recall your brand while they're visiting other bars in the future.
An example of this is Blue Moon's campaign which used posters and digital screens in bars, nightclubs, and restaurants that sold their product.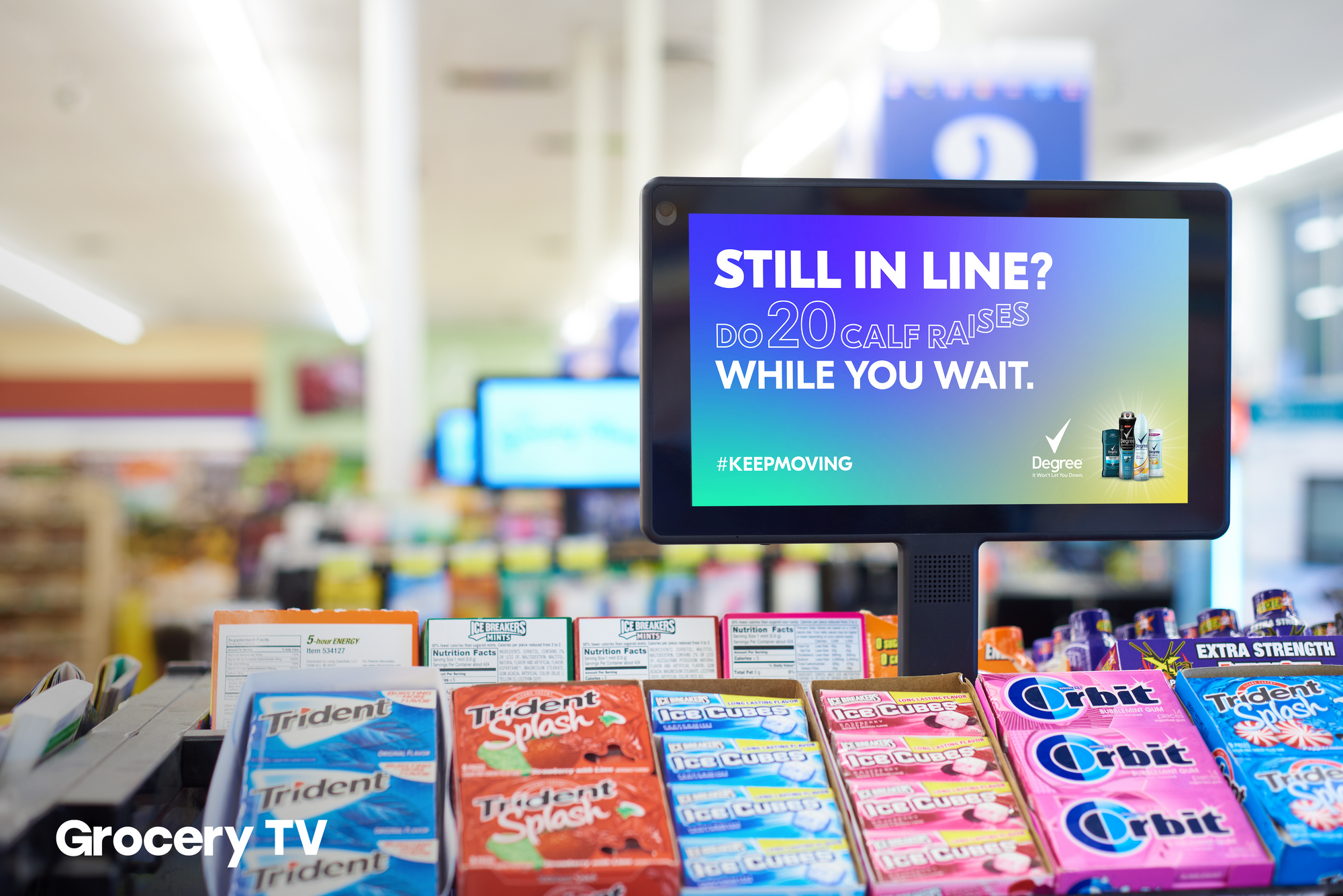 Engaging with Consumers in Grocery Stores
Whether they prefer daily visits or weekly hauls, consumers visit the grocery store more frequently than any other retail environment. Advertisers can promote their brand in these high-traffic spaces while also targeting specific cities, neighborhoods, or audience demographics.
When Degree Deodorant ran their #KEEPMOVING campaign on Grocery TV, they tailored their copy to be contextually relevant in supermarkets. Degree's ad spoke directly to shoppers at checkout, encouraging them to get in a quick exercise while waiting in line.
This not only created an engaging interaction with their audience but also increased overall brand recognition.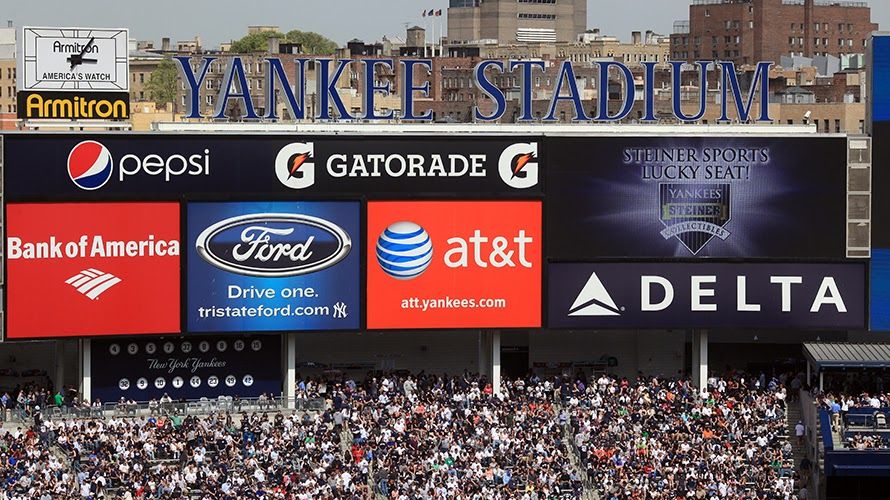 Gaining High Visibility at Event Centers
Many people are drawn to stadiums and event venues for various concerts, sports, or other live shows. Brands use place-based media in these settings to reach a captive audience, earn a considerable number of impressions, and even potentially get TV exposure if the event is being broadcasted.
At Yankee Stadium, for example, you'll find brands that span all industries including CPG, finance, automotive, and hospitality.
Still Curious about Place-Based Media?
Place-based media can be a very influential form of advertising, especially when used alongside other OOH displays and online channels. These displays connect with audiences at key locations during their daily routine and engage them with contextually relevant content, which has proven to leave a lasting impression.
If you'd like to learn more about place-based advertising, or other forms of OOH media, reach out to our team. We'd love to chat!
Ask Us Anything