More than 80% of consumers have changed their shopping behaviors since the start of the pandemic. While a bump in online shopping is definitely part of the story, we've also seen consumer preferences have a significant impact on brick-and-mortar retail.
It's important for both brands and retailers to stay up-to-date with the latest in-store trends so they can keep creating engaging experiences for consumers throughout the shopping journey.
In this article we'll discuss some exciting in-store technologies that you should know about, and how you can use them to your advantage in the years to come.
But first, why focus on the in-store experience?
Despite the option to buy online, over 80% of all shopping still happens inside physical stores. And based on our team's research, we know that 96% of consumers visit stores in person to buy their groceries.
One of the key takeaways we've noticed in recent years is how much people value the in-person shopping experience— going into a store yourself, looking through all the different products, socializing, etc. It's something that many of us missed during pandemic lockdowns.
But as people have gotten comfortable with the ease and flexibility of online shopping, it's becoming more apparent that some processes within physical retail could use an upgrade. Technology has become an integral part of the retail experience, and consumers are increasingly expecting to have those seamless/tech-enhanced resources available in person.
Need a quick recap, no problem!
Feel free to share with anyone who might find it interesting. We'll break down each trend in more detail below.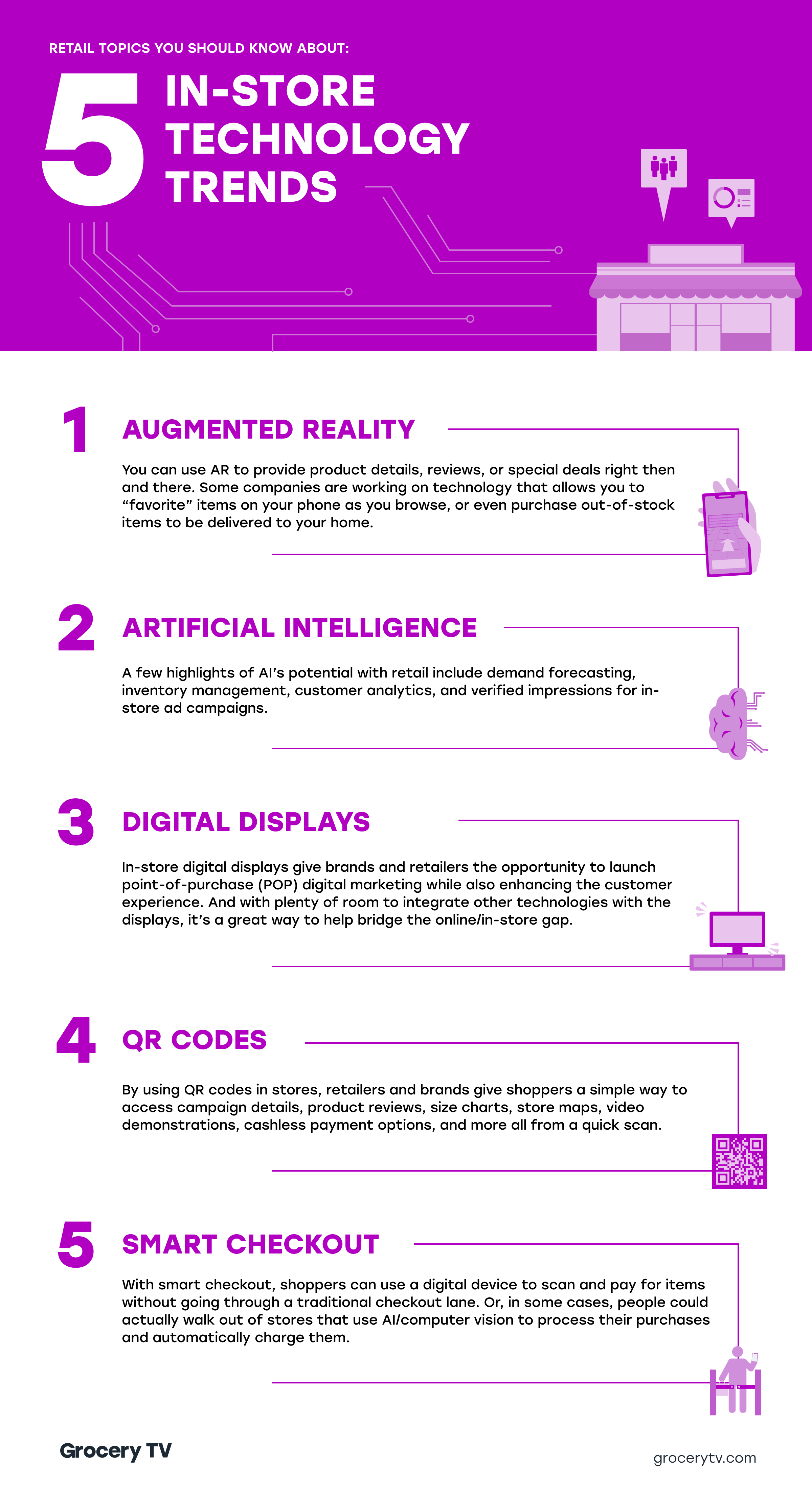 5 in-store retail technology trends to keep an eye on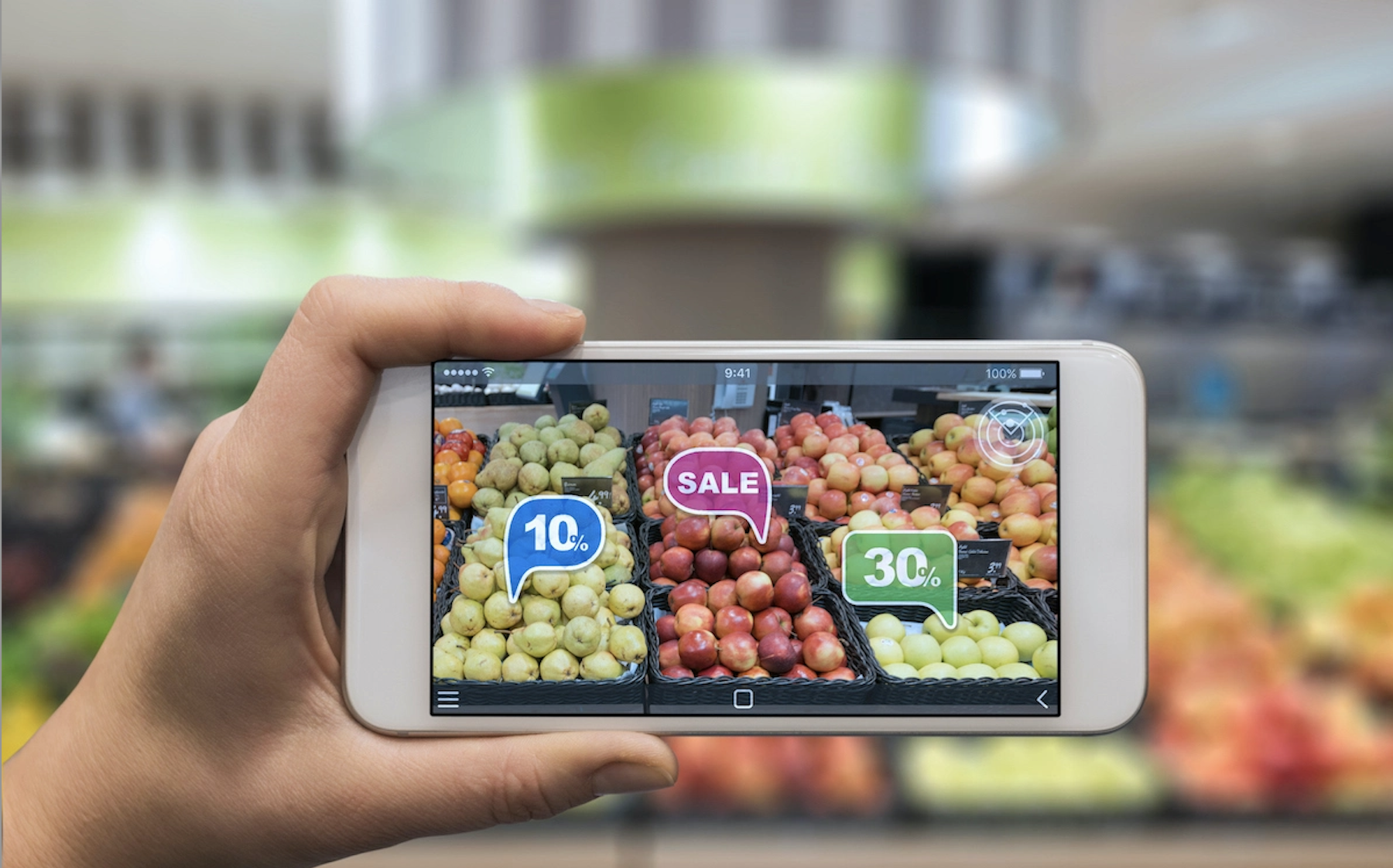 Augmented reality
Augmented reality (AR) is an interactive experience that combines the real world and computer-generated content, which can not only help personalize the in-store environment for consumers but also engage them in a new way.
For example, you can use AR to provide product details, reviews, or special deals right then and there using a digital device. Some companies are working on technology that allows you to "favorite" items on your phone as you browse or even purchase out-of-stock items to be delivered to your home.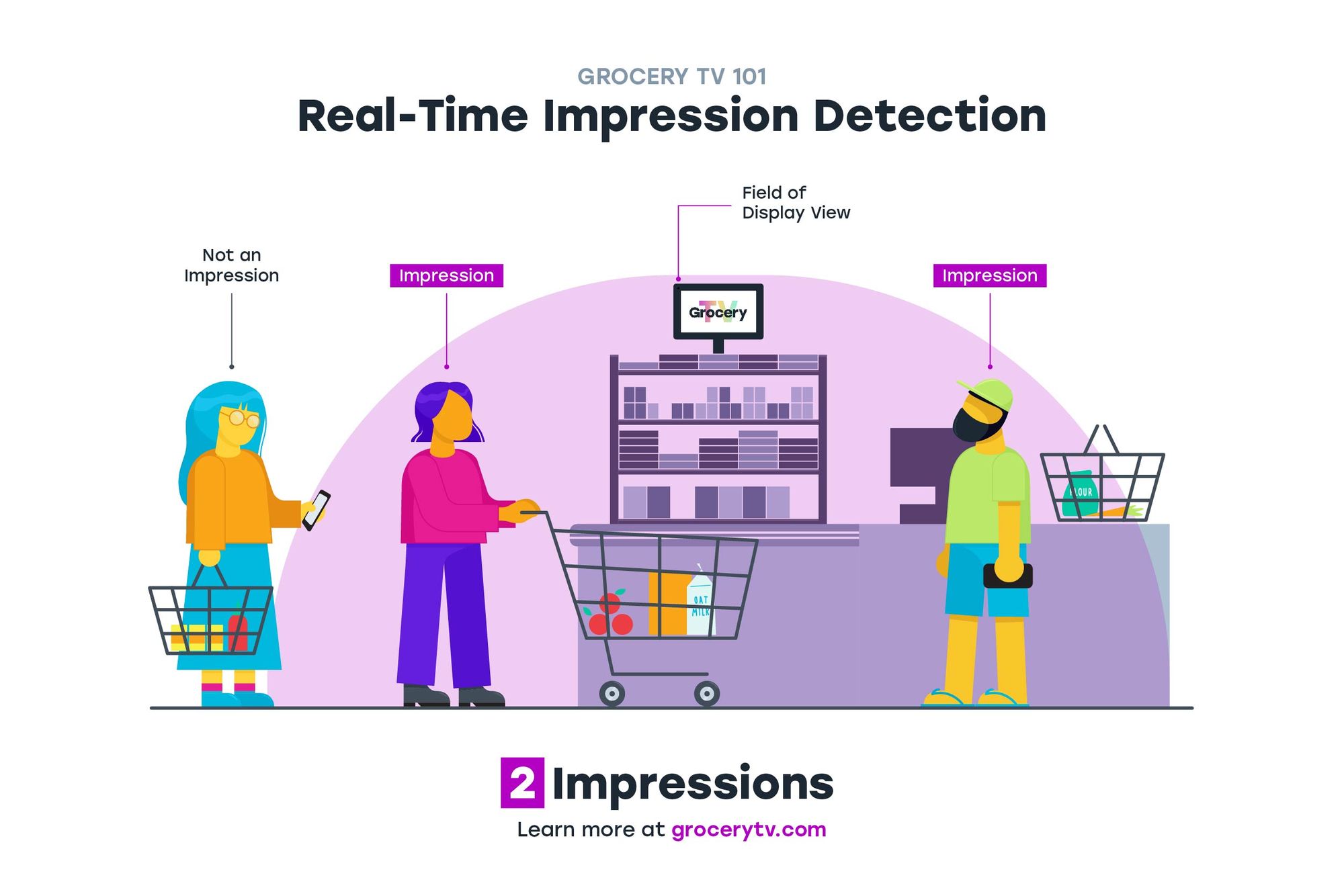 Artificial intelligence
Artificial intelligence (AI) is the simulation of human intelligence processes by machines (especially computer systems). Specific examples include expert systems, natural language processing, speech recognition, and machine vision.
Here are a few highlights of its in-store potential:
• Store management: AI can help retailers improve demand forecasting, inventory management, customer analytics, and much more.
• Verifying ad impressions: Grocery TV uses AI technology to verify ad impressions in-store. Whether for brand campaigns or retailer messages, our displays ensure that every play is being viewed by a shopper.
Digital displays
You're probably used to seeing digital screens in restaurants or cafes near the register, but there has been a surge in place-based screens across other retail spaces including clothing retailers, convenience stores/gas stations, and grocery stores.
These in-store digital displays give brands and retailers the opportunity to launch point-of-purchase (POP) digital marketing while also enhancing the customer experience. And with plenty of room to integrate other technologies with the displays, it's a great way to help bridge the online/in-store gap.
QR codes
Ah, QR codes— a once unpopular tool that has become a widely implemented phenomenon across many industries. A QR code is basically a type of barcode that's used for storing URLs or other information, and it can be easily read by digital devices like smartphones.
By using QR codes in stores, retailers and brands give shoppers a simple way to access campaign details, product reviews, size charts, store maps, video demonstrations, cashless payment options, and much more all from a quick scan.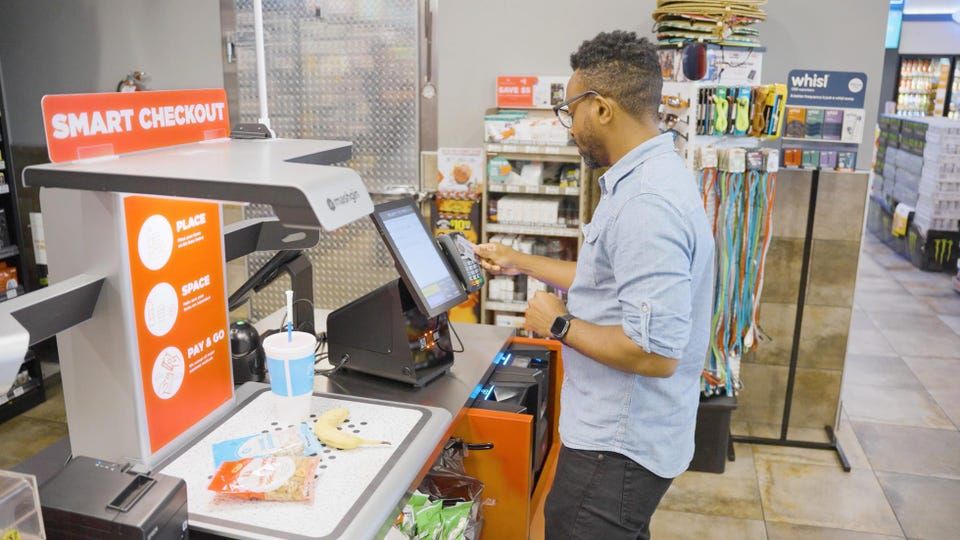 Smart checkout
With smart checkout, shoppers can use a digital device to scan and pay for items without going through a traditional checkout lane. Or, in some cases, people could actually walk out of stores that use AI/computer vision to process their purchases and automatically charge them.
Although smart checkout doesn't come without its issues (and might go through some transformations over the next few years), consumers have made it clear that they'd appreciate less friction throughout their in-store shopping experience.
Technology concerns to be mindful of moving forward
While in-store technology offers many benefits for brands, retailers, and shoppers alike— it's important to be aware of potential challenges and concerns that come up when adopting new software or hardware.
Privacy concerns should be top of mind if you're collecting or storing shopper data— the key is to get consent and be transparent about how the data will be used.
Another element to consider is how your audience will respond to certain technologies. Do most of your customers prefer a smart checkout experience, or would some rather keep traditional checkout lanes? What type of resources do they want to see at different points throughout the store?
Either as a marketer or retailer, remember to think carefully about which technologies make the most sense for you and your customers.
What's next for in-store technology?
Our team believes that the in-store experience will go through some major changes in the coming years. In-person shopping isn't going anywhere, but it's probably going to get a lot more digital and in tune with what you get online.
If you want to learn more about our thoughts on in-store retail media, check out this interview with Lucy Markowitz from Vistar Media.
Plus, stay up-to-date on the latest industry news and insights by subscribing to our GTV Gist newsletter below!