OOH stands for out-of-home advertising, which is an ad that reaches audiences outside of their home. This includes formats like billboards, posters, bus wraps, and more.
With the evolution of digital out-of-home (DOOH) and improved omnichannel capabilities, this type of advertising is a valuable addition to any brand's media mix. In fact, recent data shows that close to 50% of OOH viewers use a search engine to look up brands or products after seeing them on outdoor displays.
In this article, we're going to talk about some creative best practices that'll help you make the most of your next OOH campaign.
What to consider before your OOH adventure
Before you start building out the content for your next OOH campaign, it's important to consider your objective.
What are you hoping to accomplish with your OOH ad? Is your campaign supposed to raise brand awareness, or do you want your audience to take a specific action? Keep your goal in mind when deciding when, where, and how to launch your campaign to make sure you get the best return on investment (ROI).
• When: When is the best time to reach your audience with outdoor advertising? Is there a certain time of year/time of day when they're more receptive or interactive?
• Where: Are there specific places where your customers like to spend their time? What's the average dwell time in those locations? What about areas that they're likely to pass in their daily routine? Is there a way to make your design contextual?
• How: Would it be effective to launch your campaigns in top-tier markets like New York City right off the bat, or does it make sense to run cost-effective tests in smaller markets before expanding?
With this in mind, let's jump in.
5 creative best practices for OOH advertising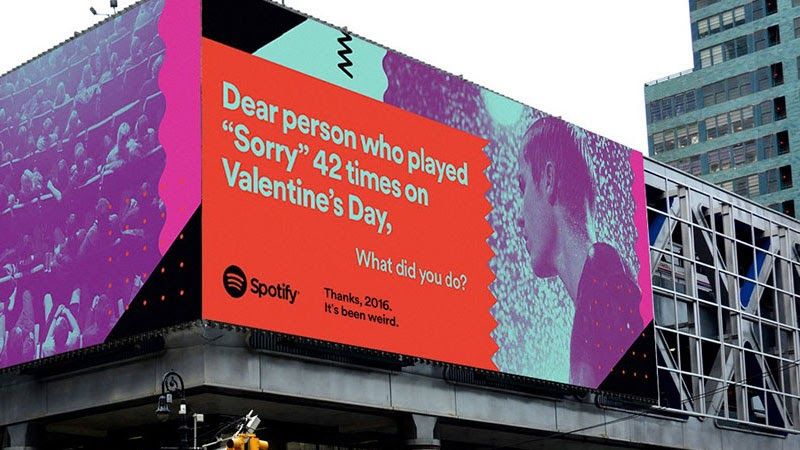 1. Captivate your audience  
The general public has seen plenty of outdoor displays in their lifetime; we're at a point where many people actively tune out the ads around them. It's important to create content that can grab someone's attention while also staying on brand— whether that means using vibrant images, shocking statements, or even references to recent memes and trends.  
In any of these scenarios, make sure that your content isn't too busy or distracting. If there's too much going on in your ad's accompanying visuals, onlookers might feel overwhelmed and miss the main message or call to action.  
Spotify's 2016 campaign used on-brand humor, popular artists, and some interesting data to entertain people and encourage interaction.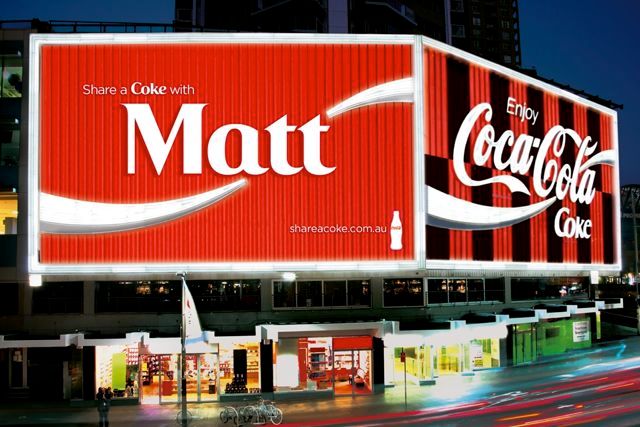 2. Leverage your entire media mix
We recommend testing a uniform omnichannel strategy with multiple touchpoints so that your audience becomes more familiar (and more willing to interact) with your brand over time. If you're running campaigns on other platforms, remember to alter your creative to better suit an outdoor display.
It might be tempting to quickly reuse an existing ad, but keep in mind that what works in one channel might not work for OOH. By making tweaks to your messaging, font size, or image placement you can immediately improve an ad's relevancy and better capture audiences' attention. One study showed that mobile click-through rates went up over 15% when mobile ads were supported by OOH ads.
Coca-Cola is known for launching cohesive campaigns that use creative ad designs on billboards, displays in grocery stores, large building posters, websites, and more.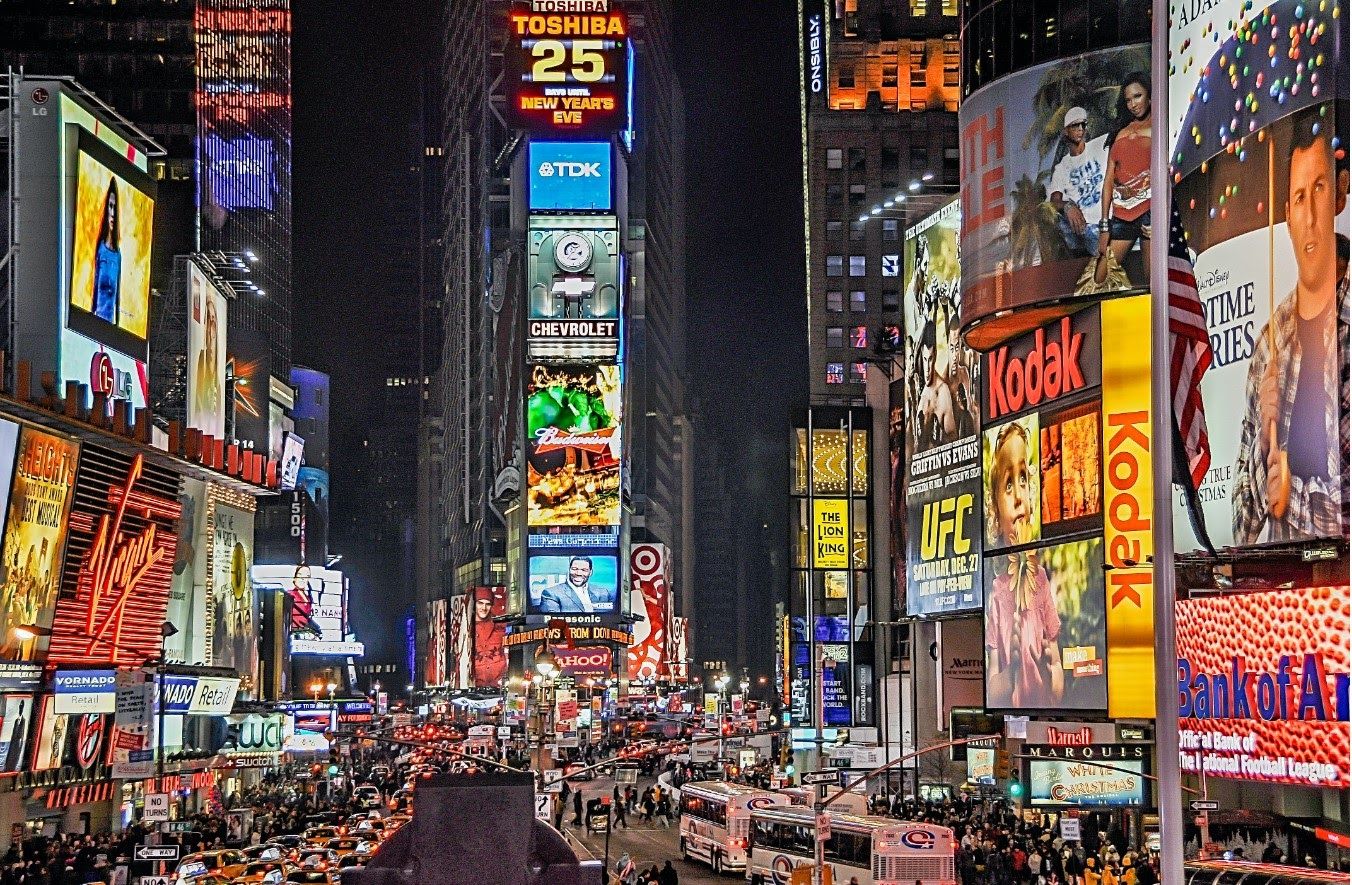 3. Incorporate eye-catching colors
Although some OOH campaigns call for a greyscale or black and white color scheme, most will benefit from having vibrant colors that grab your audiences' attention. But make sure your design doesn't look overbearing.
Our recommendation is to pick a color and use other closely-related colors as accents to highlight key information. You should also focus on creating contrast by using a dark background with light text or vice versa to ensure your message can be seen from far away.  
In Times Square, brands use eye-catching color palettes to attract their audiences in a dense, competitive space.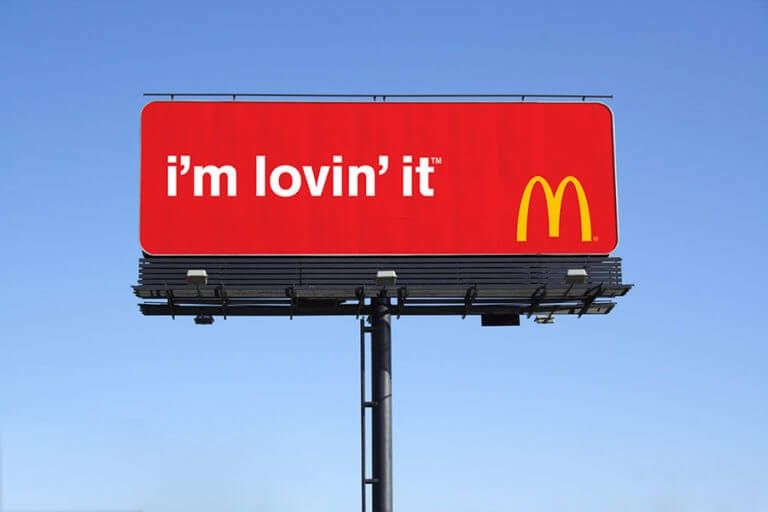 4. Use bold text
Bold can mean a few different things here for your outdoor displays:
• Include readable copy. Pick a font that looks clear, and make it large enough to be legible from a distance. Both Serif and Sans-Serif fonts work well for static outdoor signage, but Sans-Serif tends to work best for digital signage.
• Make your content bold. Use catchy copy that'll stick with your audience well after they see your campaign.
• Keep things simple. Most consumers don't have time to be reading paragraphs of text. Following the 3x5 Rule might help guide you: Try to limit the amount of text to 3 lines, each with 5 words or less, or 5 lines of text with 3 words or less.
McDonald's has one of the most well-known examples of a bold, memorable ad. Their slogan "i'm lovin' it" is familiar to consumers all across the world.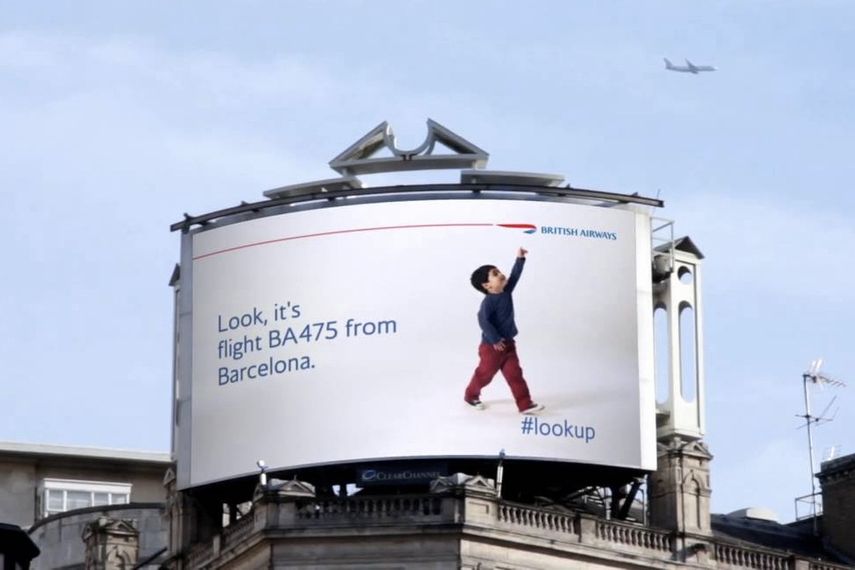 5. Consider all your resources
Whether you're using a printed or digital outdoor display, there's always a way to take your content to the next level.
For digital signs, you can consider integrating innovative technologies like motion sensors, augmented or virtual reality, and speech activation. For static signs, you can create unique displays that interact with their surroundings or reimagine the available canvas in a way that works towards your campaign's vision.
British Airways' captivating "Look up" campaign featured a boy that pointed at planes flying overhead in real-time— the billboard would then share the plane's flight number and where it was coming from.
OOH the places you'll go
We hope this gives you some ideas on how to create captivating outdoor displays that get your message across in a way that's effective and unique.
If you'd like to learn more about how Grocery TV reaches consumers in high-traffic supermarkets across the country, sign up for our very cool newsletter.
Interested in learning more?
Download the resource below, and feel free to reach out if you have any questions or feedback!
Download now