As the advertising landscape evolves, in-store media is emerging as an impactful medium for getting in front of shoppers during their daily routines. This once-traditional medium is now embracing digital solutions, which allow it to be measured and transacted similarly to online channels.
Because of this transformation, any brand, whether they're sold in a particular store or not, can target their audience in highly trafficked, brand-safe retail environments.
Nolan Johnson, Head of Ad Partnerships, at Grocery TV hosted a webinar with Raj Lala, VP of Sales and Development at Vistar Media, to delve into:
Why non-endemic brands are investing in programmatic in-store advertising
How they can achieve campaign objectives across the marketing funnel
What goes into launching effective in-store campaigns
Below we've included the webinar recording as well as a recap of some of the key points:
Non-endemic brands, or those not sold in the retailer where they're advertising, are investing in programmatic in-store advertising for a number of reasons including:
Audience size: In-store retail media audiences are typically a staggering 70% larger than their digital counterparts. That's a sizable audience of potential customers, who are already in a buying mindset.
Audience quality: 98% of grocery shoppers are also the primary decision makers for other purchases (such as finance, insurance, and telecom) in their households. With the addition of programmatic capabilities, brands can also increase the granularity of their audience targeting.
Medium quality: With the decline of linear TV ratings, non-endemic brands are looking for other high-frequency, high dwell time touchpoints to reach their audiences.
Contextual impact: Non-endemic brands are leveraging the store environment in their creative to boost engagement with shoppers.
Measurement capabilities: Today's digital in-store advertising offers brands the ability to measure campaigns in real-time as well as full-funnel measurement options from brand lift to foot traffic to sales conversion.
The evolution of in-store advertising
In-store advertising has undergone a significant transformation over the years. It has extended beyond static, promotion-based signage that offered low visibility and impact, to high-impact, dynamic in-store displays that are responsive in real-time.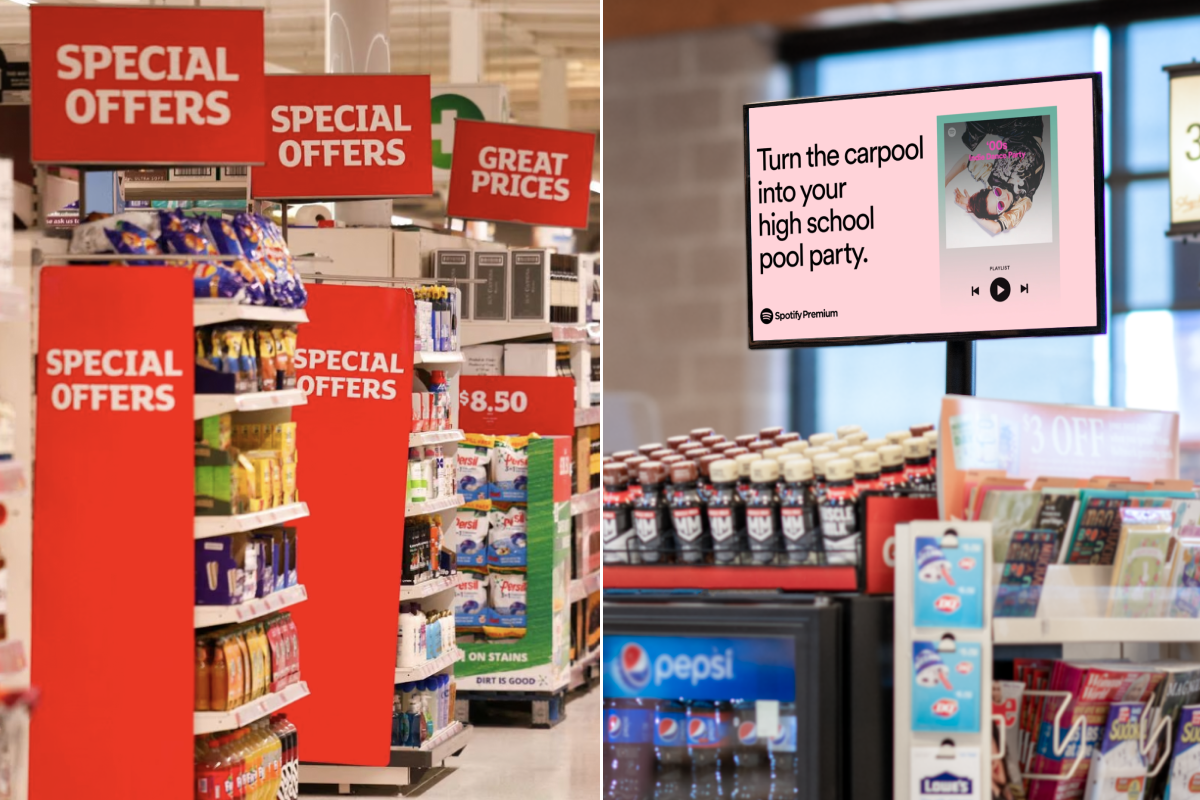 This transformation has brought about an era of engaging, large-format visual displays that are automated and transacted through programmatic Demand Side Platforms (DSPs). These modern platforms allow for more precise audience targeting capabilities from demographics to proximity to different points of interest, making in-store advertising more efficient and effective than ever.
This new age of in-store media isn't just about promotions; it's designed for storytelling and brand building, creating a richer, more immersive experience for shoppers. With these advancements, planning cycles have reduced drastically, and the need to negotiate retailer by retailer is a thing of the past.
The benefits of advertising in stores
Digital in-store advertising combines the broad reach of TV with the precision and convenience of digital media and impact of digital out-of-home (DOOH).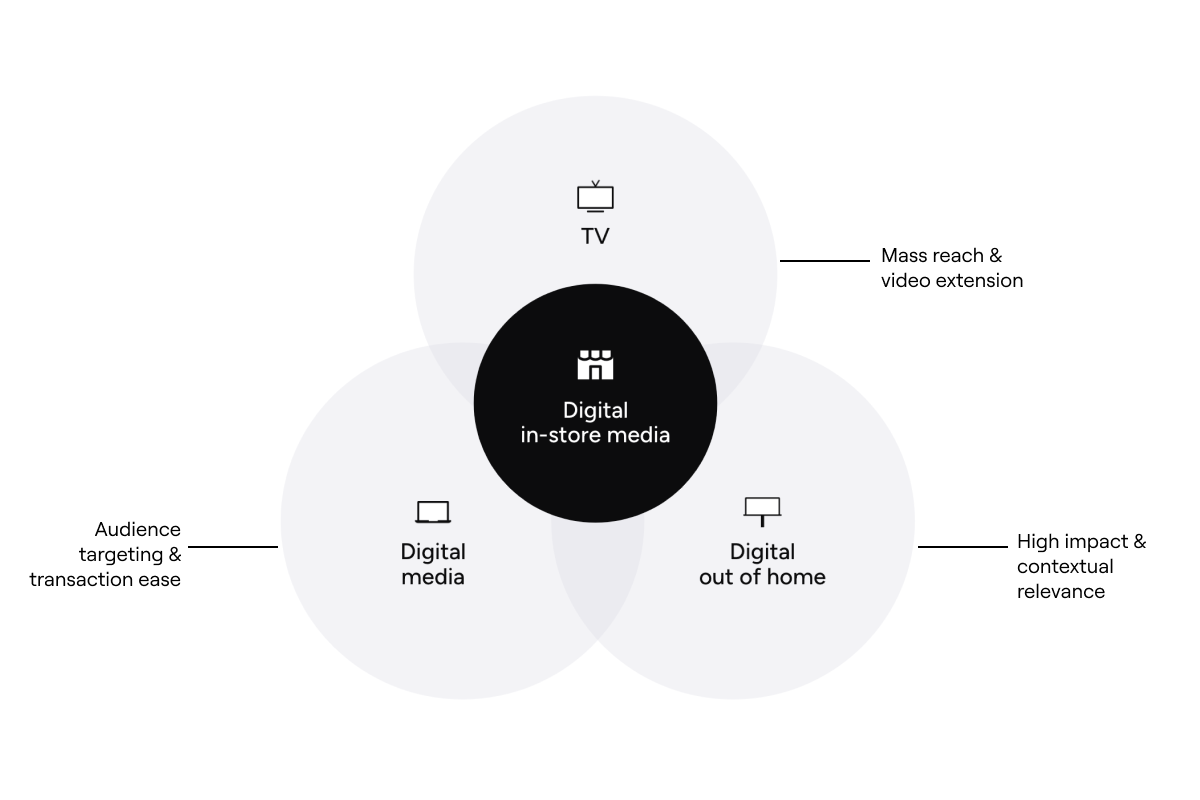 These capabilities have transformed digital in-store advertising into an audience-based medium that allows non-endemic brands to reach their target customers when they are in a buying mindset.
Programmatic ads for non-endemic brands
Programmatic technology allows for high-impact, real-world executions that can reach consumers as they move from place to place, making your brand omnipresent in their shopping journey.
The flexibility of digital out-of-home (DOOH) advertising means you can adjust campaigns at a moment's notice. Advanced targeting and creative capabilities allow your brand to craft messages that resonate personally, increasing engagement and driving conversions.
Digital in-store advertising can seamlessly extend your omnichannel strategy, creating a cohesive, unified brand experience. Pairing digital in-store with other channels and retargeting exposed consumers can drive results, especially when combined with TV, billboards, and mobile. This combination of traditional and digital channels creates an efficient path to purchase, maximizing your ROI across the entire funnel.
Tips for launching an effective in-store DOOH campaign
Launching an effective in-store DOOH campaign requires strategic planning and execution. Here are some key tips for success:
Define your audience and targeting strategy
Creating an effective in-store Digital Out-of-Home (DOOH) campaign starts with a clear understanding of your audience and a well-defined targeting strategy. This is not merely about reaching a wide audience - it's about reaching the right audience.
Are they millennials, working parents, or health-conscious consumers? Understand where your audience frequents, such as grocery stores or malls, for contextual relevance. Choose data types wisely, deciding between behavioral patterns or 1st/3rd party data to build your audience.
Whether you're thinking regionally or nationally, defining target DMAs is crucial to ensure your message lands in the right place. In the world of DOOH advertising, it's not just about who sees your ad, but also where and when they see it.
Create contextually relevant creative
Your brand may not be physically present on supermarket shelves, but that doesn't mean you can't still make a significant impact with an in-store ad campaign. To create a successful in-store DOOH campaign, consider your consumers' journey. What are they doing before and after seeing your ad? Can you reference their location or activities? Tailoring your message to these context clues can enhance engagement and boost campaign effectiveness by 17%.
Use dynamic creative to enhance real-time messaging
The beauty of dynamic creative lies in its ability to adapt and evolve in real-time, allowing you to create content that resonates with your audience. You can use weather conditions to tailor the products or offers being displayed to suit the current climate, making your messaging more relevant and enticing.
Integrate countdowns and launches into your DOOH campaign to build anticipation and excitement around store openings, product releases, or special events. Use live sports scores, local matchups, or celebrating hometown winners, to tap into the passion of sports enthusiasts and drive stronger engagement.
Retarget consumers exposed to your in-store media
To amplify the impact of your in-store Digital Out-of-Home (DOOH) campaign, consider the power of retargeting consumers who have been exposed to your in-store media. You can use device IDs in a privacy-compliant manner to reconnect with these consumers across diverse media channels.
This strategy allows your brand to extend its reach beyond the physical store and continue the conversation with potential customers in their digital spaces. Keep your brand top-of-mind, reinforcing your message and raising the chances of conversion.
Create an in-store campaign that drives conversions
Non-endemic brands can leverage today's advanced in-store media to reach decision-makers in their daily routines. With real-time flexibility and advanced targeting options, you can create an immersive experience for shoppers that builds brand affinity and drives conversions.
If you want to learn more about programmatic in-store advertising, check out the entire webinar with Grocery TV's Head of Ad Partnerships, Nolan Johnson. You'll gain valuable insights to help you get the most out of your in-store media campaigns.