When was the last time you thought you were done shopping but ended up grabbing an item (or two) in the checkout aisle? What about being drawn in by an elaborate rack full of discounted products? Almost all of us have been influenced by a point-of-purchase display (POP).
For brands that aren't actually sold at the point of purchase, it still represents an opportunity to reach a buyer when they're thinking about making a purchase (e.g. banks/credit cards advertising at the grocery store).
Adding touchpoints where people are in a shopping state of mind can make a huge impact on the way consumers engage with your brand.
In this article, we'll delve into what point-of-purchase displays are, why they're beneficial to brands, and what they look like in the wild.
What are point-of-purchase displays?
Point of purchase displays are printed or digital signage placed close to where customers make purchase decisions and, traditionally, close to the products they're promoting.
Although static point-of-purchase signage is still commonly used (e.g. end caps, free-standing displays, shelf talkers), more and more brands are working with place-based digital out-of-home (DOOH) networks to reach their audience in stores.
You can find point-of-purchase displays in many retail locations including department stores, supermarkets, convenience stores, and restaurants.
Why are point-of-purchase displays important for brands?
In order to gain consumers' attention in today's landscape, brands need to connect with them at key points along the path to purchase— both online and in person.
Research shows that despite the rise of eCommerce, people still value the in-person shopping experience. In our recent survey, for example, we learned that 96% of shoppers visit physical stores for their groceries (with 82% visiting once a week or more).
Point of purchase screens are able to frequently engage shoppers by combining the digital perks of online advertising with the real-world impact of physical signage.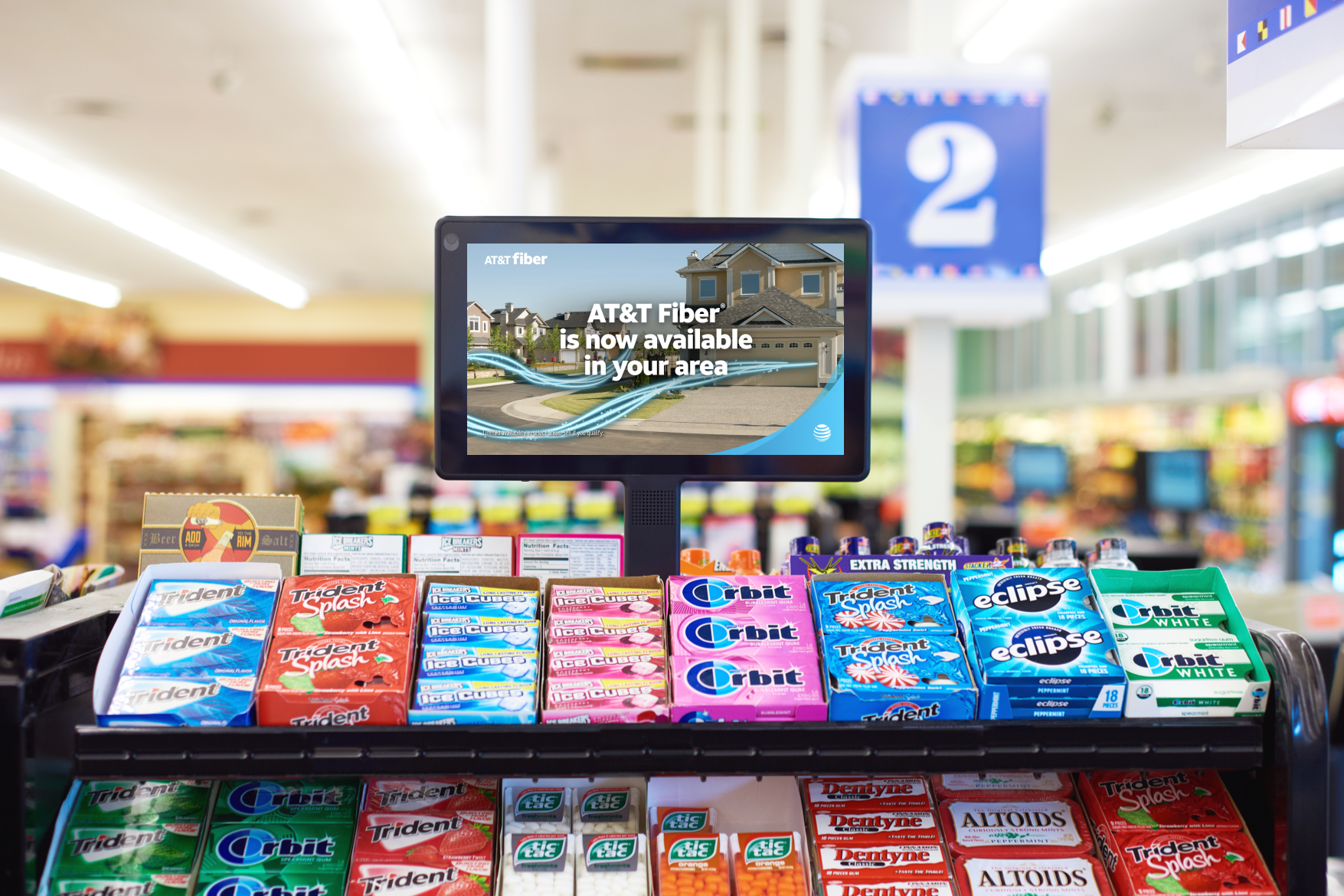 Both endemic and non-endemic brands can leverage point-of-purchase displays. Grocery TV often works with non-endemic brands such as AT&T who want to share their message in a space where people spend a lot of idle time. With their audience's undivided attention, they can help build awareness and encourage actions on other marketing channels.
Here are 5 reasons why brands add digital point-of-purchase displays to their marketing strategy:

1) Flexibility
Brands can easily update or switch out their creative at any point during the campaign. As an industry, we've learned over the past few years that being able to pivot campaign messaging at a moment's notice is a major advantage.
Plus, if you use a DOOH network that's available to buy programmatically, it's even easier for your brand to set up point of purchase campaigns alongside your existing media mix.
2) Receptive audience
When people are in a physical retail environment, they're often less distracted by other screens and are more receptive to information about new products or services.
3) Tailored campaign content
DOOH opens the door to more engaging and personalized creative for brands. A few examples include:
• Location-specific (DMA, region, or market they're running in)
• Weather-specific (Snow, rain, hot/cold, windy, pollen count, etc.)
• Contextual (Makes a connection to the locations that the ads are running in)
• Integrated technologies (AR/VR, voice activation, motion sensors, etc.)
• Animation or video
4) Improved targeting and measurement
Today, DOOH is able to target audiences and segments with both first and third-party data. By working with retailers and their first-party shopper data, brands can not only personalize their in-store campaigns but also learn more about their audience.
Regardless of whether brands use a static or digital display, one way to measure ROI is by comparing sales data from before and after a campaign is launched. But what about other performance goals and analytics?
When it comes to key metrics such as reach and impressions, traditional displays often rely on estimates. Instead, many DOOH networks use technologies like geolocation and computer vision to measure performance and attribution.
5) Sustainability
Digital point-of-purchase displays can be used to share multiple messages sequentially without needing any extra materials, and they last years longer than printed signage. Though there's still room for improvement within the industry, brands can use DOOH to reflect a more sustainable brand strategy.
Examples of point-of-purchase displays
You'll find point-of-purchase displays in all types of retail stores and in various locations such as the center of the store, the entrance, or near checkout. Here are three specific examples: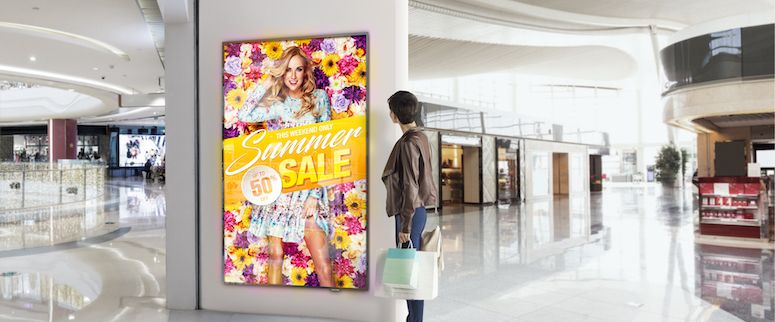 Shopping malls are practically guaranteed to have an audience that's both ready to spend and prepared to encounter plenty of brand messages. Malls often feature digital displays near the point of purchase in high-foot traffic areas.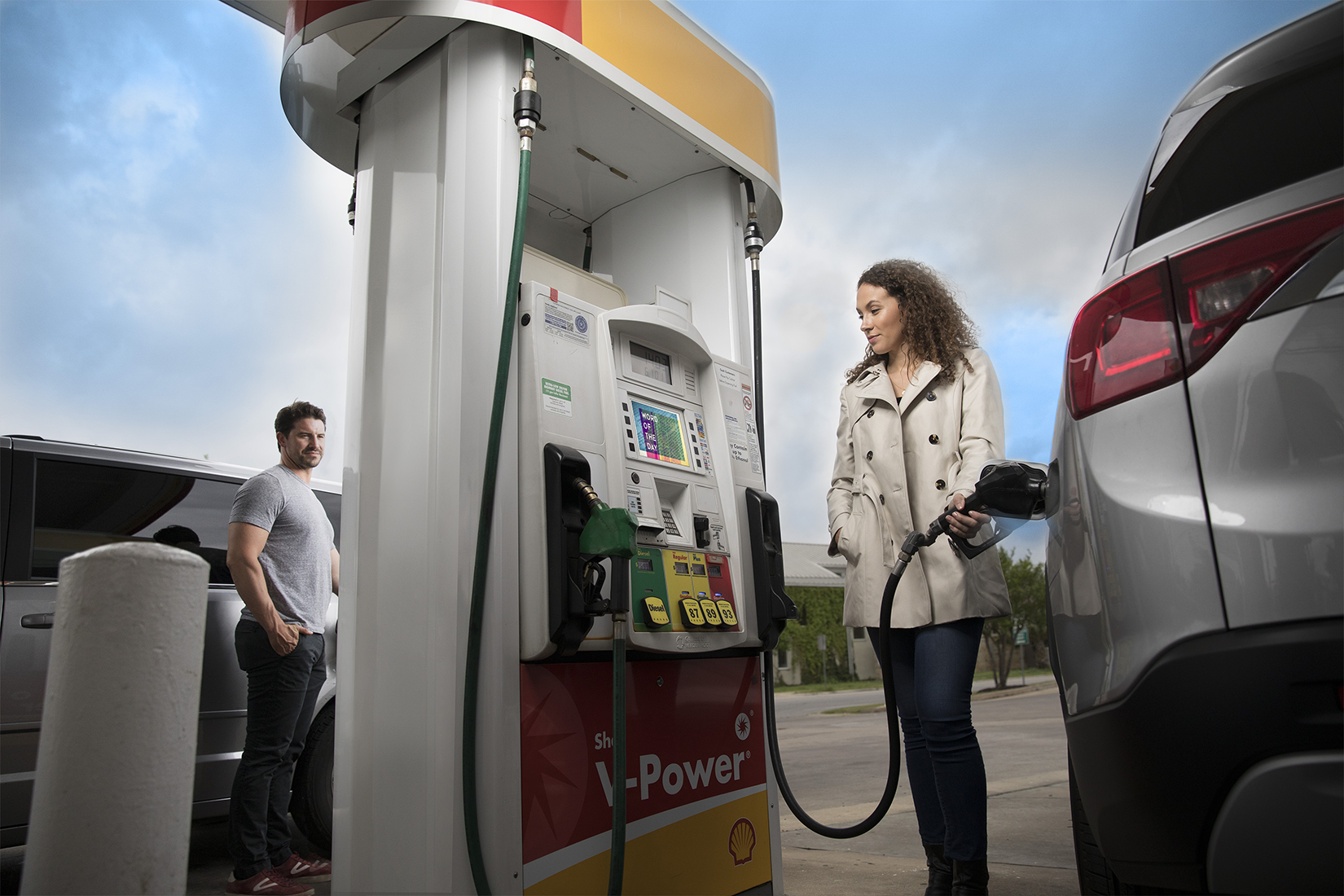 Convenience stores and gas stations often have point-of-purchase displays near the entrance or even at the gas pumps themselves, where brands can have their audience's full attention.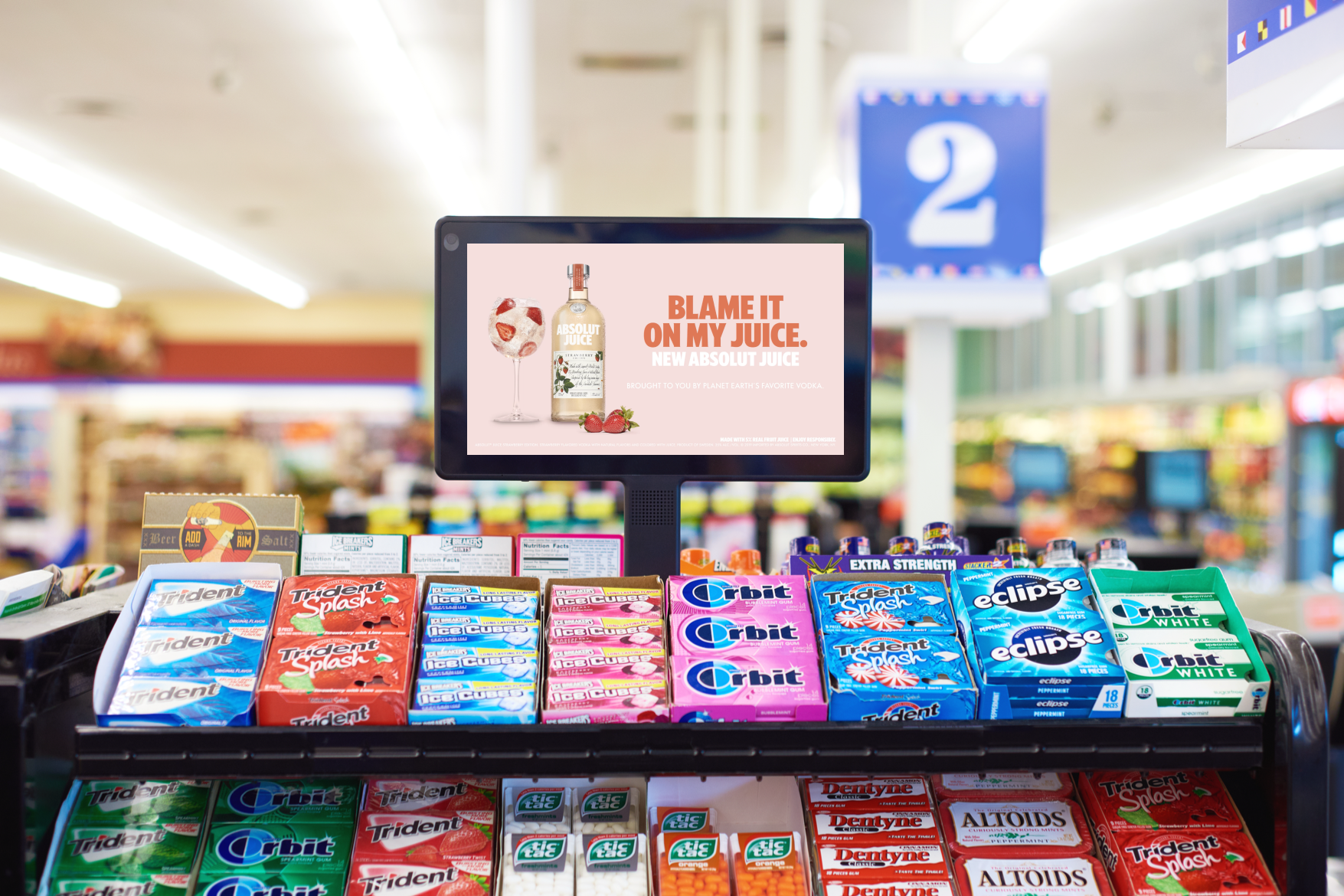 Grocery stores have an audience of household decision makers and commonly use point of purchase displays near the entrance, at the checkout aisle, or next to specific department areas. Grocery TV displays are found at checkout, which has an average dwell time of 4.5 minutes.
Want to learn more about DOOH displays?
Now that you know a little more about the benefits of digital point-of-purchase displays, check out our DOOH best practices guide to make sure your creative is in tip-top shape.
To keep up with our latest resources and industry insights, subscribe to our GTV Gist newsletter below. Hope to see you there!