Digital out-of-home (DOOH) advertising is still a relatively new channel in the ad industry, so there's bound to be misunderstandings about what it is and how it works. Plus, the digital nature of this channel means there's always a new advancement or integration to catch up on.
You've probably heard various comments about DOOH's measurability limitations, how much it costs, or whether or not programmatic DOOH is worth the effort. The channel definitely has room to improve, but we're strong advocates for DOOH's capabilities and what an effective resource it can be for brands who want to reach their audience with engaging, data-driven campaigns.
We hope these explanations help clear up a few misconceptions about the DOOH industry and its relationship to programmatic. If you'd like a quick refresher on these before you dive in, be sure to check out our articles on DOOH and programmatic basics.
5 Common Myths about DOOH Advertising
1) Myth: There aren't effective ways to launch targeted campaigns or track performance metrics with DOOH.
When advertisers learn about DOOH, one of the first things they do is compare it to online advertising. With the continued implementation of programmatic buying, DOOH undoubtedly meets similar levels of measurement and targeting as online through the use of automated ad exchange platforms, geolocation and device IDs, foot traffic, as well as behavioral and demographic data.
Some demand-side platforms (DSP's) are starting to unify digital attribution of DOOH with other programmatic channels via device data at the impression level, enabling measurement of lower-funnel metrics such as response rate, cost per acquisition (CPA), and return on investment (ROI). Marketers can use log-level data for planning, audience analytics, campaign optimization, even retargeting— just like in online advertising.
2) Myth: DOOH displays don't fit well within omnichannel campaigns.
While it's true that out-of-home (OOH) was traditionally seen as a standalone media channel, DOOH is quickly changing this perception. By using programmatic DOOH, brands can easily add outdoor screens into their omnichannel campaigns.
DOOH displays add important real-world, dynamic touchpoints to your campaign strategy, which can amplify the impact of other channels at each step along the purchase journey. For example, a new online clothing brand can build initial awareness with an eye-catching DOOH ad, then retarget this audience with personalized ads on Instagram to encourage conversion where they can actually purchase the products.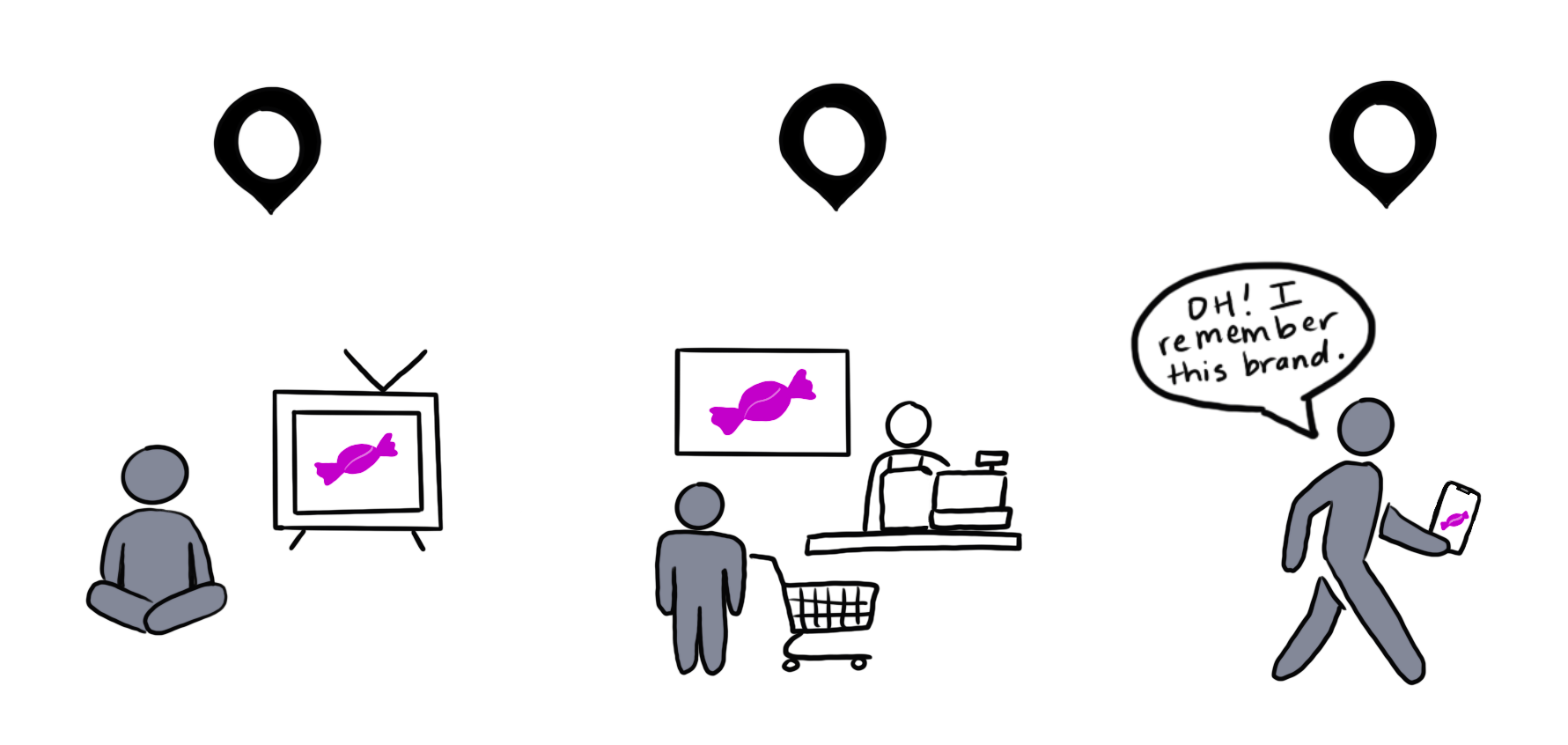 3) Myth: Programmatic DOOH will lead to the death of sales teams.
Since programmatic is an automated buying exchange, we can see how a misconception like this could pop up. But this isn't true— programmatic buying is simply a complementary tool to make your ad buying experience easier.
Programmatic DOOH opens the door to planning and measurement capabilities similar to online, but it's still important to have a team that can support your needs and make sure each campaign is running smoothly.
4) Myth: If a brand wants to use place-based screens, they have to be directly relevant to that location.
Place-based media is a type of DOOH advertising that's found at specific locations, so people often think that their brand needs to be either sold in that space or directly related to it for a campaign to work. But this isn't the case— it really comes down to what your goals are and where you can find your audience.
Let's take a step back. Like any marketing channel, there are different goals that can be accomplished with DOOH and support different stages of the marketing funnel/cycle. Two common goals in marketing are to:
1) Increase sales or convert customers, OR
2) Grow product/brand awareness
If you're aiming for #1, you may want to try DOOH in spaces where your products are sold paired with other channels where a customer can immediately take action.
If your goal is #2, which is actually much more commonly the case with DOOH investments, you're looking for opportunities to get your brand in front of customers.
To put it into perspective, the majority of our advertising partners, do not sell their products in grocery stores. They're interested in the space because it gives them an opportunity to stand out to customers in their daily routines. It also provides the opportunity for contextual creative that catches the attention of customers in ways that other channels may not be able to.
5) Myth: DOOH is expensive.
So, there are two different areas to address here:
1) DOOH prices compared to traditional OOH ads
2) DOOH prices compared to digital and online spaces
Compared to static outdoor ads, DOOH is usually more cost-effective. That's because digital screens can rotate multiple ads on a single display, and there's less labor involved in preparing each DOOH campaign (no need to physically print the ad and manually set it up).
Although DOOH initially started with pricing based on the share of voice (SOV) and slots in a loop, it's becoming more and more common to see publishers using "cost per thousand impressions" (CPM) pricing— which is the standard for most digital and online marketing channels.
CPMs can vary depending on the location and audience of a network's inventory, but DOOH CPMs are still comparable to prices seen in other channels. What's more, adding a DOOH display to your campaign can really boost your ROI.
Also, using programmatic DOOH opens up more cost-effective opportunities. Programmatic's automated exchange saves advertisers and agencies a lot of time, and you only pay for ads delivered to the right people at the right time.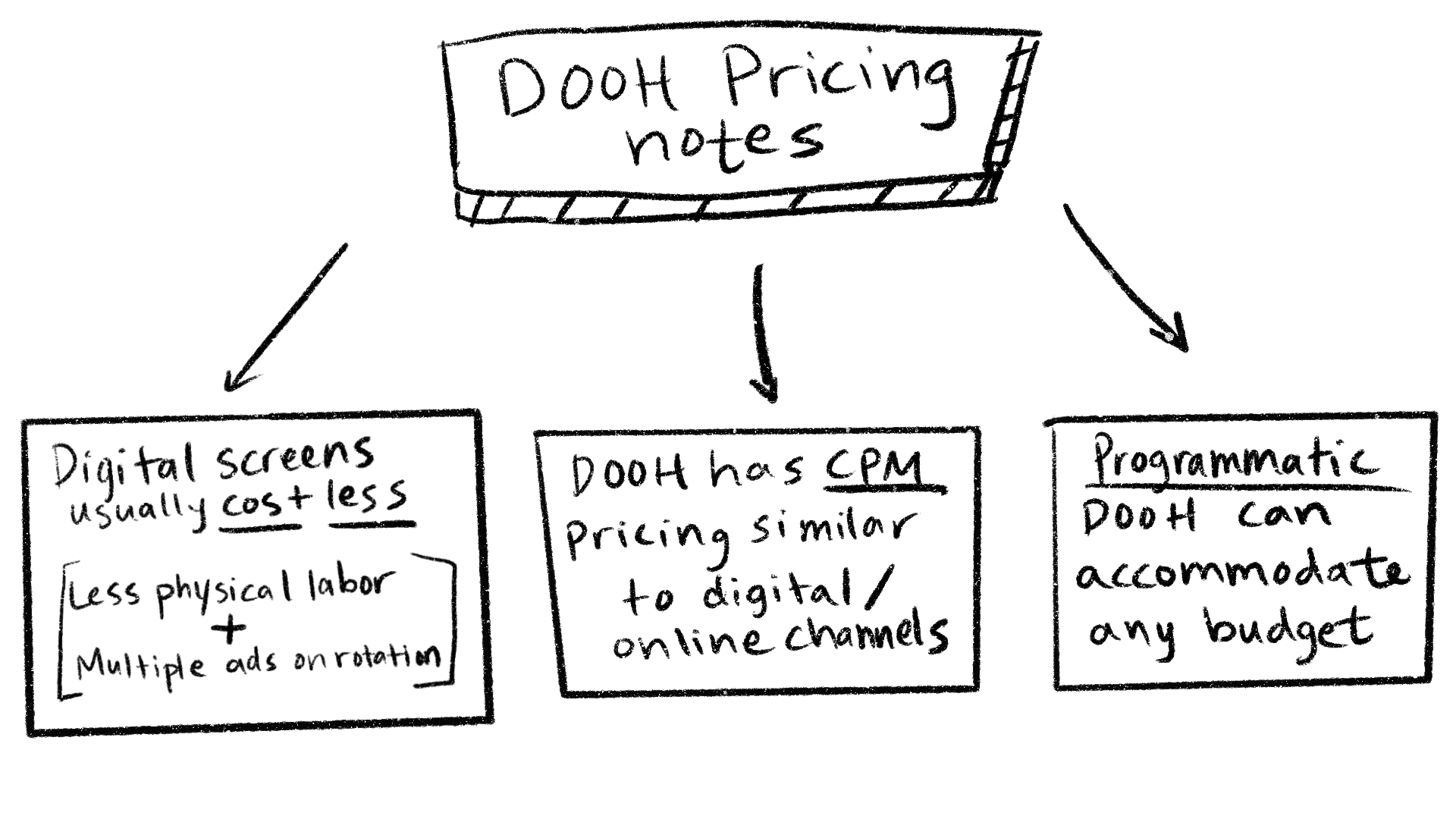 Have More Questions about DOOH?
We've covered some common misconceptions here, but there's still a lot more to discuss. Keep an eye out for another round of debunked ideas!
If there's something specific you'd like to learn more about, please feel free to reach out.
Talk DOOH stuff with us