Although the ad industry continues to grow every year, Dentsu predicts 2023 will see some slowdown because of ongoing economic concerns— with worldwide spending expected to increase 3.8% compared to 8% in 2022. The good news is many experts expect the numbers to look stronger going into 2024 and 2025.
So, which advertising channels are seeing the most (and least) investment these days? Retail media and connected TV (CTV) are doing well, while growth for traditional media is more stagnant (except for out-of-home (OOH) advertising). Social media ad spend seems to be more of a wild card with Apple's new privacy features making it difficult to track behavior.
New years are always full of surprises, but our team chose a few marketing trends and strategies that we believe are worth following as you plan out your 2023 media mix.
Need a quick recap?
No problem, that's what infographics are for: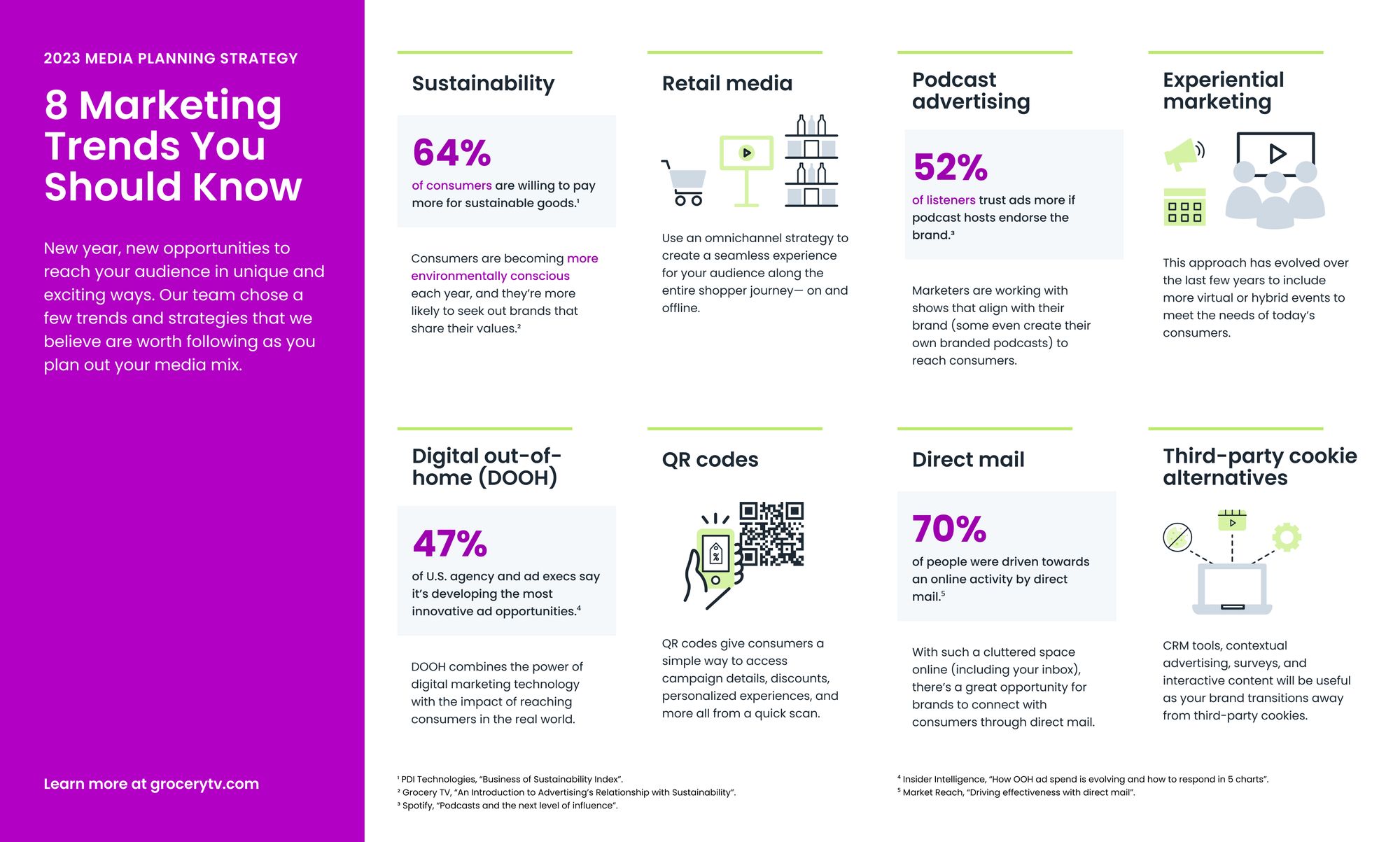 1. Sustainability
Sustainability is a societal goal to make sure we can meet today's needs on Earth without harming future generations' ability to do the same. Consumers are becoming more environmentally conscious each year, and they're more likely to seek out brands that share their values (and remain loyal to those brands over time).
By combining action with honest messaging, you can better connect to this growing group of consumers. It's important to be transparent with your audience throughout this process rather than risk a potential greenwashing situation, which is when a brand uses advertising to make false or misleading claims about the environmental benefits of its products or services.
As more brands recognize the severity of climate change and adopt sustainable practices, we can see that it's not only the right thing to do but also necessary to maintain a competitive advantage.
2. Retail media
According to GroupM, global ad revenue for retail media grew from $88 billion in 2021 to $110.7 billion in 2022, and that number is expected to grow even more this year. Many retailers are either starting their own retail media networks or collaborating with other companies, while brands are looking for different ways to buy retail media.
As first-party data becomes essential for advertisers in 2023, data-rich retail media networks will see even more demand. We also want to point out the value of an omnichannel strategy for endemic and non-endemic brands using retail media.
That means creating seamless experiences for your audience along the entire shopper journey. Whether they see your brand in stores on a digital display, on a retailer's website, on a roadside billboard, etc.— those touchpoints will help build recognition and influence purchase decisions.
3. Podcast advertising
Did you know that there are about 465 million podcast listeners globally? Marketers are tapping into this attentive audience by advertising on podcasts that align with their brand or by creating their own branded podcasts.
Because podcasts can form intimate connections with listeners, 52% of people actually trust advertising more if the host endorses the brand. This allows marketers to reach a tight community of streamers more authentically.
For example, sustainable sneaker brand Cariuma's strategy is focused on creating long-term relationships with hosts so that they can start to feel "ingrained in the culture of the show," instead of paying for one ad and calling it a day.
4. Experiential marketing
Experiential marketing, also known as engagement or ground marketing, is the process of creating an experience for the customer rather than reaching them through traditional marketing methods. This approach has evolved over the last few years to include more virtual or hybrid events to meet the needs of today's consumers.
If you've ever visited Austin for South by Southwest (SXSW), you probably remember how much buzz builds around interactive brand experiences. HBO has created many exciting "Game of Thrones"-themed campaigns over the years, where fans witnessed full-sized iron thrones, tested their sword-fighting skills through VR, and even interacted with actors as though they were part of the GoT world.
But your brand doesn't necessarily have to jump in with an extravagant SXSW activation. You can effectively build awareness and provide enjoyable experiences for your audience through smaller events, a fun pop-up in stores, or even some guerilla marketing tactics.
5. Digital Out-of-Home (DOOH)
A recent survey shows that 93% of advertisers are planning to allocate 5% or more of their overall marketing budgets to OOH in 2023, and DOOH plays a key role with almost half saying that their OOH spend was digital. The channel is drawing attention because of how it combines both the power of digital marketing technology (targeting, analytics, and creative flexibility) with the impact of reaching consumers in the real world.
About 47% of U.S. agency and ad execs think DOOH is developing the most innovative ad opportunities. Marketers are using DOOH to run creative campaigns including viral-worthy 3D ads and contextual content that inspires engagement.
Both endemic and non-endemic brands have opportunities to use digital screens in physical stores as well as locations that their audience visits during their everyday routine. And by using programmatic DOOH, you can easily buy ad space, set campaign parameters, and view performance similar to how you would with an online channel.
6. QR codes
Most of us didn't expect QR codes to become such a prevalent part of our lives, but here we are. A QR code is basically a type of barcode that's used for storing URLs or other information, and it can be easily read by digital devices like smartphones.
By using QR codes, retailers and brands give consumers a simple way to access campaign details, product reviews, exclusive discounts, video demonstrations, cashless payment options, personalized experiences, and much more all from a quick scan.
For example, Butterfinger ran seasonal creative on Grocery TV that included a QR code for shoppers to learn more about the campaign and their product.
7. Direct mail
The world of digital marketing is ever-expanding, but we want to acknowledge the impact of good ol' snail mail— such as postcards, catalogs, mailers, coupons, and more. There's plenty of room for creativity when it comes to direct mail.
Research from WARC shows that 70% of people have been driven towards an online activity by direct mail. With such a cluttered space online (including your inbox), there's a great opportunity for brands to connect with consumers through this traditional channel.
You can even enhance this traditionally physical channel with digital elements such as using a QR code or unique URL that adds more to the campaign. Think augmented reality, a mini-game, or a social media challenge.
8. Third-party cookie alternatives
We've all been hearing about the death of third-party cookies for a while, but when will it happen exactly? Well, according to Google's latest announcement, it's postponed (again) until 2024. Although that gives advertisers more time to prepare, it's still important to think through alternate targeting strategies.
Your brand could start by investing in more ways to gather first-party data or using tools like Google's Privacy Sandbox and FLoC (Federated Learning of Cohorts) to have personalization and consumer targeting without intruding on user privacy. CRM tools, contextual advertising, surveys, and interactive content will also be useful as your brand transitions away from third-party cookies.
Many industry leaders seem to agree that brands should use these data privacy changes to create a more direct relationship with their audience— which will allow them to launch direct campaigns and gain insights for better targeting.
What's your 2023 plan?
This year, we recommend that brands focus on building their first-party data, expand their retail media strategy, and stay open-minded to new ideas.
Want to learn more about Grocery TV and how in-store digital media can help connect with consumers in 2023? Subscribe to our GTV Gist newsletter below: